Maya Moore leads USA past Great Britain in Manchester exhibition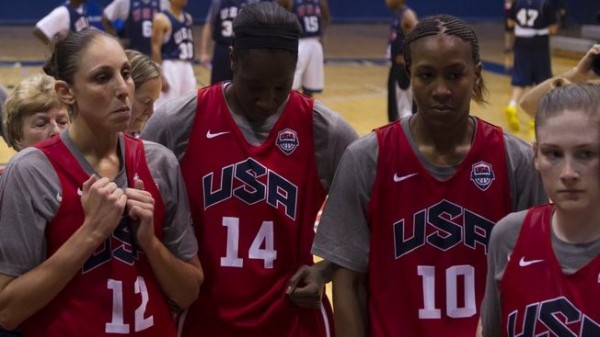 Quotes | Box score | Photo Gallery
The USA continued its dominance against teams during pre-Olympic exhibition games beating Great Britain 88-63 in Manchester, England on Wednesday.
While the Brits came out strong and built an 11-point lead early in the game, the USA regrouped and went on a 21-0 run.
USA head coach Geno Auriemma was not shocked at Great Britain's feisty start.
"I'm not surprised by their start, I'm surprised by ours," said Auriemma. "When you're playing a road game and you're the United States, you always expect the other team to be ready, or more ready, than they ever will be. The emotions of the game were very high for them at the beginning. We were kind of passive in our offense and in our defense. The English team is very disciplined on the offensive end. They took advantage of whatever mistakes we made"
At the half the USA led 47-32. Despite the score, Great Britain continued to fight to stay in the game but could never get within striking distance to have a good chance at a victory.
"There's a tremendous improvement that I've noticed that (Great Britain)," said Auriemma, "we knew they were going to be good after we saw the victory they had against a really good France team. So, I'm not surprised with some of the things that they were able to do."
At the end of the third quarter, the USA led 73-51. They outscored Great Britain 15-12 in the fourth quarter
Maya Moore led the USA with 18 points, five assists and six rebounds. Lindsay Whalen added 13 points and dished out five assists.
For Great Britain, former Franklin Pierce star Jo Leedham led her team with 21 points and four rebounds. Former St. Bonaventure player Stef Collins added 14 points for Great Britain. Recent Florida graduate Azania Stewart contributed 9 points and three rebounds.
Moore was impressed with Leedham's play.
"She's tough," said Moore. "She plays with a lot of confidence and she plays hard the whole game. When she had open threes, she knocked them down. She didn't miss many of her open threes. She seems like someone who knows how to play: pass, cut, screen, make reads, just play basketball. So, anytime you know how to play the game and you have some talent, as far as being a shooter, you have a shot anywhere. She was really big for them. You could tell that she was their leader, as far as a go-to player to score. I have a lot of respect for how she played today."
While Leedham had praise for the USA, she stressed that her team needs to compete better.
"We should have the belief and confidence that we can play with these players," she said.  "Their athleticism is crazy. They're the most athletic team I'm ever going to face. When you put all 12 of those players together, it's amazing. But we have to do the little things – the grit, the aggression – that allows us to compete with teams like that."
Overall, Collins was happy with her team's play.
"This was an amazing opportunity to play the USA," she said. "they are the number one team in the world and they came in with a lot of fire power, more power and more athleticism so it was good that we matched up with them most of the time. They got aggressive, trapping us offensively and that hurt us, forcing us to turn the ball over but it was good to stay competitive in parts and we can be happy with how we attacked the game."
Great Britain will now head to the Olympic Village in London to get settled before they begin their quest for a medal Saturday, July 28 in a game against Australia.
"We've come so far and I couldn't be prouder of the team," said Great Britain coach Tom Maher. "God willing everyone stays healthy, I think the country will be proud of their team. We're a contender and a participator in the A grade. Our players will look back on this as a milestone in their careers, hopefully. What a fantastic dress rehearsal for the Olympics"
After a practice in Manchester, USA Basketball heads to Turkey for another round of exhibition games against Croatia and the Turkish national team.
Quotes
Geno Auriemma
On the play of the second group:
The good thing about them is they're all young. They bring tremendous energy to the court. This is their first time throught. They just play with a lot of joy and a lot of fun and a tremendous sense of urgency. They want to play. They want to prove that they belong on this team. Not that the other guys, the older guys don't, but this group just has a lot of good qualities to them.
It was the same way at the (2010) World Championship in a lot of respect. It was the same players playing the same roles. Maya, Angel and Lindsay are three of the hardest working players in the league and defensively it showed tonight.
What are your thoughts on other teams in your groups, specifically China?
We had a chance to see China up in Seattle during the 3-day training camp we had.   I was really impressed with the way they play.   Their style of play is difficult for anybody to play against.   They really don't have a real dominant post player so they play lot of times with five players out on the perimeter and that makes it very difficult to defend them.   Obviously they shoot the ball exceptionally well.   I think they're going to be a tough game for everybody over in London.  They've certainly played a lot of games.   I was talking to the coach and he told me that they will have played 30 games before they get to the Olympics.   If we play in the gold medal game, that would be a total of 14 games that our team will have played all year long.   I know they'll be ready and they'll be well prepared for sure.
Where do you think Great Britain will fit in among the other teams in London?
I think what happens from my experience when I was an assistant at the Olympics is that it's all about which matchups you get and what happens that one individual night.   I just talked to our team about that.   You don't have to win a best-out-of-3 or best-out-of-5 series.   It's just one night.  If you can play well that night, shoot the ball well that night … maybe if France or the Russian team will play Great Britain in a best-of-7 series, maybe they win that series but on a one night, they almost beat the Russian team and probably should have from what I saw.   They beat the French team.  I think they've proven to themselves that they can compete with the best teams in the world.   Now it's just a matter of coming out and making shots.   It's like playing golf.   That one golf tournament that you make putts, you win.   Basketball is very similar to that.   You can do everything right and the shots don't go in, you lose.   You do everything right and the ball goes in when you shoot it, you win.
When you got down by 11, what were you thinking and is your drive to win what makes the difference between the US and other teams?
If this was soccer and you were down 2-0 to the United States, you might come back to win 4-2 because you expect to win because you expect to win, you expect to score four goals against the United States because maybe you think you're that much better because your history, your tradition, the quality of players that you have.   I think it's the same in women's basketball and men's basketball in the United States.   We have the kind of players and the kind of program and the kind of history behind us that it's not an arrogance because I don't want it to come off like that but it's an expectation of we're the United States and we're expected to win and we expect to win.  So if we get down 11, I think our players look at it like, 'ok it's just a matter of time before we kind of impose ourselves on the other team.'   A lot of that has to do with, as I mentioned, the depth that we have.   If we only had six or seven players and we're playing against only six or seven from Great Britain, maybe this would have been a very, very close game or maybe even a loss.   But, because we can count on 10, 11, 12 players, maybe the quality of depth that Great Britain has isn't the same.   I think that gives our players a sense of confidence that if I don't have it tonight, I know she will so we're never in a sort of panic.   I think that just goes to talent, history and reputation of our program.
What have you thought about the city of Manchester?
I grew up right outside of Philadelphia, about 20 minutes from Philadelphia.  I grew up in a town very similar to this, not quite as big but it had the same characteristics as this town.   Just driving around and looking around the downtown, the feel of the town … it feels like a working man's town.  It doesn't give you the feel of the suburbs or a hoity-toity kind of town.   It feels to me like the kind of town where you walk in a pub and you order a beer and everybody in there speaks the same language.   That's the kind of town I grew up in.   I have been looking forward to coming over here.   I'm a huge soccer fan and it's incredible that you can have two soccer teams in this town, in a small city really.   When you think about it, all over the world of that caliber.   If one plays Saturday, you get 75,000 people at the game; if the other one plays Sunday, you get 75,000 probably at the game, however many that stadium holds.   I enjoy going to towns like this.   We're going to go out to eat before we leave.  Tonight won't be as good but tomorrow night right after the men's game, I've got a couple places picked out.
The pressure that's on the team to win the Gold Medal:
A lot of the pressure thing is constantly around us.   We get asked this question everywhere we go.   You're the most prohibitive favorite in any sport, in any event in the Olympics.   Where Maya played and I coach at the University of Connecticut, we deal with that every single day.   Maya dealt with that all four years.   One of the things I've tried to teach and Maya would tell you this is absolutely true, pressure is what other people put on you because of what their perception of you is or should be and how you are supposed to live up to their expectations of you.  You know what else pressure is:  pressure is on Great Britain to beat us tonight.  That's a lot of pressure on them because they know it's going to be very difficult.   Pressure is on some of the teams in our pool that know it's very difficult to beat the US.   Pressure is when you lose your job and you have to pay your mortgage.   Pressure is a single mom raising children that wondering if she is going to be able to pay for their education.   That's true pressure.  When you're playing a game that you love and you're having fun and you know you're better, most of the time, than the person you're playing against, if that's pressure then there is something wrong with your life.   So you either just need to understand it and go on because if we were to lose a game in the Olympics, I don't think they are going to take away our passports.   We're still going to be allowed to go back to the US.   I mean, nobody might talk to us but we're still going to be allowed to go back.   So, I don't know that … hopefully our players don't feel that kind of pressure and it's my  job is to diffuse it as much as possible and I try to do that.   Hopefully it won't be anything but fun.  We're not thinking about what if we lose.   We're only thinking about playing great.   That's all.
Seimone Augustus (Minnesota Lynx)
Tonight's game seemed like it was a game of spurts:
That's a great team and they came out to play tonight, starting from the tip. They were up 10 and we've got to take our hats off for the second group that came in.  Lindsay, Maya and those girls came in and did and excellent job of bringing energy and intensity and they took it from us being 10 points down and turned it into a 16 point lead. It was a total team effort. They picked us up when we needed it.
How important is the depth this team has which gives it the ability to wear teams down?
It's very important and it could change, it could vary for different games who will bring the energy and everything. It'd definitely going to help us once we get into the Olympic schedule where we're playing tougher opponents in Australia, Russia and France and those teams so its great to have that depth.
Can you feel the team starting to come together?
It's going to take a little bit more time, a little bit more practice, but we're right there, we're right at the brink of turning into the team people expect us to be.
Tamika Catchings (Indiana Fever)
Talk about the depth this team has, it was evident tonight that the U.S. could throw waves of players at Great Britain:
I think that's the best thing about our team knowing you have the 12 best players represent America.  As a team we weren't really pleased with how we started the game or even going for the third quarter. I feel like the second group went in and did a great job. Maya (Moore) obviously had a really good game; Lindsay (Whalen) continuing on from what she did against Brazil, there was just an all-around great game from that second group. As a first group we just have to regroup, We've got a couple more practices then get to Istanbul, a couple more games, more practice, then when we hit London we've got be rolling.
That's the purpose of these games right – figure out what the team is going well and what it needs to work on?
Definitely, and I feel like this is great that we have these games. I don't know how it would be if we just went straight from practice and straight to the Olympics. I'm glad we have the opportunity to have a little bit of space in between the games, watch some tape tomorrow and we have to get better. We have to continue to get better. We know that in the first quarter if we don't have our A game and all 12 of us of us are down that can be the result of the game and so we can't afford to let that happen, everybody has to be focused and ready to play.
Sylvia Fowles (Chicago Sky)
Was it tough going on the inside tonight?
I wouldn't say it was tough. I haven't been looking to be aggressive in these past two games; I just can't find my rhythm. Of course it was aggressive but it's nothing that I'm not to use to so it's just about getting back my confidence and going out and dominate the way I can.
How important is the USA's depth where you can just keep running different players at them and different players can make runs?
That's very important because the starting five we didn't do good at all and coach was not please about that and he had every right to be. The other five came in off the bench and just gave us a spark and energy and that's exactly what we need. We need those players who are going to pick us up when we're not having a good night, so it meant a lot.
At times the U.S. struggled with its shooting, but it seemed like you got out running and got them on their heels.
That's the beauty about our teams, you've got players that can shoot well and when they're not falling you also have athletes that can run the floor. So I'm just happy it worked either way.
Maya Moore (Minnesota Lynx)
On tonight's game:
We've been together since we broke for the WNBA and I thought Great Britain did a great job of coming out strong, being aggressive, hitting the shots they were supposed to hit, just playing aggressive. Once we responded to that and our aggressiveness started to impact the game more, I thought we did a great job of getting out in transition. Some of our half court offense started to work a little bit better after our defense picked up a little bit. I respect the way Great Britain fought. They scrapped really well the full game.
How comfortable did you feel out there tonight?
I think the whole key with me is my energy and aggressiveness on defense.   Whenever, I can just get back to the basics and focus on not letting my player score, helping my teammates on the defensive end.   Get a rebound, start the transition.   Just get that killer instinct started on the defensive end, flows right into my offensive game.  I think that's what I tried to do today.   My teammates did a great job of finding me running in transition.   I love playing … Lindsay Whalen pushes the ball, Angel gets out, Tamika gets out.   We just started running … Swin.  Not a lot of thinking.   Just playing the game and like I was saying, transition was really to us today.
What have you thought about the city of Manchester?
Unfortunately, I've been sleeping a lot since we've gotten here but tomorrow hopefully we'll have some downtime and I plan on seeing some of the area around where we're staying and hopefully enjoy a restaurant.   I'm just excited to be here.   This is my first time over in Great Britain but I know some of the girls, maybe if they were on the stage, they would have some more stories as they were out at some of the restaurants yesterday.   But, I'm glad it stopped raining.   It was beautiful this afternoon.
The pressure that's on the team to win the Gold Medal:
That's probably the biggest blessing that we have is that pressure.   I think that's when we're at our best.   I think it's when any competitor is at their best is when stakes are high.  You've got pressure to win, to compete, to play, to perform.   And the legacy and the tradition that we have as USA Basketball is awesome.  It makes you, at least for me, I come in more focused because I know there are a lot of players that have come before me that are looking at us to continue the winning legacy.   I'm also playing with other veterans like Tamika and Sue and Diana who are looking to their teammates to continue to hold their end.   I love it and I know if I get another opportunity to come back, I'm going to expect the same things from my teammates and from everyone who's involved:  from the trainers to our captains to the last player off the bench.   We're all coming in with the expectation that we're representing something bigger than ourselves.  We take that on the court with us and also off the court.  Coach Auriemma has emphasized to us to represent not only for ourselves so that the world can see how much passion we play with, how much we respect the game and hopefully look at basketball and women's basketball in a new light.   Hopefully we gave you some moments out there where you were like 'wow, I didn't know she could do that', 'I didn't know a center could take it coast to coast do a Eurostep and make a fall away bank shot', something like that.   Or, how hard Tamika Catchings plays or how tough Lindsay Whalen is.   Just kind of enjoy the game for what it is.   I know that when I see my teammates, that's what I think so hopefully you guys do too.
Candace Parker (Los Angeles Sparks)
Observations of the game:
We started slow but we had a lot of energy coming into the 2nd and end of the third quarter.  Overall it was a good effort.   I think we learned some things about ourselves.   Great Britain, at first, handled the pressure very well.   We just have to talk more on defense because we were getting lost a lot.
Was the quick turnaround from Monday a factor with regards to energy early?
No.  We aren't going to blame it on that.   I don't think any of us were fatigued.   It's a five-hour time difference from where we were so it's not like it's 15 or 16 hours.
What are the things you take out of this game that you need to improve on as a team?
We need to continue on our turnovers.   I think defensively our rotations … trusting that people will be there if you get beat.  Obviously, in transition, we kind of had a lot of turnovers.   We need to handle 2 on 1, 3 on 2 situations a bit better.
Diana Taurasi (Phoenix Mercury)
Observations of the game:
I think played well in stretches.  Great Britain played really well.  They showed they are going to make a good run in the Games.  We  have some things we need to work on and we'll do that.
Does depth continue to be a real strength of this team?
That's kind of always been a strength is the numbers.  Being able to go 1 through 11, 1 through 12.   Today kind of showed that.
What do you take out of this game as the biggest improvement areas?
I think we did a better job of sharing the ball on the offensive end.  Defensively, we did a good job of causing some more turnovers.  There are probably some things we still need to fix.   Those will just come with playing together.
What would you like to see the team doing better right now?
Probably defensively communicating a little bit better.  That's just a very simple and basic thing we can do.   Offensively, staying out of each other's way a little bit more.   Once again, that's getting used to playing with each other again.
Is chemistry hard to nail down after you haven't played with each other in quite some time?
Yeah, it is a little bit but we've always found a way to kind of mesh together .   We'll try to do that again.
Lindsay Whalen (Minnesota Lynx)
Seemed like it was a game of spurts, talk about that:
They made some good cuts, made some shots and defensively we had some up and downs but overall we won and I think it was a good one for us.
Do you feel like you're making some steps as a team?
Yeah, I think we are. Each day we are together we become more familiar with each other and what to do. Each day is important for us and know we have to take every day and try and get better.
The depth of this team is incredible. Talk about how important that is for this team?
It's huge, I think it's really big for us to be able to come out and whenever you're out there play as hard as you can and do what coach is asking of us and if we do those things as good as we can we're going to have good games and be successful
Does having the depth the USA has does that allow you to go full out knowing you don't have to pace yourself?
Yeah, we're out there pressuring and pressing and running so you're definitely going all out and giving everything you have. So if you get tired you get a sub, and if you get tired and get a sub, then whenever you go back in you do the same thing.
Box Score