Russian national team member Becky Hammon checks in from London, talks about Olympic prep, the toughest foes and more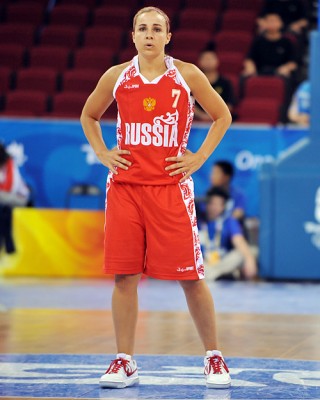 After helping the San Antonio Silver Stars win a franchise-record ninth straight game on July 13, South Dakota native Becky Hammon hopped a plane to Europe to begin training for the Olympics with the Russian national team. The 35 year-old guard is the current WNBA league leader in assists, dishing out an average of 5.7 per game, ahead of U.S. women's basketball team guards Sue Bird and Lindsay Whalen. She is also scoring an average of 16.2 points per game.
Hammon acquired dual citizenship in 2008 to compete for Russia and helped them take home the bronze medal in Beijing that summer. She scored 22 points against China in the medal round. Russia is in Group B of the women's basketball Olympic competition and plays Canada and Brazil in the preliminary round. Matches begin Saturday, July 28.
Even though she was not the first U.S.-borne athlete to play for another country, many criticized her for playing for the "enemy." However, Hammon has a dedicated following of "Hammonites" who adore the athleticism of the feisty guard and her seemingly endless cache of jaw-dropping clutch shots. The former Colorado State standout who entered the WNBA as an undrafted rookie in 1999, has had a stellar pro career. She took some time out of pre-Olympic preparation to answer some questions for Hoopfeed.
Q: Several teams competed in exhibitions last week, what did the Russian national team do to prepare before London?
A: They've been training since the beginning of the summer like so many other teams, doing some traveling, and trying to figure out the best combinations of girls to keep on the team. I met up with them in Prague last week and we played a couple friendly games for a little warm up to London.
2. You have Australia, Brazil and France in your group, plus Olympic first-timers Great Britain and Canada. Who are the toughest teams in Group B and who could be a surprise?
Australia will be our toughest competition, but I think both France and Brazil could upset people. Great Britain I think could surprise some teams too, they're very scrappy and physical, and will def have the home country pulling for them. They're gonna have a lot of energy and support behind them in every game.
3. How much do you think losing Iziane Castro Marques will hurt Brazil?
Izzy is obviously a great player, so I'm sure they'll miss her to some degree. I don't know the details beyond that, but I do know she's capable of lighting up a scoreboard quickly.
4. Other women's basketball players who are U.S. citizens are now playing for other countries and no one has batted an eye. Do you think you broke the mold and led the way for extremely talented players who are not a part of the USA Basketball pipeline to pursue their Olympic dreams elsewhere?
I think I was just the first to be put on a national spot light concerning athletes playing for other countries. I don't think anyone would've batted an eye had I been playing for another country other than Russia. But the story turned heads for a few reasons. Mainly that people thought I turned down USA basketball to go play with the Russian team for money, which wasn't true. Many people just assumed I'd be on the U.S. Olympic squad. I think also once people started to understand that the U.S. has given passports to athletes of other countries to participate on U.S. teams, people started to understand the situation a little more. I wasn't the first, nor will I be the last, just happened to be the most visible one. It's all good now, I think people are settled in with the idea a little more.
Note: Hammon's Silver Stars teammate Sophia Young, born in St. Vincent, the Grenadines, received U.S. citizenship last fall and was  included in the pool of players under consideration for the Olympic team.
5. Have you spent much time in London before and what are you looking forward to the most outside of the competition? Will your family be coming over to see you play?
This is my first time in London, so I'm really excited. I had no idea it was so beautiful. And I love the Brits accent! I have many family and friends coming over and it's also they're first time, so I couldn't be more thrilled. I went and saw Big Ben yesterday. Took a lot of pictures, and plan on taking many more throughout my sightseeing.
6. Last but not least, what are your thoughts on your former Liberty teammate Sue Wicks getting inducted into the Women's Basketball Hall of Fame next year?
Sue! One of my favorite teammates ever! She's more than deserving. She's been a pioneer in so many different ways in the basketball world. She was so sneaky, I loved playing with her, she knew all the tricks. One thing that stands out is how she played the game, she played with her heart on her sleeve every time out. She played hard. She was a teammate that always had your back on the court. She understood what it meant to be a good teammate. I'm really excited for her!