The U.S. survives Turkey, 80-61, in last exhibition before the London Games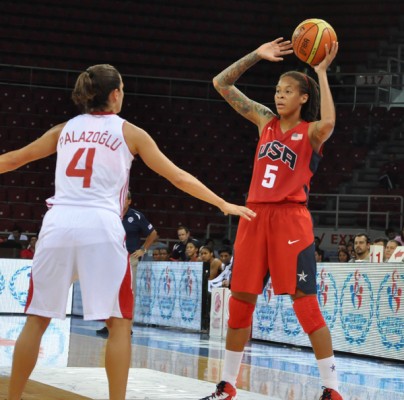 USA Basketball's Women's National Team  faced a tough opponent in Turkey Sunday during an exhibition game in Istanbul. While the U.S. emerged victorious with an 80-61 win, it was a battle from the tip.
Turkey started the game on a 6-0 run and the U.S. missed their first seven shots and were just 28.6 percent from the field (6-21) in the first period, a stark contrast to the 70.8 percent from the field in the first quarter against Croatia yesterday. The USA countered Turkey's spurt with a 7-0 run to take its first lead, 7-6, when Tina Charles scored off of an offensive rebound at 5:25.
"We had to make plays. We had to get stops, and they are a really, really good team," said Geno Auriemma , USA and University of Connecticut head coach. "They have a lot of weapons, they have a lot of ways they can beat you and they are really smart. We gave them a lot of life. We missed a lot of opportunities that would have made it much easier for us, but maybe in the long run that's better too. It's easy to win when you shoot (70.8) percent like we did last night. It's another thing when you shoot 35.0 percent in the first half and are able to beat a really good team by 19. So yeah, it showed some of our flaws and our warts, like everybody else has, and we've got four more practices to fix it and then we are on the big stage."
The U.S. managed to climb back into the game and earn a one point lead by the end of the first quarter, 17-16, after a free throw from Sylvia Fowles. At the half, the game was still close. The Americans led 32-27.
The U.S. was not able to break away until the fourth quarter. At the end of the third, they were only up by seven, 55-48. They led by no more than eight points in the first 30 minutes. With about three minutes left in the game they increased their lead to 74-57.
Seimone Augustus led the U.S. with 16 points. Diana Taurasi scored 14, while Fowles added 12. Candace Parker had a game-high 12 rebounds to go with her eight points.
"They're an aggressive team," said Augustus about Turkey. "They're kind of undersized, so they have to be very physical. They came out with a lot of excitement and energy. Their fans were behind them. They feed off of their fans' energy here."
For Turkey, former New York Liberty center and VCU graduate Quanitra Hollingsworth had 16 points. Hollingsworth, a native of Chesapeake, Virginia, obtained Turkish citizenship earlier this year.
Tugce Canitez, a junior forward at Westmont College (Santa Barbara, California), is also on the Turkish national team. The native of Izmir, is the 2012 Women's Basketball Coaches Association NAIA Player of the Year and an NAIA First Team All-American. She arrived at Westmont after playing for two years at North Idaho Community College.
On the first day of the women's basketball Olympic competition, the U.S. faces Croatia while Turkey goes up against Angola.
Schedule for the first day of Olympic women's basketball, Saturday, July 28
* Estimated start time in London