USA Basketball faces Turkey and the familiar face of Quanitra Hollingsworth in last exhibition before Olympics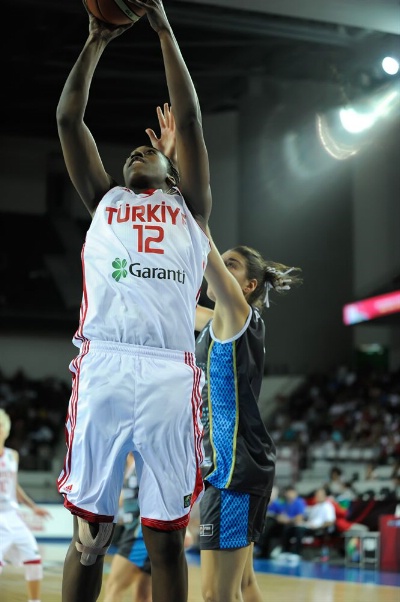 Exhibition: USA vs Turkey, July 22, 11 a.m. EDT, Istanbul, Turkey
The United States faces Turkey today in Istanbul in their last warm-up exhibition match before heading to England for the 2012 London Olympics. The Turkish squad features several players who are teammates of U.S. players during the WNBA offseason on EuroLeague teams such as Galatasaray and Fenerbahçe.
A familiar face from the U.S. on the Turkish national team is Virginia Commonwealth graduate and former New York Liberty center Quanitra Hollingsworth. She gained Turkish citizenship earlier this year.
The Minnesota Lynx drafted Hollingsworth, a native of Chesapeake, Virginia, as the ninth overall pick in the 2009 WNBA draft. The Lynx traded her to the Liberty in May 2011. Last season she averaged 4.6 points and 4.4 rebounds in 31 games. She played for Uni Seat Gy?r of Hungary in the last WNBA offseason.
Tugce Canitez, a junior forward at Westmont College (Santa Barbara, California), is also on the Turkish national team. The native of Izmir, is the 2012 Women's Basketball Coaches Association NAIA Player of the Year and an NAIA First Team All-American. She arrived at Westmont after playing for two years at North Idaho Community College.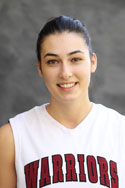 "I am so excited for Tugce and the opportunity she has to represent her country," said Westmont head coach Kirsten Moore. "I can think of no greater honor as an athlete than to represent her country and to do it at the Olympic Games. She is a goal oriented and driven person. When we asked her what her goals and dreams were when she came to Westmont, going to the Olympics was part of it. To see her do that is a sign of all the hard work she has put in and of continuing to believe in all that she could do."
Turkey's berth in the Olympics is the first for the country's women's basketball national team. They qualified by beating Argentina, 72-58, in the FIBA World Olympic Qualifying Tournament Quarterfinals last month in Ankara. Hollingsworth scored 12 points and pulled down eight rebounds in that game. Over the course of the tournament she averaged 11.7 points and 6.3 rebounds. Canitez tallied 29 minutes, 11 points and seven rebounds during the tournament.
Turkey faces Angola in the preliminary round of the Olympic competition on July 28. The U.S. faces Croatia on the same day. Yesterday, the U.S. defeated Croatia, 109-55.
| # | Name | P | Height | DOB | Place Of Birth | Club |
| --- | --- | --- | --- | --- | --- | --- |
| 4 | Tugba Palazoglu | G | 172cm5'8″ | 04/12/1980 | Bolu , Turkey | GALATASARAY (TUR) |
| 5 | Yasemin Dalgalar | F | 183cm6'0″ | 08/06/1988 | Istanbul, Turkey | FENERBAHCE SPORTS CLUB (TUR) |
| 6 | Birsel Vardarli | SG | 174cm5'9″ | 12/07/1984 | Izmir , Turkey | FENERBAHCE SPORTS CLUB (TUR) |
| 7 | Nilay Kartaltepe | G | 170cm5'7″ | 13/01/1979 | Bakirköy, Istanbul , Turkey | BOTAS SPORTS CLUB (TUR) |
| 8 | Tugce Canitez | F | 188cm6'2″ | 10/11/1990 | Konak (TUR), Turkey | WESTMONTH COLLEGE (USA) |
| 9 | Esmeral Tuncluer | G | 175cm5'9″ | 07/06/1980 | Ede (NED), Netherlands | FENERBAHCE SPORTS CLUB (TUR) |
| 10 | Isil Alben | SG | 172cm5'8″ | 22/02/1986 | Eminönü , Turkey | GALATASARAY (TUR) |
| 11 | Nevriye Yilmaz | C | 194cm6'4″ | 16/06/1980 | Plovdiv , Bulgaria | FENERBAHCE SPORTS CLUB (TUR) |
| 12 | Quanitra Hollingsworth | C | 196cm6'5″ | 15/11/1988 | Pertsmouth, VA, United States of America | UNI GYÖR (HUN) |
| 13 | Yasemin Horasan | PF | 188cm6'2″ | 01/08/1983 | Sisli , Turkey | BESIKTAS JK (TUR) |
| 14 | Saziye Ivegin | F | 180cm5'11" | 08/02/1982 | Niksar , Turkey | GALATASARAY (TUR) |
| 15 | Bahar Caglar | PF | 190cm6'3″ | 28/09/1988 | Izmir , Turkey | GALATASARAY (TUR) |