Determined Tulsa nearly shocks Sun; falls in overtime 82-80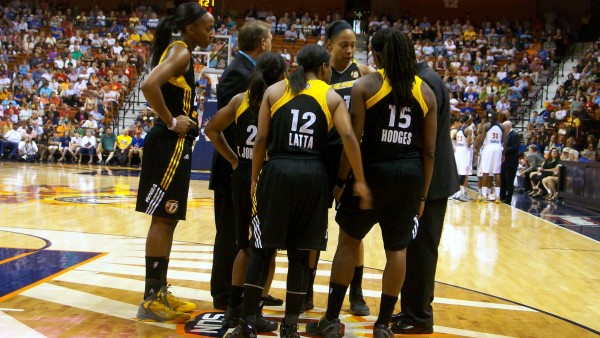 UNCASVILLE, Conn. – Connecticut Sun head coach Mike Thibault began his post-game press conference tongue firmly in cheek: "I'm going to start by lecturing you media people because you're part of the problem with people's perception about opponents — when you say, 'It's only Tulsa.'"
The Tulsa Shock is clearly the best 3-18 team you will see anytime soon. Coach Gary Kloppenberg's team is an aggressive, hard-working and determined but undersized team. They gave the Eastern Conference leaders all they could handle last night before 6,745 people at Mohegan Sun Arena.
It took a Kalana Greene put back with thirteen seconds left in regulation to force overtime, and an open three-pointer from Kara Lawson in the extra period to finally put away the Shock, 82-80.
Thibault had one of his highest compliments for the Shock, indicating the team is loaded with play makers.
"They have players that aren't afraid to take shots, they aren't afraid to get the glory and not afraid to accept responsibility if they miss too. Those things happen."
The Sun have a few of those of their own too, notably Kara Lawson, who continued her outstanding play, leading the team with 19 points.
While the team struggled overall with their shooting, hitting only 40 percent, from beyond the three-point line the team hit a stellar 55.6 percent, with Lawson and Renee Montgomery (16 points) combining to hit -9-of-11 attempts.
The story of the night, however, was really the performance of the Shock. The closest thing the Shock has to a true center right now is former Sun member Chante Black, yet the Shock were only outrebounded 44-28 by the Sun. They struggled with their shooting, hitting only 40 percent, but still forced the game to overtime.
The Shock scored 15 points off Sun turnovers, and Glory Johnson put on a rebounding show, hauling in 15 herself. Temeka Johnson continued her leadership and solid play in all facets, scoring a team high 14 points, adding seven assists and five rebounds. After the game, Johnson raved about her teammate's effort and enthusiasm for the game.
"There's a great group of women in there (the locker room). They come in every day and they practice hard, they go hard every day, so you couldn't ask for anything else."
Still, the season has not been easy, with the Shock having now lost five games by less than five, and an additional five by less than 10.
"It's not easy (to put the close losses behind you). I don't know if I've ever been through this," said Johnson. "It's not easy at all, especially when you've got people that are used to winning, coming from programs that are always up there. I have to constantly tell them don't get your head down, and I have to be the example, because if I'm upset and pouting, there's a trickle effect, we have to find some positives in everything. If not, you'll go nuts and punch a hole through a brick wall if you can."
Brighter days may be on the horizon however, with the pending arrival of 6-8 Elizabeth Cambage this season, last year's number one draft choice, a lottery pick, and the return of last year's leading scorer and rebounder Tiffany Jackson, who is out due to pregnancy.
Thibault commented: "But I am scared to death to play them with Griner or Cambage, and Tiffany Jackson in the future too, I'm glad they are in the Western conference."
Both Thibault and Johnson had praise for the way Kloppenberg has taken control of the franchise and is turning it around.
"The one thing I really like is his passion," said Johnson. "He's 100 percent passionate about what he's doing, he believes in it 100 percent, and when you have someone you're taking from an assistant coach position and putting them in the head coaching position, if there's any indecisiveness then your team isn't going to follow you. He believes in his defense and his offense."
Thibault talked about the effort and determination the Shock display every night, and feels the franchise is headed firmly in the right direction.
"He's got every kid on that team playing hard," said Thibault, "he has to play different lineups because he doesn't have the same size or length. He gets the job and a week later he finds out his power forward is pregnant. His huge 6-8 center is not going to be here until August 30, and he's made the best of everything that's happened. Every team in the league will tell you how hard they are to play against. I think they've lost 10 or 11 games [10] by less than 10 points, I think six [actually five] by less than five points. They are a nightmare to play against. They are going to be good."