Lynx fan's campaign for USA Basketball gear commemorating the women's gold-medal winning team gets hot start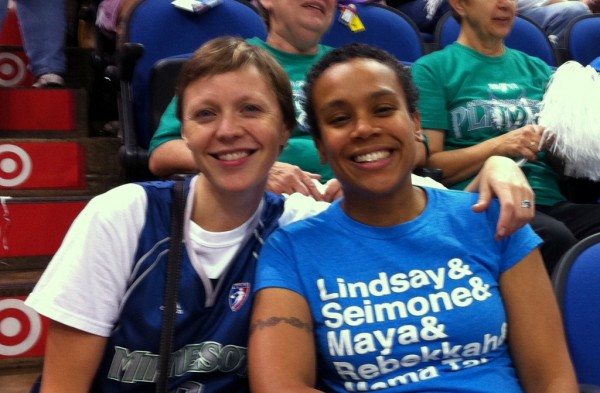 In February Nike unveiled 2012 jerseys for USA Basketball and featured Indiana Fever player and senior national team member Tamika Catchings in their marketing. However, if fans want to buy a women's replica jersey they are out of luck.
Longtime Minnesota Lynx season ticketholder Erica Mauter's campaign to get USA Basketball to sell jerseys commemorating the team that led the United States to its fifth consecutive Olympic gold medal in women's basketball has taken off like fire among fans.
Mauter, along with many other fans around the country, was dismayed that she could not buy USA Basketball gear celebrating the team and took matters into her own hands by sending out a survey last week with this introductory text:
My name is Erica Mauter, and I'm a women's basketball fan.

The Olympics have just ended and USA Basketball still does not have any t-shirts or jerseys with the names and numbers of the fifth-consecutive-Gold-Medal-winning women's national team. They do, however, have jerseys and shirts for the men's team.

I am gauging interest in swag for the women's national team and plan to take that information to USA Basketball. Wearing USA Basketball swag let's us show support for our favorite players and help promote the team – the best basketball team in the world – in our communities.
As of this week fans have pledged over $16,000 to buy USA Basketball gear if the organization begins to stock merchandise. This week the USA Basketball online store made replica jersey t-shirts available for Sue Bird, Diana Taurasi, and Maya Moore. However, the store only has replica uniforms for LeBron James and Kobe Bryant. Fans want replica jerseys for the women's team and more. Below is the follow-up email Mauter sent to fans who filled out the survey.
Thanks for your support for Team USA! You asked for updates, so here's the first one.

RESULTS
In the first 48 hours of the campaign, we've got 160 survey takers who've pledged $16,377!

The most requested players are Maya Moore, Seimone Augustus, and Lindsay Whalen. The next tier is Sue Bird, Diana Taurasi, Tamika Catchings, and Candace Parker. Those two groupings of players each have near-equal numbers.

Dollar amounts were not required information, so there is actually MORE money waiting to be spent than what the numbers show!

SHOUT OUT
Big thanks to Tamika Catchings and the Catch the Stars Foundation for participating in the campaign! Be sure to thank Tamika. [email] [twitter] [facebook]

NEW NEWS
In the middle of the day yesterday, the USA Basketball online store made replica jersey t-shirts available for Sue Bird, Diana Taurasi, and Maya Moore. This is great! If you want one of those (and only one of those), let'sput our money where our mouths are and buy them all up.

THE REAL DEAL
Here's the truth about what it will take for this campaign to be successful. USA Basketball needs to know they're going to make money off of this merchandise. This campaign is basically a purchase order. It's been suggested to me that 150 orders/item is an absolute bare minimum and really more like 500 is a useful number. So we have our work cut out for us.

WHAT YOU CAN DO
As always, the link to the survey: http://elmne.ws/usawbbgear

I've done my best to make the campaign easy for you to share via your social media networks. 

Copy/paste the following messages

 on 

Twitter

 or 

Facebook

:
Want to organize the old-fashioned way (kind of)? Here's a flyer you can post in a convenient spot, say in your team's arena bathroom (but don't break any rules!). Hand out a card to your seatmates and post-game bar buddies.

Good ol' fashioned email works, too! Forward this email to a friend. My network is Lynx-heavy, but I know a lot of you are fans in other places. Talk to your fellow Sky, Fever, Sun, Storm, Mercury, Husky, and Tiger fans. Post on your fan boards and facebook groups. Talk to your local team reps and media members. This is doable, but the sooner the better. We have a short window. USA Basketball has already started removing some of the men's team gear from the store.

A LITTLE STORY
I saw Lindsay Whalen at a local Chipotle on Sunday evening. I made eye contact with her, my mind went completely blank, I kept walking, and then I sat down and FREAKED OUT. My partner can tell you that I was completely distracted during our entire dinner. I was too chicken to say anything, but I had a nice chat with another guy in the parking lot who got an autograph on the 2011 Lynx playoffs t-shirt that he happened to be wearing. I'm kicking myself for not talking to Lindsay. I wanted to tell her about this campaign because I want a Lindsay Whalen Team USA jersey and that is the entire reason I started on this project.