Lyttle steps up as Dream beat Sky without McCoughtry, 82-71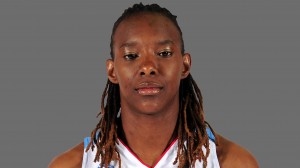 Atlanta kept their playoff hopes alive and improved to 11-11 on the season after surviving a furious rally from Chicago in the fourth quarter for an 82-71 win. The Dream played without star Angel McCoughtry who missed the game for personal reasons. Sancho Lyttle picked up the slacked and the led the Dream with 24 points, seven rebounds and five assists.
The Sky's Swin Cash was on fire to start the game, scoring 12 points, but in the second quarter Atlanta came alive and outscored Chicago 26-12. Lyttle had 17 points on 7-11 shooting at halftime. Tiffany Hayes, substituting for McCoughtry, had nine. The Sky trailed the Dream 48-31 at the break.
Sylvia Fowles helped her team to come within three points in the fourth quarter but the Sky could not catch the Dream. They lost the second of back-to-back games, with eight straight losses overall.
"I couldn't be more proud of this team. I thought they played exceptionally hard on defense," said Atlanta head coach Marynell Meadors. "They did a lot of things extremely well and the first half we came out and we shot the ball extremely well. We didn't shoot that well in the third quarter but we picked it up at the end of the game."
Hayes finished with 18 points and five assists. Armintie Price scored 14 points. Lindsey Harding contributed 13 points.
Fowles finished with 22 points and six rebounds for the Sky. Cash had a season high 19 points while Shay Murphy came off the bench to add 10.
The Sky and Dream are now tied 2-2 in the season series. The two meet once more in Chicago on September 20.
During the game Fowles passed Candice Dupree to become the all-time leading scorer for Chicago with 2,101 career points.
The Sky (8-13) head to Tulsa to face the Shock on Friday, while the Dream (11-11) travel to Washington to play the Mystics on Friday.