Sun bounce back versus Liberty, avenge Thursday night loss, 85-74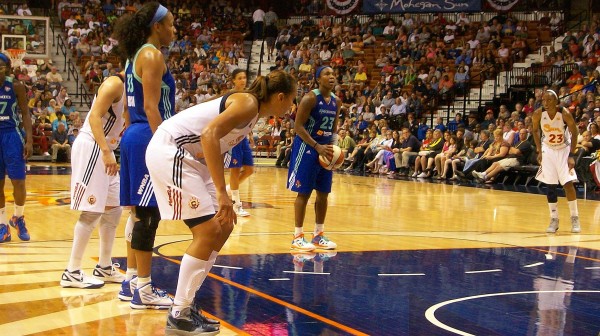 UNCASVILLE, Conn. – The Connecticut Sun started the post-Olympic portion of their schedule sputtering, dropping their opener to the New York Liberty Thursday night, 79-66.
At home Saturday night, TIna Charles, Allison Hightower and Kara Lawson were not going to let the Sun lose two in a row. The three combined for 64 of the team's 85 points, as they defeated the Liberty 85-74 before 8,232 fans anxious to welcome them back to Connecticut.
After injured Asjha Jones and Charles were honored for their Olympic gold medals before the game, Charles went out and played the entire first half, scoring nineteen points and getting five rebounds, breaking the 1,000 mark for her career. She is the youngest in WNBA history to reach 1,000. She now has 1,500 points and 1,000 rebounds.
"That might be the most minutes she plays in a regular season game," said Sun coach Mike Thibault about Charles. "I've never not taken her out in the first half. I talked to her, said you let me know when you want to come out, and when you need a sub tonight, and she said 'Coach, I'm staying out there' so, yes ma'am. I might not say that to some other people, but I know when she's feeling that way and has that look in her eye. She did not like her game the other night in New Jersey, and she was going to make up for it."
Still, the lead was only four points, 47-43 at the half, as the Liberty shot an outstanding 55 percent, and received balanced scoring with Nicole Powell, Plenette Pierson, Kia Vaughn and Cappie Pondexter each scoring eight points.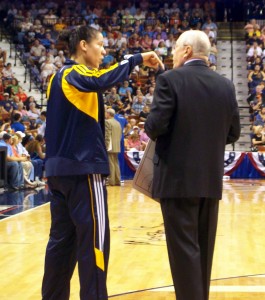 In the second half, it was guard play and defense that sealed the win for the Sun. Defensively, they held the Liberty to seven points in the third quarter on 3-for-12 shooting, and forced nine Liberty turnovers. The 26 turnovers by the Liberty ties a Sun record for most turnovers ever by an opponent. Lawson hit five of seven shots for 10 points in the quarter, and added two rebounds and two assists for good measure. Lawson completed her 700th assist in this game.
The Liberty defense was determined to shut down Charles in the second half, and they did, holding her to only four points, and after Lawson's big third quarter, they denied her the ball in the fourth. Hightower was the difference maker, scoring 10 points, to finish with a career high 20 points.
"You need someone that can go get their own shot somehow, and what we lacked a little bit, besides Renee [Montgomery], is someone who could make a play for herself or for others, but Allie has length, she can see over people to make plays too," said Thibault.
"They weren't going to let Kara catch it down the stretch, so Allie just drove it and she got one-on-one coverage. Those shots she makes in the lane (little floater off the drive), she practices though every day, and we need that, somebody to step up and do it."
Overall, it was a well played game by both teams, in a great setting according to Thibault.
"I thought it was a great game from the standpoint of it was a playoff atmosphere, our crowd was great. The energy from both teams was great. People went at it. It was physical. It was played like a playoff game. I thought we needed a game like that."
The Liberty never game up, cutting the lead to as little as six in the fourth quarter, but their turnovers just kept getting in the way down the stretch. Pondexter led the Liberty with 17 points, but she deferred too frequently in the first half, taking only four points, hitting them both, and all three of her foul shots. A player as dynamic a scorer as Pondexter needs to get the most shots on your team, not Powell or Pierson, who had more than Pondexter , while combining to shoot 9-for-24.
New York, needing to win most of their games to earn a playoff spot in the Eastern Conference, continues a very difficult road trip in Chicago, needing to win desperately against the team they are trying to catch.
Connecticut welcomes in the Tulsa Shock next, followed by a big game with fourth place Chicago, both at home.