U.S. assistant coach Doug Bruno scouts the Czech Republic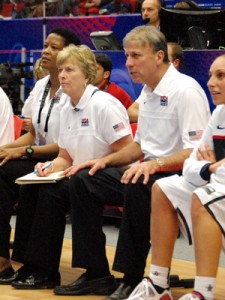 The U.S. faces the Czech Republic in the last game of Friday's preliminary matches in the 2012 Olympics. The last time the two teams met it was in the gold medal game of the 2010 FIBA World Championship in Karlovy Vary, Czech Republic. The U.S. won 89-69, becoming the first team to qualify for the Olympics.
U.S. assistant coach Doug Bruno (DePaul University) scouts the Czechs.
What do you expect to see from Czech Republic?
Their guard play with Katarina Elhotova and Hana Horakova is very, very good. When they come at you, they really can be good. It was a great win for them against Croatia. Sitting at 0-2, they weren't expected to win. They are fighting to stay in medal contention, so it's going to be a tough ball game. We didn't beat them easily in the Czech Republic.
Are they are similar team from two years ago?
They are a very similar team to what they were two years ago. I think they have been in a little bit of a rut going 1-2 to start their Olympic play, and they are trying to fight their way out of it. It's very important that we handle their guards.
In addition to stopping their guards, what are some other keys to the game?
It's getting to be about us now. Because we are together such a short amount of time, this is a growth process. Now, we are at the point where we have to get a lot better fast. The two steps forward, one step back stuff needs to stop, and we need to play with more consistency from beginning to end. That's what it really is about for us in these next two games against Czech Republic and China — can we get going what we need to get going individually and collectively?
---
Czech Republic games so far
July 28: China 66, Czech Republic 57
July 30: Turkey 61, Czech Republic 57
Aug. 1: Czech Republic 89, Croatia 70