U.S. extends streak to 40-0 in Olympic competition, beats Australia 86-73 to reach gold medal round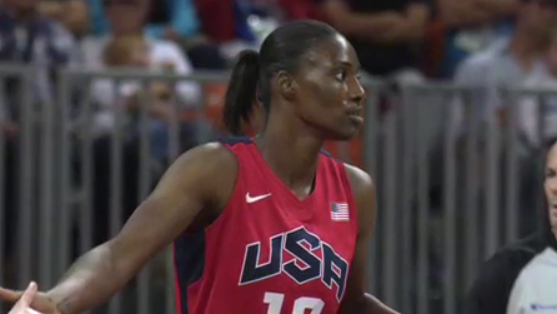 [Full Schedule and Previous Results]
The U.S. overcame a halftime deficit to defeat Australia 86-73 in the semifinals of the 2012 London Games. The Americans seek to win their fifth straight gold medal after extending their Olympic winning streak to 40-0. They will play the French national team Saturday.
The Aussies, led by Liz Cambage, had no problems scoring against the Americans in the first half. At halftime the Opals led 47-43 and Cambage had 19 points. However, the young center was shut down by the defensive pressure of the U.S. in the second half. She was scoreless after the break.
Minnesota Lynx players Lindsay Whalen, Maya Moore and Seimone Augustus helped spur the U.S.'s dominance in the third quarter. At the beginning of the fourth period, the U.S. led 65-59 with Sue Bird, Diana Taurasi and Tina Charles with 10 points each.
Charles finished the game with 14 points plus 10 rebounds. Taurasi also had 14 points plus five rebounds. Bird ended the game with 13 points and four rebounds.
For Australia, Cambage had seven rebounds to go along with her 19 points. Lauren Jackson added 14 points plus 17 rebounds. Kristi Harrower scored 12 points and pulled down four rebounds while Jenna O'Hea added 10 points and three assists.
USA vs. Australia in the Olympics:
2012   86-73
2008   92- 65
2004   74- 63
2000   76- 54
1996   93- 71
1996   96- 79
1984   81- 47

The undefeated French beat Russia in the second semifinal of the day, 81-64. No matter the outcome of the gold medal game against the United States Saturday, the result will lead to the first-ever Olympic medal for France in women's basketball.
Led by former WNBA player Edwige Lawson-Wade (San Antonio Silver Stars), "Les Bleus" took an early lead and never looked back. They led 38-31 at the half. Russia managed to narrow the deficit to two, 42-40, in the third quarter but the French pulled away again and began the fourth quarter ahead, 59-51.
Lawson-Wade finished with 18 points and five assists. Emilie Gomis had 15 points while Sandrine Gruda scored 11 points and pulled down eight rebounds. Celine Dumerc finished with 11 points as well.
Becky Hammon and Alena Danilochkina led the Russian team with 13 points each. Danilochkina also had five rebounds and Hammon had five assists.