USA takes down previously unbeaten Turkey, 89-58, in third win of 2012 Olympics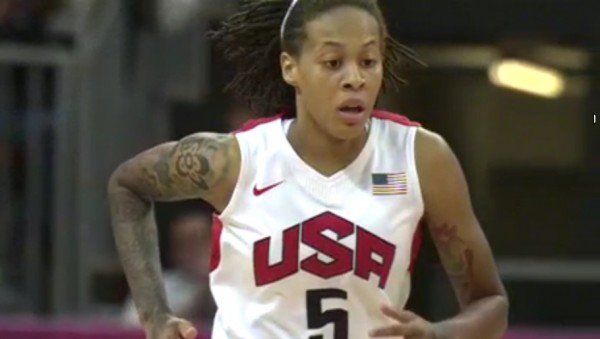 Full results/schedule
From USA Basketball:
A trio of double-digit scorers and stifling defense helped the U.S. Olympic Women's Basketball Team (3-0) top previously unbeaten Turkey (2-1) 89-58 in the 2012 Olympic Games at the Olympic Park Basketball Arena on Monday night in London, England.
Angel McCoughtry (Atlanta Dream) crashed the glass for six offensive boards and shot 10-of-11 from the free throw line to set a U.S. Olympic women's single-game record for free throws made to help compile a team-high 18 points. Tina Charles (Connecticut Sun) grabbed seven rebounds on her way to 16 points, and Lindsay Whalen (Minnesota Lynx) also tallied seven boards to go with her 14 points.
The U.S. defense rejected eight shots to set a U.S. Olympic women's team single-game record and held Turkey to 31.9 percent (22-69 FGs) from the field and 38.1 percent (8-21 3pt FGs) from 3-point. Tonight's game was a rematch of sorts as the U.S. beat Turkey 80-61 in exhibition on July 22 in Istanbul, Turkey.
"My views haven't changed that much from the last time we played Turkey," said Geno Auriemma, USA and University of Connecticut head coach. "When I saw them play in the European qualifier I thought they looked great. They were clearly one of the top two teams in the tournament. Watching them play leading up to our game, I haven't changed my mind one bit; they have been shooting the ball great. They did that tonight too. They are a very difficult team to match up with."
Turkey put the game's first points on the board and then went on to hit three more 3-pointers in the first period to help keep the game tight through the first 10 minutes. With the USA trailing 10-8 at 4:31, Auriemma changed his side, and McCoughtry ignited the USA with two steals and seven points as the USA closed the quarter by outscoring Turkey 11-6 to take a 19-16 lead at the first break.
"Honestly, that's a part of my role; the whole second group brought the energy coming in," McCoughtry said. "That's what makes our team so special; when he (Coach Auriemma) subs, we don't lose anything."
Beginning with McCoughtry's four points to end the first quarter, the USA scored six more unanswered points at the start of the second to put together a 10-0 run and take a 25-16 lead with two free throws from Taurasi at 7:44. Consecutive 3-pointers from Bird and a score from Asjha Jones (Connecticut Sun), who was playing on her 32nd birthday, followed to put the USA up 33-20 at 3:54.
The U.S. defense held Turkey to just 10 points in the second period and the Americans had built a 41-26 lead by halftime. In the first 20 minutes, the U.S. defense was suffocating in the paint, but its opponents found breathing room outside the arc. Turkey was just 23.0 percent (6-26 2pt FGs) from two-point and 40.0 percent (4-10 3pt FGs) from deep in the first half.
"I think defensively we probably gave up more uncontested shots than we would have liked and that comes from breaking people down on the perimeter, and obviously help comes, and they kick and these are good shooting teams, so those are things were going to have to limit a little more," Diana Taurasi (Phoenix Mercury).