Baylor center Brittney Griner headlines 2012-13 preseason "Wade Watch List"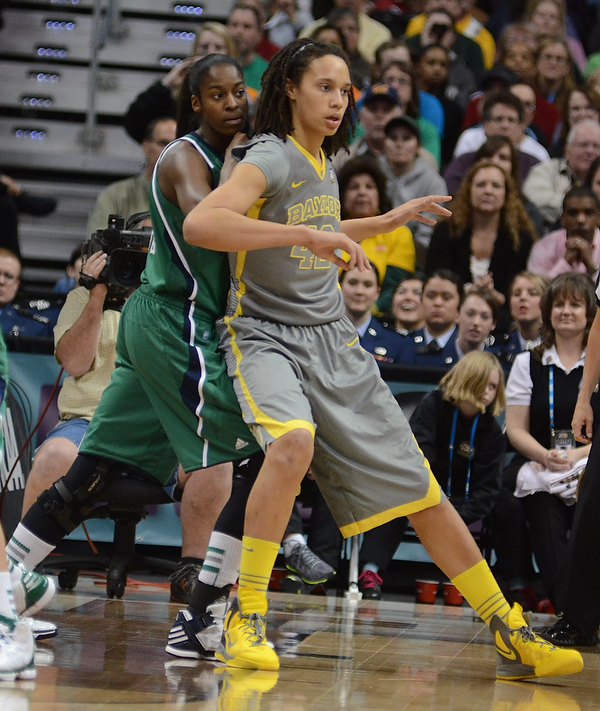 From the WBCA:
Baylor center Brittney Griner, the 2012 State Farm Wade Trophy winner, headlines the 2012-13 preseason "Wade Watch" list of candidates for the prestigious award, the Women's Basketball Coaches Association announced today.
Connecticut leads all schools with three players on the 25-member preseason list. Five schools – defending national champion Baylor, Duke, Kansas, Nebraska and Penn State – are represented by two players each.
Now in its 36th year, the State Farm Wade Trophy is named in honor of the late, legendary three-time national champion Delta State University coach, Lily Margaret Wade. Regarded as "The Heisman of Women's Basketball," the award is presented annually to the NCAA Division I Player of the Year by the National Association of Girls and Women in Sport (NAGWS) and the WBCA.
The preseason list is composed of top NCAA Division I women's basketball players who best embody Wade's spirit from 18 institutions and eight conferences. A committee of coaches, administrators and media from across the United States compiled the list using the following criteria: game and season statistics, leadership, character, effect on their team and overall playing ability.
Notre Dame's Skylar Diggins, Delaware's Elena Della Donne and Georgetown's Sugar Rodgers join Griner on the preseason list for the third straight year. Alex Bentley of Penn State, Carolyn Davis of Kansas, Stefanie Dolson and Bria Hartley of Connecticut, Chiney Ogwumike of Stanford and Odyssey Sims of Baylor are making their second appearance on the list.
The BIG EAST Conference placed seven players on the preseason list, followed by the Big Ten and Big 12 conferences with five each, the Atlantic Coast Conference with three, the Southeastern Conference with two, and the Colonial Athletic Association and Ohio Valley and Pac-12 conferences with one each.
Here is the complete list of preseason candidates for the 2013 State Farm Wade Trophy in alphabetical order:
| | | | | |
| --- | --- | --- | --- | --- |
| | Player | Institution | Position | Year |
| | Alex Bentley | Penn State | Guard | Senior |
| | Heather Butler | UT Martin | Guard | Junior |
| | Carolyn Davis | Kansas | Forward | Senior |
| | Elena Delle Donne | Delaware | Forward | Senior |
| | Skylar Diggins | Notre Dame | Guard | Senior |
| | Stefanie Dolson | Connecticut | Center | Junior |
| | Christina Foggie | Vanderbilt | Guard | Junior |
| | Chassidy Fussell | Texas | Guard | Junior |
| | Angel Goodrich | Kansas | Guard | Senior |
| | Chelsea Gray | Duke | Guard | Junior |
| | Brittney Griner | Baylor | Center | Senior |
| | Bria Hartley | Connecticut | Guard | Junior |
| | Tayler Hill | Ohio State | Guard | Senior |
| | Jordan Hooper | Nebraska | Forward | Junior |
| | Maggie Lucas | Penn State | Guard | Junior |
| | Anna Martin | DePaul | Guard | Senior |
| | A'dia Mathies | Kentucky | Guard | Senior |
| | Lindsey Moore | Nebraska | Guard | Senior |
| | Kaleena Mosqueda-Lewis | Connecticut | Forward | Sophomore |
| | Chiney Ogwumike | Stanford | Forward | Junior |
| | Sugar Rodgers | Georgetown | Guard | Senior |
| | Shoni Schimmel | Louisville | Guard | Junior |
| | Odyssey Sims | Baylor | Guard | Junior |
| | Alyssa Thomas | Maryland | Guard | Junior |
| | Elizabeth Williams | Duke | Center | Sophomore |