DeWanna Bonner and Krystal Thomas lead Mercury past Sun, 91-82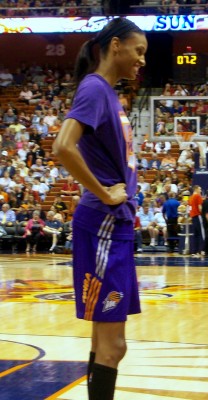 UNCASVILLE, Conn. – With Samantha Prahalis joining Candice Dupree and Penny Taylor in street clothes on the Phoenix Mercury bench, and coming off of an 87-59 loss to the New York Liberty, Corey Gaines could not have felt great about his team's chances against first place Connecticut at Mohegan Sun Arena.
However, the Mercury dominated the boards and out-hustled a listless Sun team, holding off a Connecticut comeback in the fourth quarter to gain a 91-82 victory before 8,379 fans anxious to see the return of University of Connecticut legend Diana Taurasi's one game per season in the Nutmeg state.
They only saw just over 17 minutes of Taurasi, including just five in the second half, but she did not disappoint her fans, scoring 16 points in that time as Gaines felt "they were going well and we were trying to get some experience for some other players."
However, it was former Auburn standout DeWanna Bonner who put on an offensive show, and Krystal Thomas who controlled the boards.
Bonner displayed an amazing array of offensive skills, scoring twelve in the first quarter as the Mercury jumped out to a 10-point lead they never gave back. She finished the game with 35 points, three shy of her career high, on 12-of-23 shooting, hitting six three-pointers.
"DB can taste that scoring title I think," Gaines said. "Tonight she played point, 2, 3, 4 and 5. She can play all positions, she ran point the whole fourth quarter. She can do it, with some purpose too, not just to bring the ball up. You put someone on her to pick her up full court she can handle it, and she can get her shot off because she's tall and long."
The three-time defending Sixth Woman of the Year award winner will not be getting it this year, as the injuries have forced her into the starting lineup, and she has taken advantage of her larger role.
"Inhouse we've always known what she can do," Taurasi commented, while poking fun at Dupree, who was at the locker next door. "Sometimes when you are on a team when you're playing with me, Penny, Dupree, who shoots the ball every time she touches it, you don't get the looks. She's shown though that she can come out here and put up some big numbers. I know this for a fact, for teams that take ownership of their roles that's when you have your best seasons. What she's doing this year is only going to help her career and help us too."
Bonner took it all in stride, and laughed at questions about her 35-point performance saying it was nothing. "I've just been aggressive. Luckily my shots were falling for me tonight. It's a tough place to play, and they almost had a sellout, so coming in here after New York we just wanted to show we are a better team than that."
Sun guard Kara Lawson said the absence of the other Mercury stars has made Bonner that much better and more effective.
"A lot of this league is a function of opportunity. She is obviously playing without Diana most of the year, Penny, Dupree so when you get 25 shots a game you can be productive at that level," said Lawson. "Obviously tonight, she was much more efficient than she normally is [she shot over fifty percent for the game and is shooting 36 percent for the season], you've got to credit her for making those shots, but that's really the difference I see, they give her the opportunity to take a lot of shots. Their team looks for her, screens for her, understands that they need her to take a lot of shots to win, she's a big focal point for them on the offensive end and their team really works to get her free looks. Screen, screens at the top, screens off the ball, they just screen for her all the time."
The absence of injured Asjha Jones continues to haunt the Sun on the boards, as the Mercury outrebounded Connecticut by a wide 45 to 21 margin, with 16 being offensive rebounds. Six huge offensive rebounds were in the fourth quarter as the Sun tried to come back. Thomas led the team with a career high 16, with Bonner adding seven.
Gaines was full of praise for his young center Thomas in discussing the rebounding edge.
"That's KT. She had 16 rebounds, and they were go and get it rebounds too," said Gaines. "We hyped her before saying Tina is going to get all the rebounds, and Tina does this, so she was probably just trying to shut us up. For some reason whenever we can hit shots, it just gets them going. Even the years when we were good, you hit shots, it makes everything better."
Bonner did mention the impact that big loss to New York two nights earlier had on her team.
"You're on the East coast, getting that first win is tough, but losing by forty, is embarrassing," she explained. "You want to go out and prove your better than that, and I think we did that tonight. I think everyone played well."
A disappointed Sun coach Mike Thibault felt that Mercury loss to the Liberty impacted his team's psyche going into this game as well.
"I think part of it, and I'm just guessing, is that Phoenix losing by a lot in New York the other night gave us a false sense of security," said Thibault. "The coaches didn't have it, but I can't tell you. They understand how hard a team can play and they have bad shooting nights and I thought Phoenix had a bad shooting night in New York and tonight they made up for that."
He added they gave Bonner too much space to shoot.
"I asked our players if they understood that Bonner is the leading scorer in the league because I was wondering if they did."
Renee Montgomery played a strong game for Connecticut, finishing with 25 points, but did not consider her performance or the team's fourth quarter comeback to be significant.
"Absolutely not," said Montgomery. "You can only come back if you stink it up so bad that they are up so much that you can make the comeback."
Lawson was also straight to the point when asked if the Sun comeback could be used as a positive heading into Sunday's eastern conference matchup with Chicago.
"No. There is nothing positive about this game," said Lawson. "If anybody is sitting here thinking that there is something positive about this game probably needs to rethink that."
Other Friday night results
Los Angeles 96, Washington 68
Chicago 92, New York 83
Indiana 82, San Antonio 78
Minnesota 97, Atlanta 93 – 2 OT