Dishin & Swishin 9/13/12 Podcast: Briann January leads the Fever into the playoffs, Glory Johnson leads the Shock by example
[display_podcast]
This week's podcast consists of two tales that have some similarities and some big differences.
The Indiana Fever are riding a three-game winning streak into the WNBA Playoffs once again. They have won 10 of 12 games since the Olympic break, and they are the first franchise to win 20 or more games seven times in an eight year span. Long known for their defense, head coach Lin Dunn transformed the Fever into a three-point shooting machine this season, and needs 44 three-point field goals to surpass the WNBA record for three-pointers in a season.
Tamika Catchings and Katie Douglas may provide veteran leadership, but it is the point guard play and ball handing of fourth-year pro Briann January that is providing stability on the court. January assumed the starting job at the point last season, but went down after only ten games with a torn ACL. She is back at one hundred percent this season, and is having a career year, with highs in every major statistical category. She is a candidate for the All-Defense team this season, and there is no denying that she is a prime force as the Fever make their run for the divisional title and a shot at returning to the WNBA Finals.
Dishin & Swishin had the opportunity to talk to January this week, discussing her return to health, the team and its season, the playoffs, and so much more. A great chat with a rising star of the WNBA.
The Tulsa Shock on the other hand, have had their ups and downs, and are currently on one of those downward spirals, losing four games in a row, and eight of eleven since the Olympic break. A part of that may be due to the anticipation and subsequent failure of Liz Cambage to come to the WNBA this season. Still, coach Gary Kloppenburg has had the team playing hard and playing aggressive all season long, regardless of the outcome.
Rookie Glory Johnson is a leader in driving the young team's aggressive play.
Coming from the storied Tennessee Lady Vols program and coach Pat Summitt, it is not surprising Johnson has been up to the task, playing some outstanding basketball while adjusting to the professional life and demands of her career.
Johnson has thrived against the best teams in the WNBA; she scored thirty against Western conference leaders Minnesota, she had fifteen rebounds against Eastern conference leading Connecticut. Just last night, in a game that really had no meaning as to playoffs or lottery position, at a time when many players are sitting out games like this, Johnson played 35 minutes and poured in 18 points and had five rebounds versus San Antonio.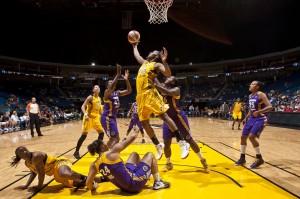 A gregarious, delightful person to talk to, Dishin & Swishin had a fun conversation with Johnson this week, covering everything from coach Summitt and her current condition, playing and what to do in Tulsa, the troubling staph problem the team has been facing, changing her game to being more face up than back to the basket, her lack of three-point shots, the difference in being a professional, plans for the winter and more.
We have two great young players, on two teams that at least for now are going in opposite directions: Briann January of the Indiana Fever, their point guard and floor leader, and Glory Johnson of the Tulsa Shock, their forward and rebounding machine. The sky is the limit for them both!
Enjoy the podcast!