Dishin & Swishin 9/27/12 Podcast:Ticha Penicheiro discusses her career, Tulsa's Gary Kloppenburg on the playoffs and the draft lottery
[display_podcast]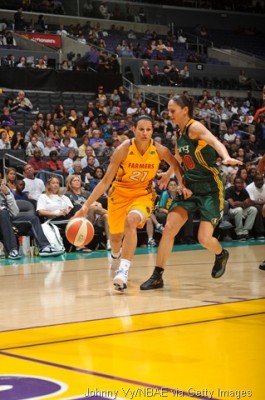 Today on the Dishin & Swishin podcast, we look a bit at the past, the present, and the future of the WNBA.
First, the past. Last week point guard extraordinaire Ticha Penicheiro retired, ending a career in 2012 in Chicago that begin in 1998 in Sacramento. That career included a championship ring, along with 2,599 career assists and at least twice as many "oohs" and "ahhs" from fans throughout the world. Penicheiro played with a joy and flair the women's game has not seen very often. It was her ability to distribute the ball like Magic Johnson that attracted so many fans to her.
Off the court, her personality, smile and professionalism kept them as fans. I remember her choosing a fan at a charity basketball game put on years ago by Jennifer Rizzotti, and making sure that fan received her signed sneakers as a keepsake for the game. I know that girl, and she is now one of the top high school players in the state of Connecticut, spurred in part by the love of the game she was shown by players like Penicheiro (yes, it sounds corny, but the girl swears that is the truth).
Penicheiro has been a guest on Dishin & Swishin before, and it was a pleasure to have her back on now, so she could discuss her decision to retire, the past season in Chicago as well as her stops in Los Angeles, Sacramento, and college career at Old Dominion. We discussed beating Stanford, but losing to Tennessee for a national title, racking up assists all over the world, and in short, just Ticha being Ticha.
On a personal note, Dishin & Swishin wishes Ticha happiness and good health for the rest of her life and hope she remains a visible force for women's basketball.
On to the present we go, and bring in Tulsa Shock head coach Gary Kloppenburg. The Shock did not make the playoffs, but showed dramatic improvements in so many areas on and off the court, even while missing last season's number two overall draft choice Liz Cambage. The team has for the first team players that want to be there, want to see the franchise succeed, and want to win, in Tulsa, something that needs emphasis.
However Coach Klop joins the podcast in part to help breakdown those that have gotten to where he wants to be, the playoffs. We discussed the upcoming 2012 WNBA playoffs, as his Shock team had victories this past season over playoff teams Los Angeles (twice), San Antonio, Atlanta and New York. Four wins over playoffs teams is not too shabby when you consider the team won a total of nine games all season.
We discussed each of the first round playoff series, including who and what we should be looking for. If you heard Coach Klop break down the NCAA finals with Brian Agler in an earlier podcast, you already know how he can take the most complex aspects of the game and break them down so we can all understand it.
Then to the future, as Coach Klop discusses the draft lottery, his thoughts on the layout itself and how it is run, and of course, his feelings about the Tulsa Shock getting the third pick in the 2013 WNBA draft, which will feature Brittney Griner, Elena Delle Donne and Skylar Diggins among others.
Enjoy the podcast!