Sun and Dream rack up honors as they ready for the playoffs with spirited season finale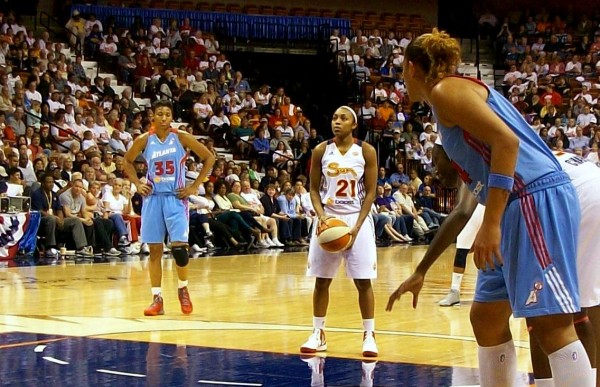 UNCASVILLE, Conn. – On a beautiful New England day, perfect for picking apples, members of the Connecticut Sun and Atlanta Dream instead picked up individual honors, milestones and achievements instead, as 9,143 people packed Mohegan Sun to see two of the four Eastern Conference playoff teams finish the regular season.
The Sun won the game comfortably, 92-72, securing home court advantage throughout the playoffs against everyone except Western conference champion Minnesota, but that was almost lost in the achievements completed during this game.
The Sun won their 25th game of the season, and became the first team since the WNBA went to a 34 game schedule to win the season series against every team in the Eastern Conference with their victory (Seattle and Minnesota have done it in the West). Connecticut won the Eastern Conference championship last season with only 21 wins.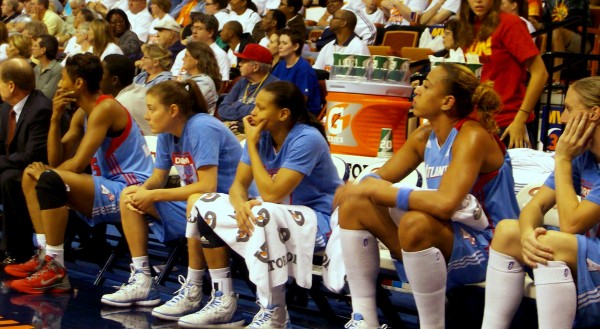 Atlanta's Angel McCoughtry, who had a sometimes troubled and sometimes phenomenal season, won the WNBA scoring championship, nosing out Phoenix's DeWanna Bonner. She finished the regular season with an average of 21.4 points per game (514 points in 24 games), while Bonner finished with 20.6 points per game (660 points in 32 games).
Atlanta point guard Lindsey Harding completed a strong season by crossing the 2,000 point barrier for her career, the only player from her draft year of 2007 to reach 2,000 points. Harding only had one goal on her mind though when asked about her milestone post game.
"It would be great to go with a championship this year," she smiled. "I think it is great doing something in my career, I think each year I have gotten better and better as a player and hopefully I continue to get better."
The Sun concluded their outstanding regular season with some honors and milestones as well.
Kara Lawson's announcement before the season that she would contribute $50 to Alzheimer's research, in honor of her college coach Pat Summitt, for each three pointer made, turned out to be very costly. The gesture was matched by the Sun, and as Lawson broke Katie Douglas' franchise record for most three-point field goals in a season with 74 yesterday, $7,400 was raised during the regular season. In true Lawson fashion, she did not know the reason she was still in the game with the victory in hand was to break the record.
"I probably would have shot one sooner if I knew," said Lawson. "For me, I think the three-pointers, from the beginning of the year, have taken on extra meaning because of coach Summitt and what I decided to do to try to help raise money. From that perspective to not only set a franchise record, but I think it was my most makes in my career in a season too. It's pretty cool to do it in a year where I'm trying to raise as much money as I can."
Having already become the fastest in league history to 1,000 rebounds last game, Most Valuable Player candidate Tina Charles won the WNBA rebounding title for the year, edging out Chicago's Sylvia Fowles. Charles finished the regular season with 345 total rebounds, an average of 10.45 rebounds per game, while Fowles finished with 10.4 rebounds per game.
Charles scored 17 points to lead the Sun, giving her 594 points for the season, or 18.0 points per game, which sets the Sun single-season franchise scoring record. Charles held the previous record with 17.6 points per game set last year.
Beyond the numbers, the game was about both teams trying to get into playoff mode.
Asjha Jones made her first start since the Olympic break for Connecticut, and played 11:36 of the first half's 20 minutes. She stiffened at halftime again, and did not return, something the Sun will be working on this week in practice. While not sharing them, Coach Mike Thibault expressed that he had some ideas to counter that for the playoffs.
The Sun assisted on 21 of their 36 field goals, and defensively forced Atlanta into 19 turnovers and 40 percent shooting (seven percent from three). Thibault was pleased with both.
"We shared the ball, we had 21 assists. For the most part our defense was good," he said. "We're closer to being where we were before the break. It just felt better today."
Thibault worked on being playoff ready himself, earning a technical foul in the third period after a few calls did not go the Sun's way. When an offensive foul was called on Atlanta, he turned, faced the crowd and threw his arms up and down, imploring them to cheer the refs call.
"A few things drove me crazy. Most of them caused by people were had jerseys on that didn't look like ours," he joked postgame.
The New York Liberty are the first round opponent facing Connecticut, and even though the Sun won four out of the five games they played, Thibault knows the playoffs are another story.
"They're very, very potent when they're clicking. We know what to expect from them defensively," he emphasized. "They have four people in their starting lineup who have won championships. We have one. We're going to have to be at our best. I truly believe any of the eight teams in the playoffs can win if you get started the right way."
Atlanta goes on the road, heading to Indiana to take on the Fever in their first round series. Dream coach Fred Williams emphasized while not happy with the way the team lost, falling behind early in the game, he got what he was looking for out of the game.
"I just wanted to get everybody up and down the floor and get everybody to play in the game, so that was my game plan," said Williams. "In the first quarter, we didn't get shots to go down for us and we kind of started out flat and dug a hole and tried to come out of it. Overall, everyone is healthy."
Explaining that Atlanta has only had center Erika de Souza and McCoughtry together for eight games all season, Williams continued that the Dream has to play to their strengths versus Indiana.
"The key is to get out in transition, push our tempo like we have in the past and rebound."
Talking to both teams, one thing was certain; neither will be surprised to see the other in the conference finals in a couple of weeks.