Lynx advance to WNBA finals in nail-biter on the road, overcome stellar play of Candace Parker and rebounding deficit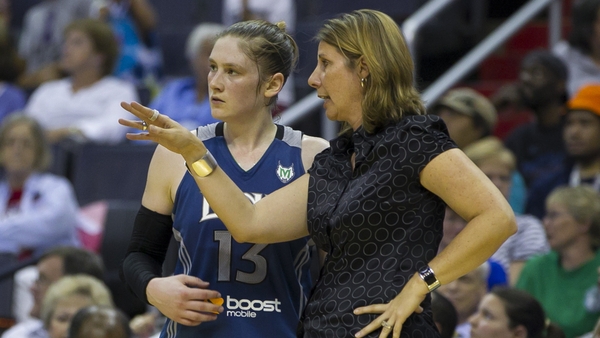 With a slim 80-79 win over Los Angeles Sunday night, the Minnesota Lynx finished a Conference finals sweep of the Sparks in front of 10,791 fans at the Staples Center. The Lynx advance to the WNBA finals for the second consecutive season.
"We were ready for the challenge tonight," said Lynx head coach Cheryl Reeve. "We had the mindset that it's a 120-minute series, and you have to keep playing. It's not decided in the first or second ten minutes."
Despite a stellar performance from forward Candace Parker and a rebounding edge, the Sparks could not overcome the Lynx near the end of the fourth quarter even after amassing a 13-point lead in the third period. The Lynx roared back with a 30-17 run over the final 11:27. Reserve Monica Wright drained a three-pointer with 1:14 left in the game to put the Lynx ahead by one for the final score.
By the numbers
Points in the Paint
Lynx 42, Sparks 48
Second Chance Points
Lynx 7, Sparks 24
Fastbreak Points
Lynx 9, Sparks 12
Biggest Lead
Lynx 12, Sparks 13
Lead Changes
7 Times
Tied
6
The Sparks made a frantic effort to score in the final seconds but failed. Sparks head coach Carol Ross explained their strategy.
"The final play was going to drive it down by 1, Candace was going to be the screener, we were going to look for the drive and have Candace looking for the put-back," said Ross. "(Alana) Beard had the option to get it to Parker on the pick and roll, and it wasn't executed very well."
Parker finished with 33 points, 15 rebounds, five rebounds, four blocks and the Sparks out-rebounded the Lynx, 39-23. The Lynx shot 47.1 percent from the field while the Sparks made 46.7 of their shots.
Maya Moore made several key buckets in the stretch to get the Lynx back within striking distance after trailing at the half 40-39 and starting the fourth quarter eight points in the hole. The Sparks led 65-47 to begin the last period.
"Every mistake we made, they made us pay," said Ross. "You can't get away with them on Minnesota. Moore had two big threes and we were slow in our rotations. We had a miscue with Wright in the corner. She nailed it – that was a big basket."
Moore relished the challenge of coming from behind.
"It's really fun to play on this team because we've been in those types of situations before when we were down," she said. During the third quarter, Reeve screamed at her team in the huddle "ten points is nothing" when the Lynx were down by that amount.
"We've been through worse," said Moore of the deficit. "We just had to keep playing." She scored eight of her 20 points in the final quarter including two three-pointers.
"We had great leadership, and Moore hit some great threes to get us back into it and give us more bounce to our step," said Reeve of her team's effort late in the game. "Happy to get the W, survive and advance, and WNBA finals here we come."
Seimone Augustus led the Lynx with 21 points. Lindsay Whalen added 17 points and five assists while Rebekkah Brunson pulled down 10 rebounds to go along with her six points.
For Ross, the momentum of the game changed at the end of the third quarter when Moore hit one of her key second half three-pointers.
"One of the big momentum changes was at the very end of the third quarter, we should have held the ball and took the last shot," said Ross. "Moore hit a three, and I thought the energy changed then. We all want to make it one play or one moment, but it's an accumulation of 40 minutes of moments. We fought to get the lead, they fought to get it back. It was a game of runs. We wish we could have held it and built on it, and we didn't. I'm not disappointed with our fight, and that's the most important thing for me: we competed hard, and sometimes you win and sometimes you lose."
For Parker, the disappointment in losing stemmed from her expectations that the team would be in the championship.
"I really wanted this…from the day we all got together," said Parker. "We had championship in our mind and in our hearts. It hurt after we lost tonight because I think that this is a championship team."
Before the game, the league award Ross with the Coach of the Year award and Sparks rookie Nneka Ogwumike with the Rookie of the Year honor.
The Lynx will face the winner of the Eastern Conference finals, either the Connecticut Sun or Indiana Fever, Sunday, October 14. Connecticut currently leads 1-0, with game 2 in Indiana Monday night.
Last season the Lynx swept the Atlanta Dream in the first WNBA finals appearance in franchise history, winning the team's first championship. Minnesota was a league-best 27-7 this season, including winning a franchise-record 16 games at Target Center. They finished off the Seattle Storm in three games during the Western Conference semifinals.
WNBA Finals schedule
Game 1, Sunday, October 14: Connecticut/Indiana at Minnesota, 8 p.m. ET
Game 2, Wednesday, October 17: Connecticut/Indiana at Minnesota, 8 p.m. ET
Game 3, Friday, October 19: Minnesota at Connecticut/Indiana, 8 p.m. ET
Game 4, Sunday, October 21: Minnesota at Connecticut/Indiana, 8 p.m. ET (* if necessary)
Game 5, Wednesday, October 24, Connecticut/Indiana at Minnesota, 8 p.m. ET (* if necessary)
Quotes
Sparks Head Coach Carol Ross
On the play of Candace Parker
Candace was tremendous not just tonight but all season long over the course of a very long season. She was excellent so many times. Her expectations for herself are much higher than any coach could have for her. I expect her to be almost perfect because she's so talented, she has a warrior's mindset. I'm disappointed for her that I couldn't help her and the rest of the team get what they wanted. I will tell her I'm sorry I couldn't do more, help her more, because she certainly helped us.
Sparks Forward Candace Parker
On the game…
They beat us by one point. At this point you look back at different things you could have done in the game, but I think our rebounding was better from last game, but at the end of the day it came down to a rebound, which we didn't get. Closing out on a long shooter. Obviously, disappointing to say the least about the outcome, because I really felt like we were going to win this game.
Sparks Guard Nneka Ogwumike
On her rookie season
I was just telling my teammates that this has been quite the experience in my rookie year. I had a lot of fun, I got better, got to play with some of the best athletes in the league. I'm just really happy and blessed that I got to be a part of this program, and to continue to be a part of it.
On her goals to improve
In terms of the tangibles, I want to improve my ball handling skills so I can help with ball pressure. In terms of intangibles, I want to be more of a student of the game, and just enhance my basketball IQ."
Lynx Head Coach Cheryl Reeve
On the Sparks run in the third quarter…
I thought we were overanalyzing and we couldn't score the ball and then they got into transition. Our offense really triggered the run they made.
On the play of her players when down
I have players who play year-round, and who have been up 17, up 13, down 17, and you know you have to keep playing. You don't have a choice. I thought it was really important that they believe if we stay the course, we'll be back in it. With five minutes to go, we put the pressure on them and made plays.
On the Lynx roster
When you have good people, good things will happen. We do things the right way, the unselfish play. If you look at all of them, they all have the same reputation. I'm fortunate to be in Minnesota in this window of opportunity we have, it's a good group. If I can stay out of the way and let them hoop and be themselves, then we have a chance to be successful. I've got great leadership in 4 captains.
On Monica Wright's three point shot…
We didn't expect that she was going to make the big shot. We were looking for Maya. But Wright was wide open, and the calmness that she stood in there and took the shot with great confidence, and she was a huge help in this game. She's always ready when her number is called."
Lynx Guard Lindsay Whalen
On the Lynx coming back to win
When we were down 13, we just knew we had to stay with it, and to stick together, and to make sure that we weren't going to give up and just hold in on the game plan, knowing eventually we were going to make shots. We picked it up, got a little more pressure on the ball. We started to really get things going, get some steals, rebounded better, and we ended up getting the win.