Shavonte Zellous saves the day for the Fever, Indiana douses Sun in game 2 of the Eastern Conference finals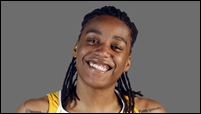 The Indiana Fever overcame an 11-point deficit and pulled out a 78-76 victory to keep their bid to reach the WNBA finals alive. A crowd of 9,225 at Bankers Life Fieldhouse witnessed Shavonte Zellous launch a 16-foot jumper with 0.5 seconds left in the game and send the Fever into game three of the Eastern Conference finals.
"It was a great TV game," said Fever head coach Lin Dunn. "I'm sure everyone who tuned in got their money's worth. It was very exciting. I can't say enough about the crowd. Seems like the last four minutes of the game, the crowd was standing and cheering. It was a hard fought battle."
Zellous only made two shots the entire game but her second success sent the crowd into a frenzy and both teams back to Connecticut for the final contest in the three-game series.
By the numbers
Points in the Paint
Sun 22, Fever 34
Second Chance Points
Sun 14, Fever 18
Fastbreak Points
Sun 5, Fever 2
Biggest Lead
Sun 11, Fever 6
Lead Changes
7
Times Tied
4
With time winding down, the Fever squad was desperate for a shot. A rebound and three-quarter-court pass from Tamika Catchings to Briann January resulted in a missed layup. January chased down her own miss and managed to get the ball inbounds to Zellous.
"At gut check time we had some good penetration," said Dunn. "Briann missed that layup at the end, scrambled and knocked that ball back in bounds to Zellous and she knocked down the shot."
The back-and-forth battle included three lead changes and three ties in the fourth quarter. The Sun led after the first quarter, 24-20 but trailed at the half, 46-43. Connecticut went into the fourth quarter with a one-point lead, 57-56.
"Obviously we thought we gave ourselves a chance to win down the stretch," said Sun head coach Mike Thibault. "Give Zellous credit. She made a good shot. Katie (Douglas) and Catch played well early. This was a good playoff game. Good thing for us is that we're going back to Connecticut. Our turnovers lead to points by them."
Indiana held off elimination for the third time in its last four games. Its home record is 8-1 all-time in WNBA elimination games.
Douglas scored a game-high 24 points and the league's Defensive Player of the Year Catchings contributed 21. Erlana Larkins added nine points and 11 rebounds.
Douglas, a former Connecticut player, kept the Sun on their heels with her relentless play and complimented Thibault on teaching her some tricks of the trade.
"My mentality is just to attack," said Douglas. "I'm trying to toy with the defense. I've been playing so many years, give coach Thibault the credit. He taught me the pick and roll. He's definitely made me into a pick and roll player."
Kara Lawson led the Sun with 18 points. Asjha Jones scored 17 and pulled down 10 rebounds while Tina Charles contributed 15 points and grabbed 8 rebounds.
Lawson is looking forward to the next matchup.
"Fortunately for us, we have another game," she said. "We made a lot of mistakes in this game. We need to do a much better job protecting the ball. In game one we made some mistakes as well that we need to improve upon. This is what to expect in playoff basketball. We played hard. They just made one more play than we did."
The series resumes Thursday at Mohegan Sun Arena in Uncasville, Conn. at 8:30 p.m. ET on ESPN2.
Notes
The Fever's eight turnovers matched the fewest by any team in the 2012 postseason. Minnesota committed eight in a game twice this postseason, once against Seattle and once against Los Angeles.
After having had 10 or more rebounds once in her entire career before this postseason, Erlana Larkins has collected double-digit rebounds twice in the five playoff games she has played for the Fever. Larkins leads the WNBA with 24 offensive rebounds in five postseason outings in 2012.
Including her 24 points Monday night, Katie Douglas has topped 20+ points in each of the last three games. She has averaged 25.0 points per game in that span.
Making her first appearance in four games, Jessica Davenport led the Indiana bench with six points on 3-of-5 field goals. She added three offensive boards, an assist and a blocked shot in 13 minutes.
After coming off the bench to score 13 points in the Sun's win on Friday, Tan White was scoreless in just under 14 minutes (13:43).