Sun look to close out series on the road, Fever aim to regain poise and composure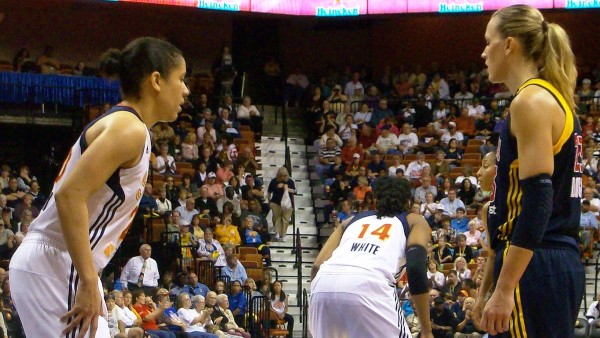 UNCASVILLE, Conn. – Connecticut Sun coach Mike Thibault could not be happy with the way the first game of the Eastern Conference finals began for his team. Having watched the Los Angeles Sparks start slowly the night before against Minnesota in the Western Conference finals, he knew what that week of rest could do to your momentum. The Sun worked all season to secure home court, yet in the first two minutes they trailed 5-0 and the Indiana Fever led, 22-14, after the first quarter.
"We had some miscommunications on defense and they made us pay for it," explained Sun forward Asjha Jones. "They came out with a particular way that they wanted to attack our defense and we didn't handle it well when the game started."
Connecticut shook off their early doldrums to use balance in outscoring Indiana 16-8 in the second quarter, before Tina Charles poured in ten third quarter points in a decisive 22-13 quarter.
"I wouldn't say I started off slow," said Charles, "it's about reading the defense. They were double-teaming me so I wasn't going to force shots when we have great shooters on this team. In the second half I just wanted to set the tone."
Indiana struggled mightily from the floor, hitting only 7-of-34 shots in those two quarters in giving up that early lead.
Fever coach Lin Dunn said it succinctly.
"When you hit your shots you score 22 points, when you don't you score eight. Let's give Connecticut credit. They are a tremendous defensive team, especially at home. They fought us tooth and nail, we didn't get wide open looks, we had to pass the ball and it allowed their defense to recover, but we did not hit the shot. We shoot 38 percent, they shoot 43 percent, they are going to win the ball game."
Katie Douglas, a member of the Connecticut Sun All-Time team selected earlier this season for her five years on the Sun, was the lone bright spot for the Fever. After hitting only 4-of-11 in the first half, Douglas went on a 7-of-8 second half shooting spree, finishing with a game high 27 points. Douglas explained her years in Connecticut are key to her success versus her former team.
"I like it," she said. "I like it here in Connecticut, obviously I played here for five years, I'm very comfortable with the rims, the floor, the lighting, you know everything a shooter needs and I was just feeling good. My teammates were getting me open and finding me; I was just trying to be aggressive. My shot was pretty good tonight."
On the other side of the spectrum for the Fever, star forward Tamika Catchings hit only 2-of-14 shots, hitting only 1-of-7 in each half. The battles between Catchings and Sun posts Jones, Charles and Mistie Mims were extremely physical, and seemed to take Catchings out of her zone.
"I allowed myself to step outside of the offense, and that's not a good thing for our team," said Catchings. "I missed a lot of shots tonight, and mentally I was like 'okay I'm going to make my next shot' but I tried to get it right back up. It wasn't a good night. Asjha is a tough defender, you know when you go out its going to be a physical matchup. For me whether Asjha guards me or Tina guards me, I have to do a better job next game. They rely on me to score, and to do everything else, but especially on a night like this when Katie's the only one that got double figures, so that's really not good for us. It's not a good look when we've had a lot of help from everyone (in recent games)."
Despite the talk of feeling pressure to "win one for Catch and KT" the Fever coaches denied that impacted the team's preparation.
"They are handling it like any other game," said assistant Stephanie White said pre-game."They certainly want to win the championship for KT and Catch but they are vets, they've been here, they understand that they can't look too far ahead or too far behind, they just have to be in the moment, and that's the best way to advance."
For Connecticut, in addition to Charles' 18 points and 15 rebounds, the Sun received 16 from Kara Lawson, 11 from Jones, and nine points and five assists from Allison Hightower. The bench provided a big lift with 20 points, including former Fever guard Tan White contributing 13, including 3-of-4 three pointers.
"I know that I may not be the first option," explained White. "but I'm just patient enough that when my post players get the double team and they kick it out, I know I just have to have confidence in my shot. That's what I did tonight."
Both teams know that this series is far from over though, and there will be a lot more basketball to be played.
Lawson, one of the few Sun players with championship round playoff experience warned about being overconfident.
"It's a long series," Lawson said. "We just have to be sound in what we are doing. We have to execute and be focused and not turn the basketball over. Obviously they are a team that is very aggressive, a great defensive team. Both teams talked about at length how rebounding is key to this series. We know that they are going to play with a lot of energy. That's what teams do when they are facing elimination. Indiana is a team that lost Game 1 in the last series, went on the road to win Game 2, and then came back home to close out the series. This is far from over. We did what we were supposed to do, which is win the first game, and now we have to try to win a tough game on the road."
On the other side, Dunn knows exactly what she sees happening in game two.
"I'm not asking for miracles," Dunn told the media, "just to go from 38 percent (shooting) to 42, and I think we can do that. But we have got to step up and knock down those open shots. I also think that we have to keep our poise and composure. When the calls don't go how we like it, you've got to keep your poise. You've got to slow down, you've got to execute a little bit better, you've got to find the open person if you're being double teamed, slow down and execute."
Dunn was on a roll.
"I think it's obvious we didn't do a better job getting (Erlana) Larkins touches," she said. "She shot 50 percent, she only got eight shots. We need to re-look where we get the ball, and knock down the open shots. Once again, if they win the boards, they're probably going to win the ball game. We were even at half, and then they come out on top. [The Sun outrebounded Fever 30-25 for the game] And they got fifteen second chance points. So we're going to take away five of those second chance points, we're going to hit five more of our shots, we're going to get to the free throw line two or three more times, and we're going to win the second game. That's how we're going to do it."