After routing Colgate 101-41, UConn prepares for more difficult stretch including No. 11 Maryland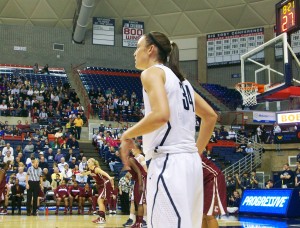 In the movie Hoosiers, coach Norman Dale preaches the four pass offense to his team, even benching a player for not following his system when only four others are available.
Dale would have loved watching the 2012-13 Connecticut Huskies women's basketball team execute their offense to perfection. Numerous times the Huskies had not only four passes, but four different players touching the ball on a possession, as they dismantled an overwhelmed Colgate team, 101-41.
"We spend a lot of time passing the ball and we tend to recruit good passers," explained head coach Geno Auriemma. "It's one of the first things we look for when we recruit a kid is if they are a good passer. I'm not surprised. We usually lead the country or are close to it in assists every year and that's the way we play and the kind of players we recruit. They are unselfish and always looking to pass, sometimes to a fault. Sometimes I've got to get on them to shoot more, but that's who we are and that's the way we play."
Billed as a battle for family bragging rights (both UConn and Colgate have Herbst siblings as school president), this battle was over early, as the Huskies jumped to a twelve-point lead before Colgate hit their first shot.
With leading scorer Kaleena Mosqueda-Lewis sitting this one out as she recovers from a concussion received in a Virgin Islands tournament over Thanksgiving, senior Kelly Faris assumed the role of "shooter that gets the team off to a great start."
Faris, known for being more of an all-around player than a scorer, was looking for her shot, and hit early and often, even racking up her first four point play. Averaging less than ten points per game this season, she had surpassed that by halftime. She finished with 17 points in 21 minutes, but still "stuffed the stat sheet" with five rebounds, five assists, and three steals. Faris, never one to boast of her own achievements, continued to share credit with her teammates.
"I think right now we're all working together really well and getting a lot of different options," she said. "Personally, I feel I'm making better decisions than I used to, and I need to keep working and getting better at it."
Colgate did not have the height to defend the multitude of posts UConn can put on the court this season, and faced domination in the paint. Husky posts Stefanie Dolson, Breanna Stewart, Kiah Stokes, and Heather Buck combined for 38 points while hitting 63 percent of their shots, plus 21 rebounds and six blocks.
Sophomore guard Brianna Banks continued to show the vast improvement in her overall game this season, scoring a career high twenty points off the bench, including four of five three-point shots. Banks also tied for game highs with five assists (with Faris) and four steals (with Moriah Jefferson). Auriemma is thrilled with the success Banks is having this season.
"For Brianna it's evident that she put a lot of time and effort into not just the game but acquiring a different outlook," he said. "Every kid that you recruit at Connecticut is with the hope that they all do that, some do and some don't, but you hope that they all do that."
The schedule for the rest of 2012 gets considerably more difficult for UConn. Beginning on Monday with the Jimmy V Classic game against No. 11 Maryland, three of the remaining five games are against highly ranked opponents, including their annual game against Stanford, the current No. 1 team.
The Huskies are looking forward to testing their success against a Maryland team that soundly beat No. 21 Nebraska 90-71 on the Huskers' home court Wednesday night.
"It will be big test for us come Monday," said Faris. "They're a great team – a great offensive rebounding team. We have a lot of young guys who haven't been through that type of thing yet and haven't been through that big test. It's going to be up to us older guys to be able to control everyone and get everyone on the right page."
Banks looks at the Maryland game as a true test of her growth.
"I guess it's a test for me to see what I'm ready for. If I keep working in practice and doing the things I've been doing every day then I'll be ready. I feel good and I'm having fun."
There is no denying that all the Huskies are having fun right now. Even Dale would be able to see that.