Dishin & Swishin 11/01/12 Podcast: After 31 years Holly Warlick takes the reins at Tennessee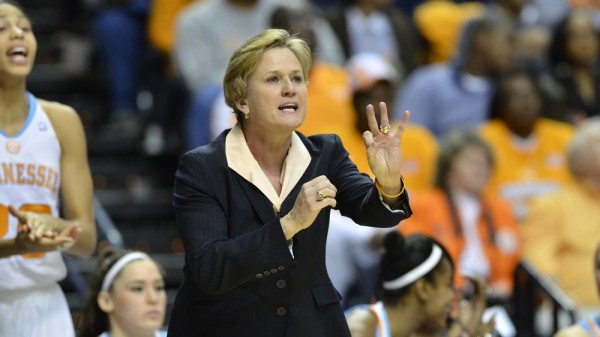 [display_podcast]
Four years as a player, 27 years as an assistant coach, and now, after 31 years playing for and coaching with Pat Summitt, the Holly Warlick era begins for Tennessee women's basketball tonight when they host Carson-Newman at Thompson-Boling Arena in an exhibition contest.
Sure, she did the majority of the coaching and took on most of the responsibility last season, but it is different now. The 2012-13 Lady Vols are Warlick's team in all aspects, in all responsibilities. Make no mistake, there will be pressure and there will be scrutiny.
If anyone is ready for it, it is Warlick. She knows about success, and she knows about disappointment. She has been a coach and confidant to a group of tremendously diverse players and teams over the years, and she is excited about this one. It is young, with only two seniors and one junior, but that does not seem to concern her; she knows those three upperclassmen, as well as the three sophomores that have returned, played under enough pressure and extenuating circumstances that they are "old beyond their years."
As the Lady Vols prepare to tipoff the season versus Carson-Newman this evening, Warlick was kind enough to spend a very nice half hour discussing her team, their roles and responsibilities, and much more.
How important will seniors Taber Spani and Kamiko Williams be; how about junior guard Meighan Simmons? Warlick discussed the off-season growth of players like sophomores Cierra Burdick, Ariel Massengale and Isabelle Harrison, and introduced each of the freshmen, and what could be expected from them.
Warlick's team will be facing a "new" SEC; with Texas A&M and Missouri joining, plus new coaches with defense in their histories like Vic Schaefer and Terri Williams-Flournoy. Summitt's "coaching tree" members Matthew Mitchell and Nikki Caldwell are building stronger programs as well. We also discussed the fact Tennessee is the lowest-ranked of five ranked SEC teams.
This was perhaps the greatest season for a collection of former Lady Vols in the WNBA, and we discussed the magical season of Tamika Catchings and former coach Mickie DeMoss, plus the sterling seasons of Candace Parker and Kara Lawson.
Earlier this week top high school prospect Mercedes Russell verbally committed to Tennessee. While she committed to play for Warlick, she committed to a program with unmatched success, and one that under Warlick will continue to grow but will not lose its connection to its roots. Unlike many other interviews on Dishin & Swishin, one of the goals of this interview was to focus on the 2012-13 Lady Vols and not to discuss coach Summitt or the past.
That, however, is impossible. It is impossible because Warlick will not let it happen. The love and respect the new coach has for the former is clearly heard, and that is why Mercedes Russell and anyone else that commits to the program will benefit greatly from wearing the orange of Tennessee.
Enjoy the podcast!
Subscribe to the podcast on iTunes