Dishin & Swishin 11/20/12 Podcast: Sisters Joslyn & Elle Tinkle face off as Stanford meets Gonzaga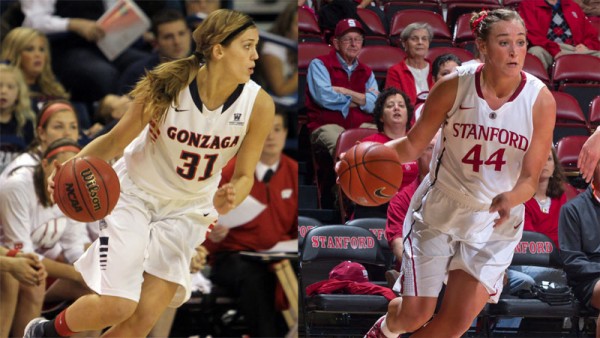 [display_podcast]
Having a sister is like having a best friend you can't get rid of. You know whatever you do, they'll still be there. ~Amy Li
With all due respect to Ms. Li, she never had to box out a 6'3″ sister in a game that is becoming one of the more fun rivalries on the West Coast. For forty minutes on Sunday afternoon, they may not be able to get rid of each other, but Stanford's Joslyn and Gonzaga's Elle Tinkle will certainly not be best friends.
The pride of Missoula, Montana, the Tinkles have never played an organized game against one another. The sisters played high school ball together for a year at Big Sky High School in 2008-09.
Hoops are in the family genes as both of their parents played ball at the University of Montana, and father Wayne is head coach of the men's team.
In one of the great stories of the season to date, No.1 Stanford has seen senior Joslyn continue her four-year evolution into an integral part of their offense and defense. As a freshman, Joslyn averaged 13 minutes per game. Subsequent years saw that grow into 16 as a sophomore, 24 last season as a junior, and now a team high 31 minutes per game. She is also averaging over 18 points per game, on 64 percent shooting.
A track star in high school as well as a basketball standout, Elle has seen her career at Gonzaga begin much like her big sister's was at Stanford. She is getting limited minutes, but needs to learn the college game and maximize the efficiency of her time on the court. So far so good, as she is earning her court time for the 6-1 Zags.
On this week's Dishin & Swishin podcast, Joslyn did not know we were going to spring Elle on her during the interview, and it was a blast talking to the two sisters together. Intelligent, witty, and charming, the sisters and I engaged in discussion on their teams and their roles, growing up in a basketball family, and the excitement of the first ever "Tinkle Cup," the family bragging rights.
The two will square off at 2 pm PT, as Stanford plays at what should be a sold out McCarthy Athletic Center in Spokane, Washington versus Gonzaga. There will be numerous Montana family and friends attending the game, and it will create and even more special environment for the sisters than just playing against each other.
Once the ball gets tipped off though, this will be No. 1 Stanford defending their top spot against one of many challengers looking to knock them off. It should be a great game.
Enjoy the podcast and thanks to both Stanford and Gonzaga for making it possible!
Broadcast Details
Stanford vs. Gonzaga, 5 p.m. ET
TV: SWX (Eastern Washington and North Idaho), PxP: Greg Heister, Analyst: Stephanie Hawk Freeman
Webcast: GoZags.com (paid stream)
Radio: KZSU (PxP: Ashley Westhem) and The Key 1050 AM
Live stats