Freshmen, Mosqueda-Lewis impress in UConn 77-point preseason victory over Indiana Pa., 105-28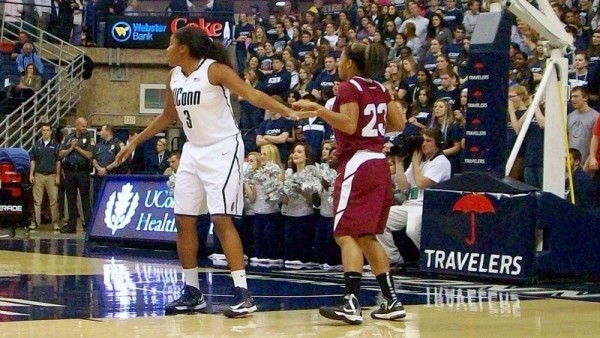 STORRS, Conn. — The question was not if the Connecticut Huskies would win their preseason opener versus Indiana University (Pa.), or even what the margin of victory would be. For the record the final score was 105-28, and the margin of victory was 77. The excitement and anticipation for this game was high because it was the debut of the team's heralded class of freshmen, Morgan Tuck, Moriah Jefferson and national player of the year Breanna Stewart. They did not disappoint.
With injuries sidelining Bria Hartley and Caroline Doty, Tuck and Jefferson garnered their first starts in a Husky uniform. The nerves were there early, as each committed an early turnover, but they settled in comfortably, and were impressive. Stewart made her entrance about four minutes into the game, and promptly hit a jump shot from the elbow to tremendous applause.
Geno Auriemma on "Scarecrow" Breanna Stewart
By game's end, each of the freshmen had racked up an impressive stat sheet, and more importantly, showed the confidence and knowledge of the game head coach Geno Auriemma talked about in recent days. Stewart and Tuck each scored 15 points, and Jefferson had 10. Stewart had eight rebounds, and four blocks, two assists and two steals. Tuck added five rebounds, two assists and one steal. Jefferson, the smallest Husky had four rebounds, three assists, and two steals. Each also had at least one "wow" moment that had the crowd cheering and IUP coach Greg Dowd literally shaking his head.
The "big dog" on offense was Kaleena Mosqueda-Lewis, who led all scorers with 24 points, including six three-pointers. She played a complete game, adding nine rebounds and four assists. Auriemma made a point postgame of talking about Mosqueda-Lewis' defensive improvement, a fact that made the sophomore smile.
"I've been working my butt off since we started this summer to get better at defense," said Mosqueda-Lewis. "He's been harping on it, defense with me since freshman year when I got here, so it's nice to hear that he sees I'm trying real hard."
The total team defense was impressive, especially for a team that is just beginning to play together. Auriemma has referred to sophomore guard Brianna Banks, who played infrequently last season, as an entirely different player. Banks played like a confident player, scoring seven points and giving out six assists. Her seven steals were part of 28 turnovers the team forced.
"I felt like a completely new person," said Banks. "I couldn't wait for the first game to see what I was about, and me and my teammates came out and worked hard. I feel like I'm finally having fun again, when you have a feel for the game and you know what you're doing, you tend to have more fun and everything is going good."
Senior Kelly Faris was her usual understated self, leading the team with eight assists to go with eleven points, but a glance at the stat sheet shows the total offensive domination by the Huskies.
Every Husky had at least one rebound, and all but senior Heather Buck scored (although when they watch game film they will see they missed her wide open several times). They assisted on 27 of 39 baskets, and all but Kiah Stokes had at least one. Every pflayer but Buck had a steal. They committed eight turnovers, all in the first half. They committed zero turnovers in the entire second half.
They will not all be this easy, and in fact Wednesday's game against 12th ranked (Division II) Holy Family should be a bit tougher. This one though, was about getting the rust off, and getting the freshmen a chance to play a game after 17 practices.
Geno Auriemma on Moriah Jefferson as point guard and the team's flexibility
"It was great to be out there for the first time," said Stewart smiling. "I've been waiting for this for a long time. To be able to put on the uniform and actually get out there and perform in front of a lot of people was really exciting."
A happy Mosqueda-Lewis was asked if the praise from Auriemma were a sign he gets soft after 77-point victories.
"Probably not," she laughed, "we'll see how practice goes tomorrow and see if that soft spot is still there."