Graves' double-double gives Warlick first win as Tennessee routs Georgia Tech, 71-54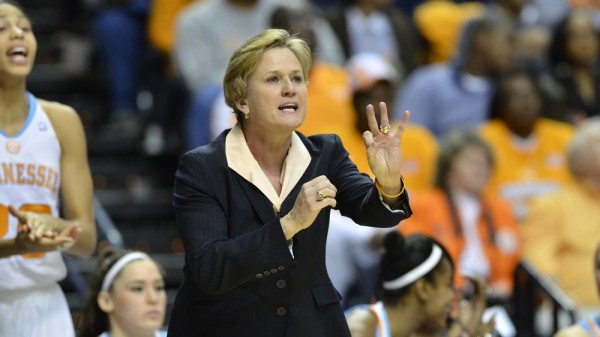 ATLANTA – The Tennessee women's basketball team rebounded from a stunning loss in its opener to Chattanooga on Friday with a dominating 71-54 victory at Georgia Tech to give first-year head coach Holly Warlick her first career win on Sunday afternoon at the McCamish Pavilion.
A highly-anticipated showdown between the two preseason nationally-ranked squads ended as a rout with the Lady Volunteers (1-1), in their first season in 38 years without legendary former head coach Pat Summitt on the sidelines, dominating the Yellow Jackets (0-1). The Lady Vols regrouped from Friday's 80-71 defeat to the Mocs with an energetic and gritty effort by their two frontline stars, freshman forward/center Bashaara Graves and sophomore forward Cierra Burdick. Graves notched her first career double-double with 18 points and 12 rebounds while Burdick added 16 points and six rebounds.
"After Friday I wasn't sure when we would get a win, but I knew with our group, with how hard they work, how hard our staff works, I knew the win was coming," Warlick said of the win over Georgia Tech. "I love it that we did it in this fashion, we played hard and talked a lot about energy and today I thought we had a lot of energy."
The convincing victory provided a glimpse into the future of the Lady Vols basketball program under Warlick, a long-time assistant to Summitt who took over after the hall-of-fame coach stepped down during the offseason. Tennessee outscored Georgia Tech 40-to-24 in the paint and forced 20 turnovers, switching between a stifling full-court, man-to-man press and a half-court zone defense.
Tennessee roared to a 45-30 halftime edge thanks in part to 13 offensive rebounds that led to 10 second-chance points. But Georgia Tech, playing in front of the fifth-largest crowd for a women's basketball game in school history, caught fire out of the break. The Yellow Jackets opened the second half with a 13-0 run keyed by junior guard Tyaunna Marshall. The junior All-American candidate scored six of her team-high 18 points during the run to cut Tech's deficit to two points.
But a jumper from freshman Jasmine Jones at the 14:25 mark ended the scoreless drought and the Lady Vols switched into a 2-3 zone to stymie the Georgia Tech offense. Tennessee scored the next 18 points to open up a 63-43 lead by the 8:18 mark and never looked back.
"I think when Sydney Wallacce took two fouls early that threw our gameplan off," 10th year Georgia Tech head coach MaChelle Joseph said, "When our best scorer was not in there, it was hard for us to make plays because she is so much a part of what we try to do against a zone defense. We need to look at that and make some adjustments."
The Yellow Jackets, playing their first game of the season and their first regular-season contest at the newly-renovated McCamish Pavilion, struggled through some early season rust. Tech accumulated five fouls less than two minutes into the game and committed 20 turnovers that led to 17 Tennessee points for the game.
Both Tennessee, No. 20 in the Associated Press poll and No. 16 in the USA Today Coaches Poll, and Georgia Tech, No. 22 and No. 20, entered the game in the preseason top 25 rankings. Tennessee is one of six Top 20-ranked teams on the schedule for Georgia Tech, which is fresh off a Sweet 16 run in last season's NCAA Tournament. The Yellow Jackets next host local-rival Kennesaw State on Nov. 13 at the McCamish Pavilion.
After the game, Warlick said she never takes her cell phone into the locker room prior to games but noticed it was ringing 30 minutes prior to the start of the 2 p.m. game. The caller was Summitt, who offered her long-time assistant words of advice and encouragement after a tough upset at Chattanooga on Friday.
"She obviously gave me some encouragement, told me to go out and do what I do best and get the team ready," Warlick said.
Tennessee next hosts Rice at 7 p.m. at Thompson Boling Arena in Knoxville, Tenn.