Oklahoma State honors the lives of Kurt Budke, Miranda Serna and the Branstetters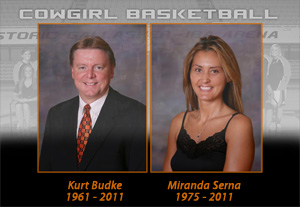 From Oklahoma State:
Saturday, Nov. 17, marks the one-year anniversary of the plane crash that took the lives of OSU Head Women's Basketball Coach Kurt Budke, Assistant Coach Miranda Serna and OSU alumni Olin and Paula Branstetter.
"It is a period in OSU's history that should and will never be forgotten," said OSU President Burns Hargis. "We continue to mourn the loss of these four individuals who were dear to our hearts and touched so many lives. Our thoughts are with their families and friends."
The memorial lobby in the southwest corner of Gallagher-Iba Arena will be open to the public today from 8 a.m. to 5 p.m. for those who want to drop off flowers or other mementos. In addition, a "Remember the 4" banner will be available Friday and Sunday for people to sign.
To honor their memory and pay tribute to their families, the OSU football team will wear "4" stickers on their helmets during the OSU/Texas Tech game and prior to kick-off at 2:30 p.m. there will be a moment of silence during which pictures of Budke, Serna and the Branstetters will be shown on the video screens.
On Saturday at 4:10 p.m. the Edmon Low Library bells will ring four times in honor of the four who were lost.
"4" stickers will be handed out to those that attend the OSU Cowgirls vs. Weber State basketball game on Sunday, tip-off is set for 2 p.m. Admission to that game is free in honor of the 4. Prior to the game, a private reception is planned for friends and family members of the four.
This morning four wreaths on Chi-O clock in the Student Union plaza were lit. The orange wreaths represent Budke, Serna and the Brandstetters lives and will remain illuminated throughout the holiday season.