Scoring will not be a problem for UConn this year, Auriemma: "We are going to score."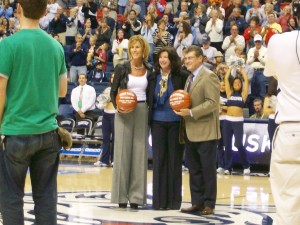 STORRS, Conn. – The day started with a ceremony commemorating 800 victories for Connecticut coach Geno Auriemma and a surprised honoree, his associate head coach, Chris Dailey. Then it was time to tack on one more.
"I don't think scoring points is going to be a problem," said Auriemma said after Connecticut's season opening 103-39 throttling of the College of Charleston. "How many points may be irrelevant. I don't think scoring is going to be a problem. We are going to score. It's making sure that we keep getting better at all the other things."
They did score yesterday, early and often. They scored off their defense. They scored off set plays. They scored inside and they scored offense. In fact Bria Hartley was the only Husky that did not score, and that is because she was in street clothes, still nursing that injured ankle.
In the end, Connecticut hit 64 percent of their shots, led by perfect shooting from Kelly Faris (4-4) and Brianna Banks (5-5).
The statistics are impressive, including Stefanie Dolson's near triple-double (11 points, nine rebounds, eight assists) and Breanna Stewart tying Maya Moore's school record for points in a freshman debut. However, it is those other things that Auriemma mentioned that had to have the coach excited.
Kaleena Mosqueda-Lewis was red-hot to start the game, hitting shots from all over, but in addition to her 19 points, Mosqueda-Lewis contributed eight rebounds, four assists, five steals and no turnovers. She continues to do "all the other things," said Auriemma.
The poise and confidence of the three freshmen, Stewart, Morgan Tuck and Moriah Jefferson, is what could set them apart from most freshmen that have succeeded at UConn. There might have been some initial nerves, but it was obvious those dissipated quickly, and from there it was game on.
Stewart gets the immediate attention, and it is well deserved. She began her college career not only with 21 points, but also five rebounds, and four steals. Auriemma is quick to point out that "Breanna is the one player we have who is able to change the game. No one has an answer for her or what she can do." Stewart was pleased, but expects more as well.
"Practice and repetitions helps a lot because there's going to be times we mess up and coach knows that but if we make a mistake he wants us to make it aggressively," explained Stewart. "As we continue to practice we're going to try to fine tune those things in the offense, so we know exactly what options we have, and keep getting better at that."
Tuck filled a stat sheet in a way only Kelly Faris has done in the recent past for UConn. After air balling her first shot, she only missed three others, finishing with 15 points, six rebounds, four assists, two blocks and two steals. She was excited about her all around game.
"It feels good, Tuck said. "I think it comes from practice, in practice I try to work on rebounding, doing all the things that coach wants me to do, and to see it happen in a game feels great."
Jefferson did not put up numbers like her fellow freshmen, although her five assists were second to Dolson's eight, but her aggressive play defensively and her aggressive nature offensively had a definite impact on the game. Auriemma was not disappointed in Jefferson's performance at all.
Auriemma explained, "When you are a freshman and you want to make a good impression and you have a lot of energy, the thing with Moriah is that she wants to make something happen every time she touches the ball. I think as the season goes on her decision-making will get better and better. Right now I just like that she is really aggressive."
Perhaps the happiest Husky these days though is junior center Dolson. Her freshman year, she had the luxury of having Maya Moore to assist her inside, but last year she was really the lone inside presence for the Huskies, and it weighed on her, and her frustration at being double and triple teamed inside was noticeable. The addition of "Stewie" is making things easier for her thus far.
"It's so much easier when you have bigs that can spread the defense out," commented Dolson. "That way we have the cuts and for me personally it just opens up things immensely, because everyone's so worried about our shooters, our guards, and Stewie can knock in that three too. It just makes it easier for me, and I appreciate it."
Stewart's stoic on-court demeanor turned into a big smile when she was asked about her relationship with Dolson.
"Me and Stefanie have a really funny relationship. We're both always looking to have a good time but once we're on the court we're obviously serious, because we want to go out and perform the way we practice, and once that's over we go back to being goofy again."
Ironically, the two seniors on the Huskies are the two that will most likely take more of a backseat in terms of publicity and coverage due to the emergence of the newcomers. However the importance and influence of Faris and Caroline Doty will continue to be crucial to their success. The most experienced big game players, they both are win first players, never concerned about big statistics.
Their leadership will be tested November 18 when the Huskies take on Texas A&M in their first road game. Even though Auriemma joked that everyone has them winning by fifty so why go play the game, he emphasized that Stewart, Tuck and Jefferson have not played a road game, and Banks, important this year did not play in a big road game last season. Practice will be tough this week for sure.
However, for now, the Huskies can bask in the glow of yet another opening day blow out, and a game that showed the promise of things to come, both on and off the stats sheet.