The Connecticut Sun fires head coach Mike Thibault and assistant coaches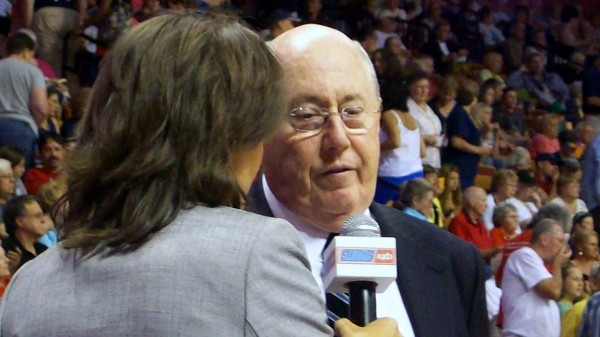 From the Sun:
The Connecticut Sun announced today it will not be retaining head coach Mike Thibault or his assistant coaches for the 2013 season.
This is the first coaching change since the franchise relocated to Connecticut at the start of the 2003 season, and a search to replace Thibault is already underway. Assistant coaches Bernadette Mattox and Scott Hawk have also been released as part of this move.
"The decision to let Mike go was difficult based on our friendship and working relationship," Connecticut Sun Vice President and General Manager Chris Sienko said. "Mike has had much success here in Connecticut over the past ten seasons. However, we felt it was time for a new voice and new direction for our players and our fans as we continue to try to capture that first, elusive title. We wish Mike and his family nothing but success and know our paths will cross again in the future."
The only coach in the history of the Connecticut Sun, Thibault guided the team to 206-134 regular-season record and eight playoff appearances in 10 seasons. The Sun reached the WNBA Finals in 2004 and 2005, and the team advanced to the Eastern Conference Finals five times. The 2012 team finished 25-9, advancing to the Eastern Conference Finals with a sweep of the New York Liberty before losing to the Indiana Fever in three games. The Sun were eliminated from the playoffs on October 11th at Mohegan Sun Arena, falling 87-71 to the Fever.
"After much thought and consideration we have decided to make a coaching change with the hopes that this will allow us to achieve our ultimate goal of bringing a WNBA championship to Connecticut," said team CEO Mitchell Etess. "We have the ultimate respect and appreciation for everything coach Thibault has done here, and he has played a huge part in establishing the Connecticut Sun as the model franchise in the league. However, our ultimate goal is the championship, and this change is made in with an eye to accomplishing just that."
The Sun will begin formerly interviewing candidates immediately. However, there is no set timetable to name Thibault's replacement.
"We are committed to bringing a WNBA championship to our loyal fans, who have given us tremendous support our first 10 seasons," Sienko added. "We have several candidates in mind who we believe can help us accomplish that goal. Ultimately, we want to find the best fit for our athletes and this organization."