Dishin & Swishin 12/06/12 Podcast: Going Philly Style with Coquese Washington ahead of Penn State-UConn tonight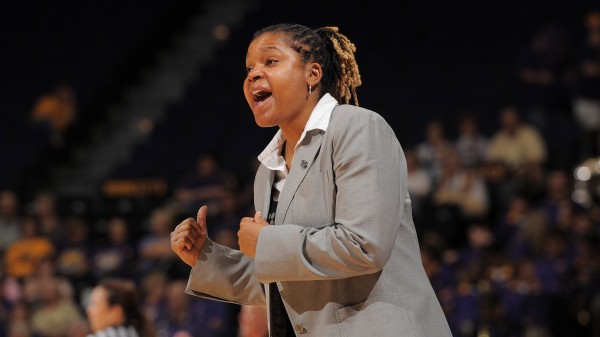 [display_podcast]
Today marks the debut of a joint venture between Hoopfeed and PhilaHoopsW. You will now be able to hear two podcasts each week, the Dishin & Swishin you are used to finding on Hoopfeed, highlighting the national and international women's basketball scene, and Dishin & Swishin: Philly Style highlighting the ever popular Philly women's hoop scene over at PhilaHoopsW.
Of course there are times when the Philly scene is an integral part of what is going on nationally, like this week, when the tenth-ranked Penn State Lady Lions venture into Storrs, Connecticut to take on the second-ranked Connecticut Huskies.
Penn State coach Coquese Washington joins Philly Style co-hosts, David Siegel and Mel Greenberg on Dishin & Swishin this week. After the 2007-08 season Washington was recipient of the 2007-08 WBCA "Rising Star" Award. Since then she has not slowed her pace.
A few of her recent honors include:
2010-11 BCA Female Coach of the Year
2011-12 Big Ten Coach of the Year
2011-12 WBCA Region 6 Coach of the Year
2011-12 WBCA National Coach of the Year Finalist
On Dishin & Swishin Washington discusses her evolution from Notre Dame guard under Muffett McGraw to WNBA player for the New York Liberty and Houston Comets, to her time as head of the WNBA player's union. We talked about her beginnings as an assistant, coaching under McGraw, and the becoming associate head coach, before moving on to Penn State.
Washington came to PSU at a troubled time for the women's basketball program after Rene Portland's resignation, and has now gone through the terrible Sandusky issues in the athletic department. Yet she continues to push the program to higher levels throughout, and never backs down. It is fascinating to hear her discuss the approach and attitude she has developed.
Next up for her, Philly's own Geno Auriemma and the Connecticut Huskies, at Gampel Pavilion in Storrs, Connecticut tonight at 7 p.m. ET.
In addition to tonight's game featuring two Top 10 teams, it has a few interesting "sub-plots" as well:
It is a rematch of last year's Sweet Sixteen battle between the schools, a 77-59 Connecticut victory.
The last time Penn State played a Top 10 team while they were also ranked in the Top 10 was in 2004, against, you guessed it, Connecticut. UConn won that NCAA tournament game 66-49.
Penn State's leading scorer, junior guard Maggie Lucas, will be facing her former Philadelphia high school teammate, UConn senior Caroline Doty.
Lucas has been sensational for the Lions this season, averaging 21.4 points per game, and has led the team in scoring in six of seven games. A 48 percent shooter overall, Lucas has hit over 56 percent of her three-point attempts! Her senior backcourt mate Alex Bentley is the only other Lion to average in double figures, and effective last game has been relieved of some of the point guard duties she has been handling. The insertion of Maryland transfer Dara Taylor into the starting lineup allows Bentley to focus on her own offense, and Taylor's speed increased the pace of the game, which Washington loves.
Connecticut is coming off a bruising, physical game against Maryland, and will be looking to take advantage of the size they have. If Penn State is going to contain the Huskies, they will have to get good performances from their posts, Alex Greene, Talia East, and Candica Agee, in neutralizing the UConn combination of Stefanie Dolson, Breanna Stewart, Kiah Stokes, and Morgan Tuck.
It should be a fun game, with a fast tempo and an exciting environment. It will be televised on the SNY network if you have that network in your cable lineup.
So go get yourself a cheesesteak and a beverage, and get ready for some Dishin & Swishin, Philly style this week! Whether you are finding this from Hoopfeed or from PhilaHoopsW we welcome you aboard!
Enjoy!