Dishin & Swishin 12/20/12 Podcast: New Mystics coach/GM Mike Thibault and analyst Christy Winters Scott on the hire
[display_podcast]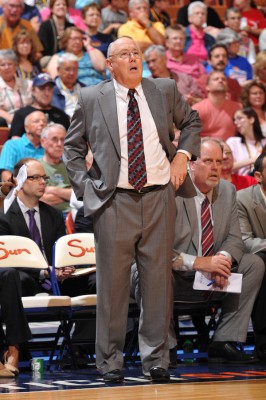 It is widely believed that if the Washington Mystics did not have bad luck, they would have no luck at all.
The most recent example of this theory is that the Mystics finished with the worst record in the WNBA this past season but has the fourth pick in the upcoming draft. Of course the draft is expected to have three impact players.
Still, the Mystics have created some of their own difficulties, with poor decisions on hires and fires, and personnel selection. They have managed to alienate many longtime fans with some of their management decisions and attendance is also down
However, this week the Mystics made the right decision. They hired as their new coach and general manager a man that can be considered the WNBA's version of NBA Hall of Fame coach Jerry Sloan in former Connecticut Sun coach Mike Thibault.
Thibault has been extremely successful in Connecticut. His teams have been in the playoffs more often than not. He has developed young talent like Lindsay Whalen and Tina Charles into All-Stars. And, he has been to the WNBA finals. The only thing he has not done, like Sloan, is win the championship.
A lot of teams though, would be very happy with the continued and consistent success the Sun achieved under Thibault. The Mystics would be thrilled to get to that point. They have been plagued by inconsistencies on and off the court, and need to get that frequent success to bring back one of the most diligent fan bases in the league.
There is talent on the roster, including Crystal Langhorne, the prized power forward of the team. However, injuries prevented all but three players on the roster from playing in every game, and no one started them all. They lost 29 games, but eleven were by less than ten points.
One thing is certain; the team will play hard and play defense for all forty minutes under Thibault.
Dishin & Swishin this week looks at the Mystics' new coach and general manager decision.
We begin with Thibault himself, talking about the decision to come to Washington and what can be expected in the short and long term.
Then, friend of the podcast Christy Winters Scott, the television voice of the Mystics stopped by to discuss the team and Thibault's hiring from her perspective.
So as the Mystics fans enjoy an early Christmas present, I hope you enjoy the podcast!