Connecticut Sun names Anne Donovan as new head coach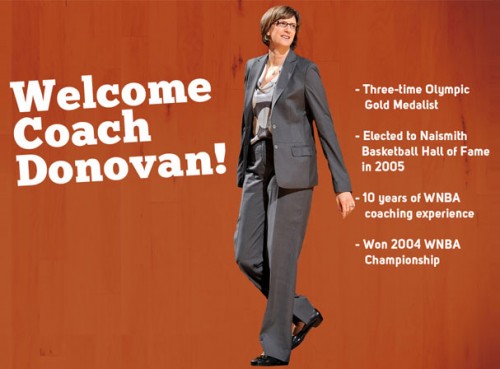 The Connecticut Sun named Anne Donovan as its new head coach on Thursday. Donovan currently serves as the head coach of Big East school Seton Hall. Previously, she was the head coach of the Seattle Storm when they won the 2004 WNBA Championship. She was also the Olympic coach at the helm of the gold-medal winning U.S. Olympic team in 2008.
"I am really excited to join the Connecticut Sun, one of the premier franchises in the WNBA," said Donovan. "The leadership team of Mitchell Etess and Chris Sienko has built a winning tradition in a fan-friendly environment that offers one of the best home court advantages in the WNBA. I am excited to coach and lead this talented roster of players on the Sun's quest for a WNBA championship."
Donovan will resign from her Seton Hall position and begin her new duties with the Sun at the conclusion of the 2013 college basketball season.
"My time at SHU has been extremely rewarding. I commend the staff for their tireless and successful efforts in recruiting and elevating the program," she said. "I look forward to coaching and competing with this team for the remainder of this season."
She coached the Pirates for three years. Currently, the team has a 5-8 record. In her first season Seton Hall finished the year 8-22. In her second year they finished 8-23.
The Sun fired Mike Thibault after 10 seasons in November. The Washington Mystics hired him as their new head coach and general manager in December. He was an assistant to Donovan on the Olympic team.
Donovan is a native of Ridgewood, N.J. At 6-8 she was a star center at Old Dominion where she was a three-time Kodak All-American (1981-83), two-time Academic All-American (1982-83) and Naismith Trophy winner (1983). She helped the Monarchs win the 1980 AIAW National Championship, and graduated with the ODU career records for points (2,710) and rebounds (1976). Her 801 blocked shots are still an NCAA record. She is a member of the 1995 Naismith Hall of Fame class, she won Olympic gold medals as both a player (1984 and '88) and coach (2008).