Diggins and McBride lead Notre Dame past UConn in showcase game for women's basketball, 73-72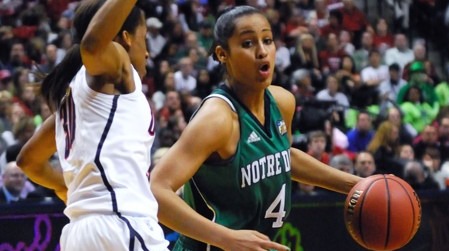 It seems that in women's basketball a game shown on national television on a major network means frequent miscues and missed shots by one or both teams, or some other reason a less than entertaining game. Perhaps it is because they are few and far between, teams put extra pressure to perform on the big stage.
Put Notre Dame and Connecticut together, however, and you have two programs that are ready to shine under the television lights. Both have been there before, have a storied rivalry dating approximately ten years, Hall of Fame coaches, and talented players that are used to the spotlight. Yesterday the schools played before a sold out Gampel Pavilion, and while the home crowd was sent home disappointed by the outcome, they certainly got their money's worth.
In the first of what could be as many as four games between the Irish and Huskies this season, most likely the final season in the Big East conference for Notre Dame, Kayla McBride poured in a career high 21 points, and Skylar Diggins made the clutch plays people have come to expect from the All-American as the Irish emerged victorious, 73-72.
The outcome was in doubt until the end though, as Connecticut had three opportunities to take the lead in the final 28 seconds, falling short each time, including an open look for sharp shooting Kaleena Mosqueda-Lewis that fell short in the final seconds. Coach Muffett McGraw compared her team defending Connecticut's final three chances to the Notre Dame football team's "goal line stand for the ages" versus Southern California in her post game press conference.
"We got the first stop that turned into the jump ball that I thought we just couldn't grab it," said McGraw, "and then we had the blocked shot that ended up out of bounds on us as well. We were just thinking how many times we can put up our defense, so we thought of our football team and the three goal line stands. If they can do it, we can too."
Although the Irish came into this game ranked number five in the country, their only loss being to Baylor, the team seemed long on upside and short on the attitude and swagger that accompanied last year's senior-laden team. The loss of the physicality of Devereaux Peters, aggressiveness of Natalie Novosel and precision shooting of Brittany Mallory clearly was impacting the team.
Yesterday, in their place Ariel Braker brought the physicality, especially defensively with two huge blocks. McBride brought the aggressiveness, challenging defensive standout Kelly Faris repeatedly and successfully. Freshman Michaela Mabrey brought the precision shooting, hitting three of four from beyond the three-point line.
The improved play of center Natalie Achonwa further buoyed the Irish, who contributed ten points and a team-high eleven rebounds. The biggest difference in her game seems to be the improved concentration and elimination of occasional lapses seen in prior seasons, plus her ability to stay on the court and not commit needless fouls. She played 33 minutes, and they were all needed to handle the Huskies' Stefanie Dolson.
McBride was the star on this day, outdueling Faris in a battle of unacknowledged stars, at least by the Big East preseason award voters. She has excelled against UConn in the past, but the array of shots and the timing of her baskets were crucial in a game as tight as this was. Diggins was full of praise for her teammate.
"Kayla McBride, I don't think she can be guarded, only contained maybe," said Diggins smiling. "She had 21 tonight. She's just a player that poses so many problems. From the three-point line she can take it in or pull up and shoot over you. She's so strong and I think that showed tonight."
Still, in the end this is Diggins' team, and the senior did not disappoint. The box score will show that Diggins only hit four of fifteen shots, and also committed seven turnovers. The eye shows that Diggins hit two three-pointers, both hit back-to-back, in the midst of a dangerous time; UConn was on a 12-4 run, erasing a four-point deficit and opening a four-point lead, the kind that often has led to blowouts against lesser opponents. Diggins followed a Dolson layup with one three to cut the lead to 48-47 and then after a Mosqueda-Lewis hit another three to tie the game.
Husky coach Geno Auriemma praised Diggins and McBride post game, especially those three pointers.
"They've got two really good guards," he said. "Skylar Diggins and Kayla McBride are both really good guards. We were taking over the game at one point and then Diggins made two threes to get them right back."
Diggins scored the game winning points from the foul line with 49 seconds to go, but her drive and the resulting foul by Bria Hartley were a result of Connecticut's failure to help on drives, which hurt them all game. More than once, McBride and Diggins drove by their defender, who were clearly expecting assistance that was not there. Hartley had no choice but to foul Diggins on the play to avoid the layup, and the senior coolly made both foul shots for the winning margin.
Auriemma was clearly frustrated post game with the fact he has been unable to get his full contingent of players together at one time. Hartley, Mosqueda-Lewis, Caroline Doty, Morgan Tuck and Kiah Stokes have missed games with various injuries. Stokes' absence yesterday clearly impacted the rotation, and when Breanna Stewart struggled, especially in the first half yesterday, he was missing his other post in the rotation.
Stewart struggled against the more experienced Achonwa and had an off shooting game, hitting only 5-of17 shots, but contributed nine rebounds and six blocks. As Auriemma mentioned, Stewart may be facing unreal expectations because of her skill set and past accolades, but she is still only a freshman playing only her thirteenth college game.
Beating the number one team, and the fact that it was Connecticut, clearly pleased McGraw, but she recognized this victory is just a step toward Notre Dame's bigger goals.
"I think it's great to win anywhere we play," she explained. "But this is great for our team. It builds confidence for our team. It's January 5th it's not a game that we're going to change a whole lot of things this early in the season. We are still learning and growing and hopefully we'll continue to get better."