Dishin & Swishin 1/10/13 Podcast: Matthew Mitchell readies No. 6 Kentucky and "40 minutes of dread" for first ever matchup with Texas A&M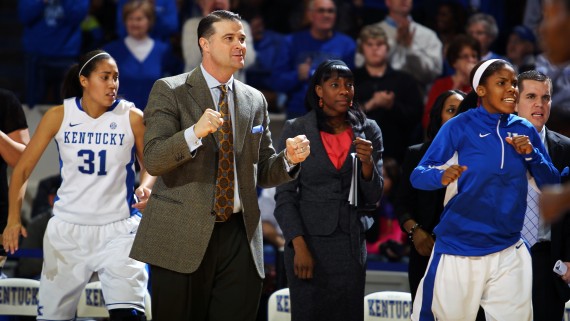 [display_podcast]
It is not the same old Southeastern Conference anymore. Gone are the days when Tennessee and Georgia, with flashes of LSU, dominated. Instead the conference is now loaded with top, defensive-minded teams, led by coaches that are preaching defense, defense and more defense.
Matthew Mitchell has led the Kentucky Wildcats to the top, featuring an aggressive, determined defensive scheme he has coined "40 minutes of dread." In his sixth year with the program, the Cats have improved considerably, going from a first year record of 17-16 (8-6 in conference) to last season's 28-7 record (13-3 in conference). Other than an early season defeat at the hands of top-ranked Baylor, Kentucky has gone undefeated, and established a school-record thirteen-game winning streak. They are 2-0 in conference, defeating Florida and Alabama last week.
Tonight, a new challenge rolls into Lexington, as Gary Blair, only one year removed from a national championship, brings the 20th ranked Texas A&M Aggies in for not only their first in conference matchup, but the first time the two schools have ever met. The Aggies are led by center Kelsey Bone, and are riding a four-game winning streak. They will be a big challenge to the Kentucky's home game winning streak of 31.
Mitchell has a talented a roster led by senior guard A'dia Mathies and junior center DeNesha Stallworth. Mathies, the 2012 conference player of the year and the team's returning leading scorer, leads the team in assists and is averaging 14 points a game this season to lead the Wildcats.
Stallworth, a transfer from Cal in her first season at Kentucky, has been an impact addition to the team, and is second on the team in scoring, assists and blocked shots. She leads the team in rebounding, while shooting 52 percent from the floor.
The team spreads not only the minutes but also the stats around. In games this season not only Mathies and Stallworth, but also Jennifer O'Neill, Samarie Walker, and Bernisha Pinkett have led the team in scoring, and in the intrastate rivalry game versus fellow top ten team Louisville on December 2, it was freshman Janee Thompson that won the game with clutch shooting.
It is always a great conversation with Mitchell, one of the most candid and open coaches out there, a trait that makes him one of the podcast's most popular guests. In his third visit to Dishin & Swishin, Mitchell talks about everything from the team's success, his thought on Pat Summitt's succession by Holly Warlick, his relationship with John Calipari, that tremendous finish versus Louisville, and of course his now famous Blue & White night theatrics and performances.
Enjoy the podcast, and tonight's Kentucky versus Texas A&M game.