Dishin & Swishin 1/17/13 Podcast: Muffet McGraw's Irish don't rebuild, they just reload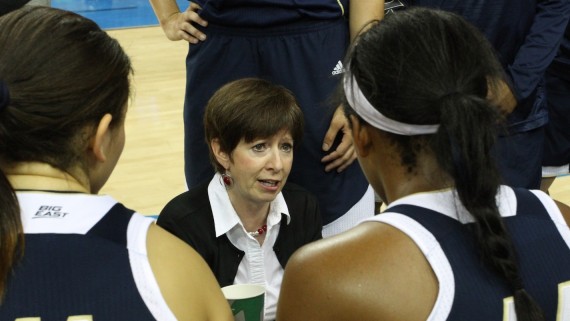 I admit it. I did not expect Notre Dame to be as good as they are this season. Graduating three starters? Yes, I knew the freshmen were talented and that Skylar Diggins is special. I knew that Kayla McBride would run through a wall for a loose ball and I knew that Natalie Achonwa had played in the Olympics. But number two or number three (depending on which poll you read), in January? No, not me.
Yet here we are, January 17, 2013, and the Irish are 15-1, the lone loss being at the hands of Baylor back in early December. They are on a ten-game winning streak and undefeated in Big East play, including a showcase national television victory at Gampel Pavilion over then number one Connecticut.
Hall of Fame coach Muffet McGraw signed a ten-year extension this past July, and while the names have changed, and the conference affiliation will soon change, she has her team playing at the same extremely high level. They appear poised for another deep tournament run.
Freshman Jewell Loyd has earned Big East freshman of the week three times already and averages 13.1 points per game. She shows poise in big games beyond her years, including a 24-point outing versus Baylor.
Achonwa averages 14.1 points and 9.1 rebounds and brings a different dimension. She can handle the ball and pass with the best posts in the country. The biggest difference perhaps, is her ability to keep her composure and remain on the court and out of foul trouble. An emotional player, McGraw and her staff have helped keep Achonwa under control.
Someday I will understand how players like UConn's Kelly Faris and Notre Dame's Kayla McBride are left out of preseason awards, because they are two of the most important players in the conference. McBride has been a great shooter, but it is her determination and belief that no ball is out of her reach and no player can defend her on the drive without fouling that makes her special. The leading scorer on the team (up from 11.6 to 15.3 points per game), McBride is one of those players that the eye gravitates to on the court because you know something is going to happen.
The driving force, however, as McGraw discussed in the interview, is senior guard Skylar Diggins. One of the most decorated and successful players to ever wear an Irish uniform, Diggins makes the team go. A leader on and off the court, she makes the big plays, as evidenced by the two huge three-point shots in the Connecticut game when the Huskies appeared ready to break the game open.
Early in the season Diggins appeared to take too much on her shoulders and her offensive game suffered a bit, trying to fill the roles of the departed seniors all by herself. She has seen the abilities of the replacements now, and she is back to distributing and trusting her teammates. The only senior in the regular rotation, she takes her role seriously, and the success the Irish has had is because of that.
In a fast paced interview, coach McGraw discussed each of her players and their success, plus the really intriguing schedule the team has played; starting the year on the U.S.S. Yorktown, then playing an aircraft carrier named Griner, and running through a wild road trip that began with that Connecticut game and ended with an overtime victory at South Florida.
McGraw discussed her teams and players of the past, names like Ruth Riley and current assistant coach Niele Ivey, and where Diggins fits in among them in Notre Dame history. Then there is a look at the future, the Atlantic Coast Conference, out of conference scheduling, and beyond.
You will not hear anything about Manti T'eo, nor the football program. This is about celebrating Notre Dame women's basketball, the players that make it great, and the coach that pulls it all together.
Enjoy!