Dishin & Swishin 1/24/13 Podcast: Kim Barnes Arico trades in her red and white for maize and blue with immediate results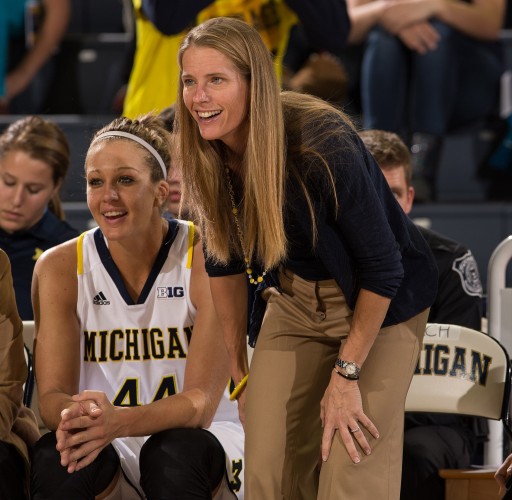 [display_podcast]
If you have ever seen Kim Barnes Arico prior to this season you know her clothes have always been red and white. After ten years coaching one program, becoming the most successful coach in that school's history, you accumulate a lot of clothing in those school colors.
So it still seems strange to see former St. John's head coach Barnes Arico in the maize and blue of the University of Michigan, and to read her twitter moniker, @KBA_GoBlue saluting her new home, a home that she has adapted to very well. Michigan seems to be very happy with their coach.
It is not easy to step in when the key players are established veterans. As a coach, you know your system has worked before (or you would not be in this position), but the players were recruited by your predecessor and may not fit that well. It takes a great coach to adapt their system to fit the skills of the players plus have a successful hybrid of player and coach strengths. Just ask Mike D'Antoni how easy it has been to do it with the Los Angeles Lakers; but Barnes Arico has done it in Michigan.
Her team has five seniors, and they are five of the six leading scorers on the team. They are thriving under their new coach, as evidenced by three-point shooter Kate Thompson, who has made almost 70 already this season, including seven in one game. Add to the mix point guard Jenny Ryan, who is scoring a career high 11.1 points per game while leading the team in minutes, assists, and steals.
Barnes Arico's St. John's teams were typical Big East teams, known as much for their aggressive defense as their strong offense. Michigan has not been typically associated with defense except on the football field, but they sit at No. 23 in the country in scoring defense, and (along with Connecticut) is one of two teams to hold No. 8 Penn State, the Big Ten leader, under 60 points in a game. Monday's game against PSU was only the third loss of the season for Michigan (the others being to Duke and at Utah), as the school is off to its best start ever.
In a return to the Dishin & Swishin podcast, the always affable coach talks about a wide range of topics including:
Adjusting to Michigan life with her family after living her life in New York and New Jersey.
The success of her teams past and present, and her feelings for both her former players at St. John's and current players at Michigan.
The seniors and how they have made it easy for the program to be a success.
The defensive battle for the Big Ten lead with Penn State.
Bringing not only the Big East style but also C.Vivian Stringer and Rutgers to the Big Ten.
The fraternity of great women coaches in the Big Ten.
Her reaction and dealing with the aftermath of Hurricane Sandy while being away from "home" for the first time in her life.
Getting the last word in (on the court) against Geno Auriemma and Connecticut, the stunning win in Gampel Pavilion last season.
Enjoy!