Kelly Faris impresses with "one for the ages" in UConn's take down of previously undefeated Duke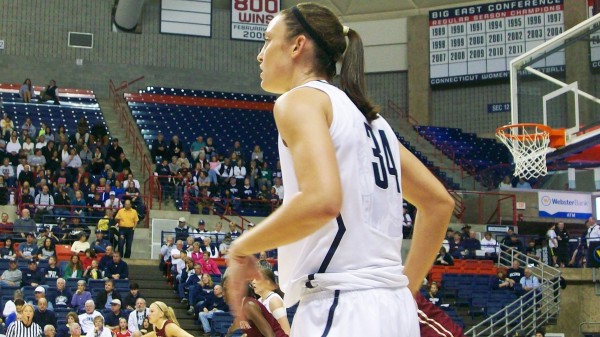 STORRS, Conn. – On paper, it was the type of matchup made for ESPN Big Monday. The last undefeated team in the country, Joanne P. McCallie's Duke Blue Devils venture into snowy Storrs, Connecticut to take on a nemesis if there ever was one, Geno Auriemma's Connecticut Huskies.
The pregame press featured the two centers, Duke's Elizabeth Williams and Connecticut's Stefanie Dolson, two of the best in the country. By the time ESPN shut down on Monday night though, it was all about UConn's Kelly Faris, who had a game her coach described as "one for the ages" as the Huskies turned a two-point halftime lead into a thirty-point victory, 79-49.
Faris was not the leading scorer for the Huskies, that honor went to Kaleena Mosqueda-Lewis with 21 points. It was the complete body of work Faris displayed that made her performance so phenomenal.
"She's really a special player," said McCallie. "When you look at that stat line, 12 rebounds, we don't have anybody that gets 12 rebounds. Twelve rebounds, six assists, 18 points, two steals – she plays like a senior. She plays with good experience and is a great example to a lot of young kids that you don't have to have awesome size in order to get the job done."
Both teams came out aggressively defending, and neither team's regular offense was able to get into a groove early. Duke forced UConn into 12 first half turnovers, while the Huskies held the Devils to 35 percent shooting.
The post duel was almost non-existent for the first half, with Williams scoring five points, but Dolson not only not scoring, but only getting one shot off. In fact the combination of Dolson, Breanna Stewart and Kiah Stokes had zero points in the first half.
It was clear that UConn made a concerted effort to shut down Duke star guard Chelsea Gray, with Faris being the prime force behind that effort. In the first half Duke took advantage of that, with freshman Alexis Jones, the other guard for Duke, scoring 10 of Duke's first 12 points, while adding four rebounds and two assists in the half.
The Blue Devils had to feel good at the half, trailing only 32-30, with Williams and Gray not being a big factor. The Huskies were less thrilled, having committed 12 turnovers. Auriemma apparently let the team know what he thought of their performance at half time, the exclamation point being associate coach Chris Dailey asking the crowd to tell the team as they warmed up for the second half "no more turnovers!" The Huskies responded.
"What happened in the second half was we were able to keep our core [players on the court] for a long time and it really made all the difference in the world," explained Auriemma.
Faris concurred with her coach.
"I think it was just a lot of frustration of how we've been playing the last few games with the turnovers," she said. "We came in at halftime and it was 12 to three in terms of turnovers. We know how much we can do, we've done it before. It's a matter of us just buckling down and mentally just bringing the energy."
With Faris leading the way with her shut down defense on Gray (one shot in the second half) and Breanna Stewart stepping up to hold Williams at bay when Dolson was in foul trouble, UConn completely dominated the second half, outscoring the Devils 47 -19. In the half they reversed the turnovers, committing three turnovers to Duke's twelve, and outrebounded Duke 24-12.
A disappointed McCallie felt the team continued a trend of playing a good half of basketball, but not a full game.
"This is exactly how we've been playing all year," she said. "It was consistent and more of the same. We've played some great 20 minute ball but we've been pretty much non-existent for 40 minute ball."
McCallie continued, lamenting her team's lack of rebounding (Faris had double the amount of Williams).
"We didn't have any rebounding on the floor. Forty-four to 25 will get you beat real quick. We had some missed shots and a classic case of not getting back on defense, their transition got them going."
In the end though, it was the Huskies who played by far their most dominant half of the season. According to Auriemma, it was his senior Faris that made it happen, and he hopes that people will remember this performance.
"If you were watching in the stands you were fortunate enough to be watching that," he said smiling. "If you were part of what Kelly Faris did tonight, you were part of something that people will be talking about for a long time. There have been a lot of great players and legends play in this building wearing the Connecticut uniform, but I don't know if anyone has ever represented themselves, their family, and the University of Connecticut the way Kelly did tonight."