TCU faces the challenge of No. 2 Baylor in first season of Big 12 play, five league games on Wednesday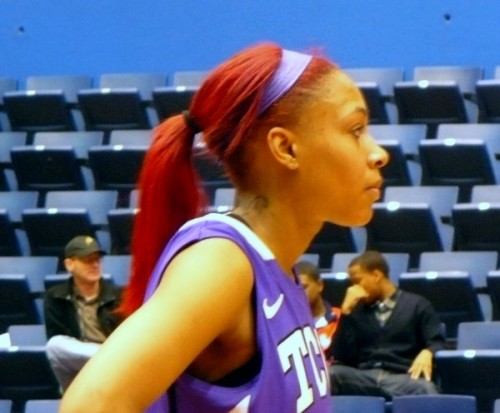 No. 2 Baylor at Texas Christian
Jan. 2, 2013, 7:00 p.m. CT
Fort Worth, Texas – Daniel-Meyer Coliseum (7,201)
TV: FSSW Plus
FORT WORTH, Texas – Even though only 86 miles separate No. 2 Baylor (10-1) and Texas Christian (7-4), the two teams have not faced each other in 17 years.1 Wednesday night, the Horned Frogs host the Lady Bears to open Big 12 play for both teams. It will be the first meeting between the squads since February 17, 1996 when Baylor bested TCU 92-85. The Lady Bears lead the series 23-5. The two teams have not met since the breakup of the Southwest Conference.
TCU closed the non-conference portion of its schedule routing Texas A&M-Corpus Christi at Daniel-Meyer Coliseum, 69-38. Baylor, led by 2012 National Coach of the Year Kim Mulkey, is 10-1 on the season after posting a 106-41 victory over Southeastern Louisiana.
TCU Leaders
The Horned Frogs are led by freshman guard Zahna Medley. She averages 14.5 points per game. Natalie Ventress, a sophomore forward, averages 13.9 points per contest and freshman guard Kamy Cole comes off the bench to average 10.0 an outing. TCU's rebounding leader is junior center Latricia Lovings with 10.3 boards per game.
Cole has not missed a free throw since TCU's season-opener against Charlotte. She has made 17 straight made shots. She has only missed two free throws (18-of-20) all season.
Baylor Leaders
Preseason National Player of the Year, 6-8 center Brittney Griner leads Baylor averaging 20.2 points per game, while grabbing 7.5 boards a contest. Junior All-American Odyssey Sims scores 13.1 points per game and almost six assists per contest. Senior guard Jordan Madden leads the squad in assists, minutes played and steals while averaging 9.5 points and 4.4 rebounds a contest. Graduate student Brooklyn Pope, in her best season at Baylor, averages 10.8 points and 6.2 rebounds a contest, including 13.7 ppg over the last six contests.
Connections
Three TCU players have Waco or Big 12 connections. Senior guard Delisa Gross was a teammate of Baylor's Makenzie Robertson at Midway High School. Senior guard Whitney Williams and sophomore guard Donielle Breaux each transferred from Big 12 schools. Williams spent two seasons at Iowa State and Breaux played 11 games at Kansas last season before transferring to TCU.

Notes
Baylor is two wins shy of the Big 12 record for consecutive regular season conference victories set by Oklahoma with 24 straight wins from March 3, 2005 until Jan. 27, 2007.
The Lady Bears open league play on the road for the fourth time in six years, the sixth time in nine seasons and eighth time overall when they travel to TCU on Wednesday.
TCU has only lost a conference opener twice in seven games since 2006, falling to Wyoming and San Diego State in 2006 and 2012, respectively.
Texas Tech at Oklahoma State
West Virginia at Oklahoma
Kansas State at Kansas
Texas at Iowa State
1 Until 1910, both schools were located in Waco.