Brittney Griner hits the 3,000 point career mark as Baylor upends UConn in Hartford, 76-70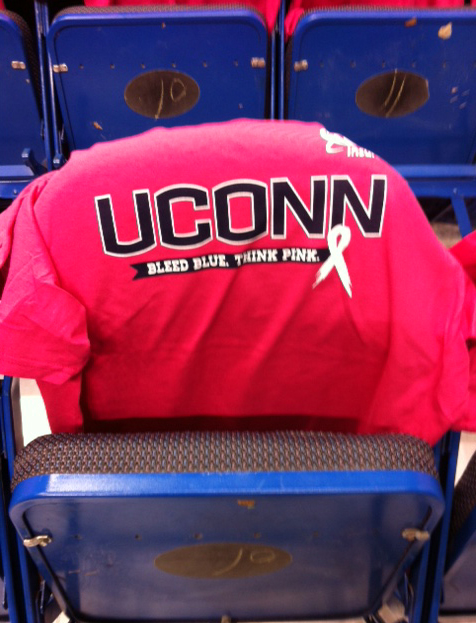 In one of the most highly anticipated games of the year, No. 1 Baylor (25-1, 14-0 Big 12) defeated No. 3 Connecticut (24-2, 11-1 Big East) in front of a sold out 16,294-strong crowd at the XL Center in Hartford. In the process, Baylor center Brittney Griner entered the NCAA record book for the third time this season by amassing the 3,000th point of her career. Previously, she set records for career dunks and rebounds.
Baylor trailed by one point at the half, but tied the game at 13:32 in the second on a free throw from Griner. UConn briefly took the lead again with a three-point shot from Kelly Faris but Kimetria Hayden returned the favor to give the Lady Bears the lead again, 47-46 at 12:17. The lead changed two more times before Baylor took charge for good after another three-point shot at 9:51 from point guard Odyssey Sims.
Griner's last shot of the game, a two-point jumper, was the milestone. She became just the eighth player in NCAA Division I history to reach 3,000 points. It was her 25th point of the night. She also pulled down nine rebounds and dished out four assists. Brooklyn Pope scored 18 points and contributed nine rebounds. Hayden added 11 points.
Kaleena Mosqueda-Lewis led the Huskies with 26 points plus 15 rebounds. Bria Hartley scored 13 points along with five assists. Stefanie Dolson and Morgan Tuck added 11 points each. Dolson also grabbed eight rebounds.
Baylor returns home to face Texas on Saturday. UConn hosts Seton Hall the same day.
| Team Statistics | Baylor | Uconn |
| --- | --- | --- |
| Shooting | 30-72 (.417) | 29-64 (.453) |
| 3PT Shooting | 3-8 (.375) | 8-24 (.333) |
| Free Throws | 13-20 (.650) | 4-4 (1.000) |
| Rebounds | 16-35 | 13-38 |
| Assists | 20 | 19 |
| Steals | 8 | 3 |
| Blocks | 3 | 9 |
| Turnovers | 10 | 18 |
| Fouls | 10 | 16 |
| Points in the Paint | 48 | 26 |
| Fast Break Points | 16 | 13 |
| Points Off Turnovers | 22 | 16 |
| Bench Points | 20 | 11 |
| Largest Lead | 8 | 11 |