McGee-Stafford's double-double helps Texas survive TCU in battle between young teams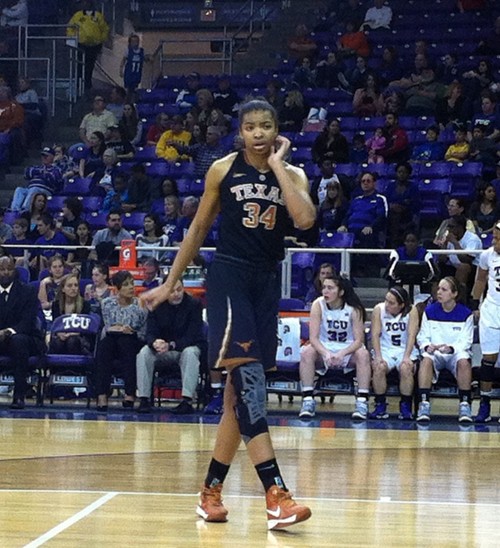 FT. WORTH, Texas – Both Texas (9-11, 2-7) and TCU (7-13, 0-9) went into Saturday afternoon's game at Daniel-Meyer Coliseum in Fort Worth looking to escape the doldrums of numerous losses in the Big 12. For Texas, the victor in the 61-56 game, relief came in the form of 19-point home victory over Kansas State exactly one week ago, the first conference win for the Longhorns.
"It was an extremely hard fought game," said Texas head coach Karen Aston of the contest at TCU. "Both teams played extremely hard. They're both searching and really digging for wins in the Big 12 right now. You can tell by watching us play that we are the youngest teams in the Big 12. We make mistakes. It was a competitive game."
Both Texas and TCU started three first years, one sophomore and one junior. This week the tandem of freshman center Imani McGee-Stafford and sophomore forward Nneka Enemkpali propelled the Longhorns past the scrappy yet inconsistent Horned Frogs who pulled within one point of Texas with a minute left to play.
At the outset, new Big 12 member TCU seemed poised to earn their first-ever conference victory. They opened up on a 9-0 run while Texas missed their first four shots plus a pair of free throws. Freshman guard Kamy Cole scored seven of those points.
Texas junior Chassidy Fussell broke through the scoring drought with a three-point shot after four minutes. However, TCU managed to extend their lead to 11 a minute later off of a three-pointer from sophomore reserve guard Donielle Breaux before the Longhorns began to make a dent in their deficit and make offensive inroads mostly due to layups and free throws from Imani McGee-Stafford. Fussell gave Texas the lead with about four and a half minutes left in the half after draining a trey. Texas went into the break with a slim 26-23 lead in the low-scoring half. McGee-Stafford led Texas with nine points, four rebounds and three blocks while Enemkpali had six points and a prolific ten rebounds.
Cole and fellow first-year guard Zahna Medley scored nine points each in the first half for TCU>
While Frogs center Latricia Lovings managed to go toe-to-toe with McGee-Stafford with five rebounds of her own during the first period, in the second half, the Texas post outplayed her opponent. McGee-Stafford stifled the TCU offense with blocked shots and defensive rebounds.
TCU sophomore forward Natalie Ventress scored all five of her team's points at the beginning of the second half to give TCU the lead 28-26 at 18:26 but Texas responded with an 11-5 run before TCU recovered to tie the game yet again at 12:59, 37 all. The game had one more tie before Texas began to pull away amassing a ten-point lead after GiGi Mazionyte, a junior college transfer, nailed a three-pointer. But Texas squandered their double-digit lead, mostly due to Ventress' shots including a key three-pointer. TCU's comeback made Aston nervous.
"I thought we were gaining control of the game," said Aston, "and that was the big three that we gave up. I believe it was Ventress that hit the big three at the top of the key that cut the lead and then we kind of got rattled a little bit and made a couple of turnovers, tried to hurry back instead of having composure on the offensive end. I thought we kind of panicked a little bit but that again was a young team trying to figure out how to hang on to a lead which we haven't had a lot of in this league."
With a minute left in the game, TCU only trailed by one. Free throws by McGee-Stafford extended the Longhorn's lead to three. TCU's Medley tried to make a three-point shot but guard Empress Davenport blocked the attempt to send the game into overtime.
"I think both teams struggled to score and at times there were some dry spells," said TCU head coach Jeff Mittie about the game. "We had a chance and we couldn't make one or two more plays."
McGee-Stafford, the reigning Big 12 Conference Freshman of the Week, finished with 23 points, 13 rebounds and seven blocks.
"She has good composure," said Aston. "I mean Imani really understands the game well and knows what we were looking for. She has confidence in herself and she was having a really good day."
The loss for TCU added to a string of close games. Mittie addressed what he needed to do to keep his team confident despite the losses.
"It's the same message. They just need to keep their heads up," he said. "It's hard to lose these games. It is progress to some extent. It's our third game in six days. I thought we really fought hard. Those things are all positive. Execution is spotty at times, but we have to get better. I thought effort towards the end of the first half wasn't as good. I thought they responded in the second half. Those things were all positives. These type of losses, I've said it before, they hurt more. It should hurt though, but we'll get over the hump. This team will be just fine. The future will be just fine, but right now that's hard to think about."
Texas is now 32-0 all-time against TCU. The two teams last met on December 10, 2002, in Austin, when Texas won by a score of 86-54.
TCU travels to Oklahoma State for a game on Tuesday.
The Longhorns host Iowa State on Wednesday. The game will be televised by Longhorn Network.