Achonwa converts UConn miscue to give Notre Dame first Big East tournament championship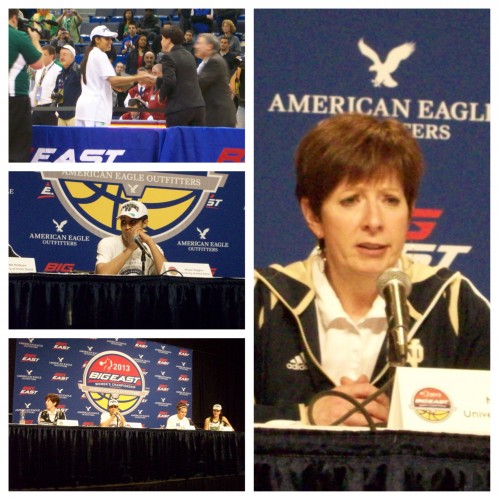 HARTFORD, Conn. – All season critics made statements about how Notre Dame had more foul shots than their opponents by a large margin. It is ironic that when Geno Auriemma's Huskies tried to foul Skylar Diggins in the final seconds of the Big East championship game, the refs did not make the call.
After a scattered sequence that ended with a bad pass from Kaleena Mosqueda-Lews that Diggins intercepted, the Huskies, with a foul to give did everything shy of pulling her down. The Irish did not stop running, however, and with two seconds left Diggins scooped the ball to Natalie Achonwa who laid the ball in for the game winner, 61-59.
"I thought it was coming (the foul call)," said Diggins, "I'm just glad they didn't call it, and my teammates sprinted down the court."
"I think we fouled her three times," said Auriemma, "and I guess it took a long time for them not to call fouls on us. But they picked the worst timing."
It was a fitting conclusion to the Big East battles between these two rivals, back and forth, hard-fought, filled with the type of intensity you would expect with two heavyweight programs.
"I thought we played really well in the first half and got a little bit of a lead," said Irish coach Muffet McGraw. "I thought our three-point defense was fantastic, we kept them off the three-point line."
Connecticut was held without a three-point field goal for the first time since their national championship victory over Oklahoma in 2002. They only took five attempts, zero from sharpshooting Mosqueda-Lewis who was defended by Diggins most of the game.
"Her defense is excellent because she has so much pride," explained McGraw. "She does not want to let you score on her, so she's going to fight, she's going to battle the screens, and she's going to do everything she needs to do."
Kayla McBride continued being the Husky-beater she began last season, scoring a game high 23 points, including several big shots when it seemed the Huskies were making a run. After starting the tournament in foul trouble and playing only eleven minutes in the first game, she built on that and was almost dominant at times.
"UConn is a great team," said McBride. "It's a big game, and I like playing in big games."
With Achonwa in early foul trouble, the Irish relied on their defense to hold the Huskies to 35 percent shooting in the first half, while McBride (13), Jewell Loyd (10) and Diggins (8) did most of the scoring. UConn scored the first four points of the game, but the Irish went on a 20-4 run to go into the half with a 35-26 lead.
Auriemma was surprised by his team's first half performance.
"I can't think of any scenario that I thought we would play that first half the way we played it," said Auriemma. "I wasn't prepared for that, neither were any of the other coaches and I can't explain it."
The second half was a different story as UConn quickly erased their deficit, and the game went back and forth most of the way. Freshman Breanna Stewart led the Huskies. She moved into the starting lineup but was ineffective in the first half. She hit 5-of-8 shots in the second half for 12 of her 16 points.
"I thought Stewart played really well," said McGraw. "She had a great game, maybe the best I've seen her play this year."
The Huskies' big lineup of Stewart and Dolson was successful on offense scoring 21 of their 33 second half points, but McBride knocked down ten more points in the half to keep the Irish right with the Huskies.
It came down to the final possession of the game. After a Faris shot hit the rim, the referees held play as they did not know if it had in fact hit the rim. Auriemma pointed out after the game he would have preferred not to have play halted and have to use a time out, but that's what ensued.
After a long pass and sensational catch by Stewart, the Huskies rushed the ball around the perimeter into the corner where Mosqueda-Lewis was stuck and had to throw the ball back out. Diggins stepped in and stole the pass. The Huskies tried to foul her and no foul was called, until she finally had enough control to shovel the ball to a racing Achonwa for the final, game winning basket.
"That's the fastest I've ever seen Natalie Achonwa run down the court,"  said Diggins laughing.
The final horn went off, and in her senior year, the last year that Notre Dame will be a part of the Big East conference, Diggins gave McGraw a Big East championship.
"I think it's special because it's the last one," said McGraw smiling. "It's nice to leave here champions. To go undefeated for the whole season was a great accomplishment for this team, and to overachieve like we did, and then to win it here, it makes it even better."
"It means a lot, not only to me, but I know it means a lot to coach and our program," said Diggins said of winning McGraw her first tournament title. "My teammates have been stepping up and I give all the credit to them for just rising to the occasion and really stepping into roles that, you know, they weren't comfortable with at first. This is a coming of age of this group, and I'm so proud of them."
McBride was rewarded for her efforts with the tournament's Most Outstanding Player award. Diggins earned her third time All-Tournament team selection, as did Stefanie Dolson. Freshmen Loyd of Notre Dame and Stewart of Connecticut also made the All-Tournament team, while the final slot went to Syracuse post Kayla Alexander.
Both Notre Dame and UConn know their record is now gone, and they will begin preparation for the NCAA tournament, where they will both undoubtedly be number one seeds.
"At this point, this program is about how you respond and that's what coach teaches how to do," said UConn senior Kelly Faris. "So this is our last chance to respond in the right way; this is our last opportunity to step up and make something of it."
"Now we're 0-0 and we have to focus on the NCAA tournament," said McGraw.
She added one final thought about the weekend.
"I would like to thank the Big East. It's been an unbelievable run for us, since joining the conference. It elevated our program, it's been exciting and we owe a lot to the Big East for where our program is right now."
That place is at the top, where they sure are enjoying the view.