Brittney Griner dunks three times vs. Florida State, Lady Bears advance to the Sweet Sixteen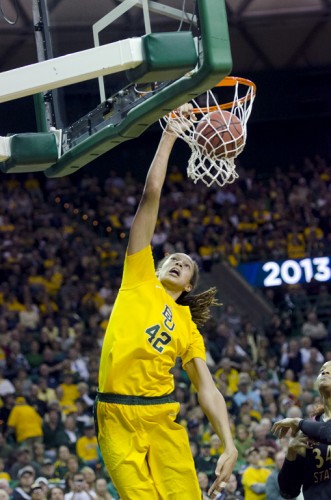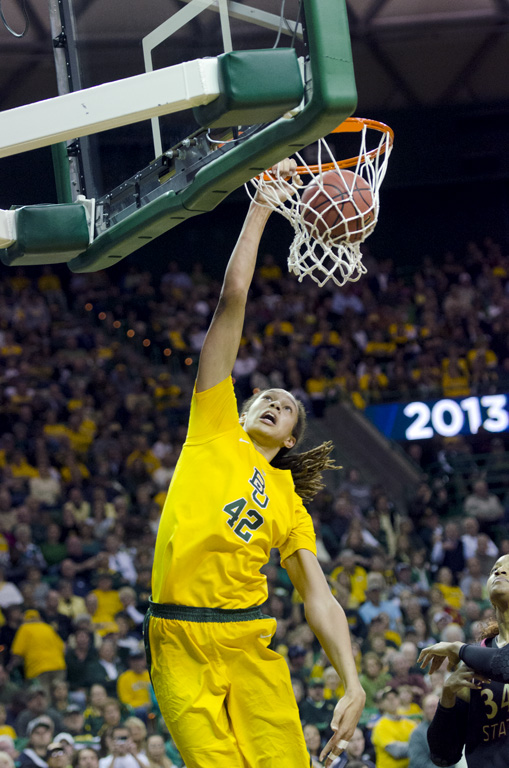 WACO, Texas – Brittney Griner made sure to leave a lasting impression in her Ferrell Center finale in front of a crowd of 9, 652 Tuesday night in Waco during round two of the NCAA tournament. The 6-8 senior wasted no time getting fans hyped with a one-handed dunk in the first half, the first of three slams during the game. The Baylor faithful leapt to their feet and included former President George W. Bush and his wife Laura next to university president Kenneth Starr.
Baylor (34-1), the number one team in the nation, defeated No. 8-seed Florida State 85-47 to advance to the Sweet Sixteen for the fourth straight year.
"I don't take it for granted," said Baylor head coach Kim Mulkey of reaching the round of 16 again. "They're hard to come by. I remember the very first Sweet 16 we ever went to at Baylor. It was in Albuquerque when we won and Jessika Stratton and Dionne Brown and those guys were on the team. And the joy. I think sometimes we can lose that joy if we're not careful. Because when you get there, some people take it for granted or they're stressed to maintain something"
The Lady Bears face Louisville (26-8) in Oklahoma City on Sunday.
FSU had their hands full from the start as Baylor raced to an 11-0 lead. Baylor's defense effectively shut the Seminoles out of any offensive production from the beginning of the game.
"Our defense was special,' said Mulkey. "Florida State scores a lot of points. If you look at their stats, they're averaging 76 points per game and I challenged our girls; your defense needs to be better than their offense. I know that sounds simple but you really need to say, 'You know what, we're not letting you score 76 points.' And I just thought the defense the entire game was special."
Forward Brooklyn Pope indicated that the team's concentration from the tip was a major factor.
"I just thought that we were really focused at the beginning of the game, knowing the impact," said Pope. "It was just exciting to play a team that we haven't seen all year and a team that we've never played. It was just really exciting to prove the point that we are in the Big 12 and this is how we play in the Big 12, so imagine if we were in the ACC."
Griner's first dunk came at 4:05 in the first half, increasing Baylor's lead to 43-18. At the half the Lady Bears' rout was 51-20. The next two dunks came within two minutes of each less than eight minutes before the end of the game. Her incentive to complete three came from the program's radio play-by-play analyst Rick May.
"Before our game, Rick, the radio guy told me to get three dunks, and it's crazy because I got three dunks," said Griner. "I need him to tell me that before every game."
The jams energized her teammates.
"It's always exciting to see when Britney dunks," said point guard Odyssey Sims. "We always get excited. We wish she could keep dunking, but unfortunately her season is coming to an end. But, like I said, it's exciting and everyone gets pumped. She's just phenomenal."
Forward Brooklyn Pope joked that Griner could have made four if it were not for an errant pass.
"Well, she could have had four, but I was stronger than I thought and I overthrew it," said Pope. "BG knew I wanted to pass it, but by the time I looked down and dribbled and looked up and threw it, she was further down than I thought."
Griner finished with 33 points, 22 rebounds plus four blocks. Pope added 12 points plus six rebounds, Sims had 11 points and Kimetria Hayden contributed 10 points plus five rebounds.
Leonor Rodriguez led FSU with 11 points. No other FSU players was in double figures.
Notes:
Baylor extended its nation's-best win streak to 32 games and its home game win streak to a nation's-best 57 games.
Griner became just the second Baylor player to record 30 points and 20 rebounds. Danielle Crockrom had 30 points and 23 rebounds vs. USC in December 2000.
Griner recorded her 16th, 17th and 18th career dunks and now has six in NCAA Championship play.
Griner recorded her 62nd career double-double, including 18th of the season. She passed former Baylor standout Sophia Young's 61 for No. 1 in program history and No. 2 on Big 12 chart.
Griner now has 3,269 career points, No. 2 on the career NCAA scoring list.
Griner has now scored in double-figures in 115 straight games and in 145 of 147 in her career.
Griner's 145 career double-figure scoring games, second-most in NCAA history. She needs four more games in double digits to tie Connecticut's Maya Moore (149) for the most in history.