Catching up with former Texas A&M star guard Sydney Carter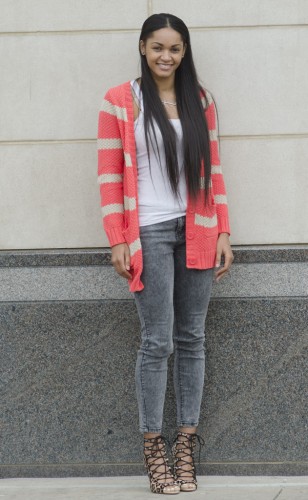 Sydney Carter arrived in Dallas from playing overseas in Israel Saturday and a day later headed to American Airlines Center for the semifinals of the 2013 Big 12 tournament. She took a few minutes to chat with Hoopfeed about her time overseas, the Aggies in the SEC and Kelsey Bone.
The last time she stepped foot into the building, in March 2011, she was a junior in college, led her Aggies to an Elite Eight victory over top-ranked Baylor and named the Most Outstanding Player of the Region. She scored a season- and team-high 22 points in the game and pulled down six rebounds. Carter and company finished out the year as the national champions, the first for the Texas A&M program.
She was drafted by the Chicago Sky in 2012 but the team waived her during training camp although they did sign her again later in the summer for a short contract.
On her experience in Israel
Interesting. I can't really say in words what I really experienced but I really came back with a better appreciation of America in general. I really had a lot of fun. I was glad that I was able to play overseas basketball to kind of get my feet wet and see what it's like playing against other professionals.
I had a lot of moments where I was feeling like the four walls were closing in on me and I was really homesick and got to come home for Christmas for a few days. II went back and I was perfectly fine. But I'm a big home person and I have a big family and I really missed them.
On being back in American Airlines Center
It feels so weird knowing that A&M is not in the Big 12 anymore and that I'm here and I'm not playing because I'm used to being in arenas like this and I'm actually playing. You know it's nice to come back and see people that I played against that are playing so well in the Big 12 and it's just weird that I'm not actually playing college ball anymore.
I'm proud of how they've really overcome a lot of adversity this year. At the beginning of the year people were like "oh no, they' ve lost their first three games. What's the rest of the year going to look like?" They've really stuck together. They've got great chemistry and they just play well as a time and I'm proud of them and I hope they take it all the way today.'
On not being surprised that Texas A&M advanced to the final of the SEC title game
I think that coach Blair really has his program in line. He's going to do what he does every year. He's not going to change. He's really old-fashioned and he's going to do what he knows how to do and that's win, for sure. He's going to have them on the right track.
On the development of Kelsey Bone
I'm absolutely proud of her. She is definitely living up to the hype that people have put on her, the Kelsey Bone that came out of high school…she's really showing them that's what she is and she's not some person that is going to come out of high school and fall off the map. She's really done well this year and she stepped up into the role she needed to.
On WNBA plans
I can't talk about that just yet. We'll see some things from me soon, I'll tell you that.