Dishin & Swishin 3/07/13 Podcast: Dishin' on the Big East tournament with Danielle Donehew and Beth Mowins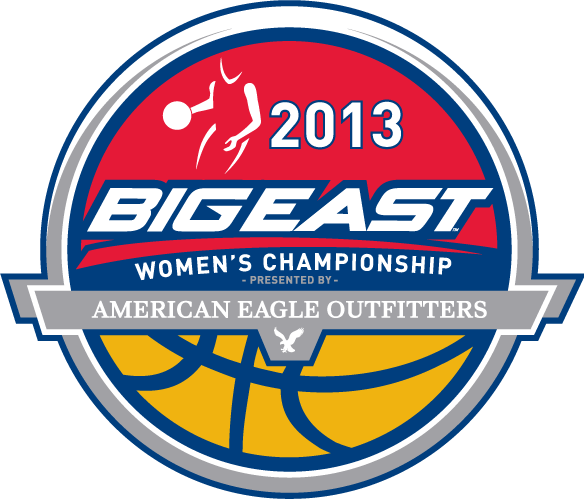 [display_podcast]
Site: XL Center, Hartford, Connecticut
Top Seeds: (1) Notre Dame, (2) Connecticut, (3) Syracuse, (4) Louisville
For consecutive years Notre Dame has won the Big East regular season championship, knocking Big East tournament host Connecticut into a lower seed (last year number three, this year number two).
Last year the Huskies managed to defeat the Irish in the tournament championship to continue a streak of winning either the regular conference or post-season tournament title. It will not be easy this year.
Notre Dame swept the season with the Huskies, including Monday night's epic triple-overtime game in South Bend, and, with no disrespect to the rest of the conference, the two teams are headed for a third meeting next Tuesday night in the championship game. With two great teams, two Hall of Fame coaches in Muffet McGraw and Geno Auriemma, two tremendous seniors in Skylar Diggins and Kelly Faris, t is what a tournament championship should be all about.
However, events of the last few days have made this into more than "just a regular tournament." With the pending departure of not only Pittsburgh and Syracuse, but also the "Catholic Seven" schools and Notre Dame, this will be the last Big East tournament with these respective programs involved.
All the years of history, all the rivalries, gone in a flash of green to the football program.
We do have this year's tournament to enjoy though, and while there is definitely a sadness to those changes, there is still the excitement of great basketball to be played. An exciting collection of events and activities are planned by the Big East in a "Fan Fest" and the XL Center should be jamming.
While no one seems to expect other than a Notre Dame vs. UConn final, the middle pack of team's in the Big East are closely packed, and it should create some exciting middle round matchups.
Syracuse, Louisville and St. John's all finished with a conference record of 11-5, and Villanova, DePaul, and South Florida all finished at 9-7. Wins may be necessary to clinch NCAA tournament berths for some of these teams.
On the individual side, Kaleena Mosqueda-Lews of Connecticut was Most Outstanding Player at last year's tournament, and she used that as a springboard to this year's success. Teammates Bria Hartley and Stefanie Dolson will be going for their third straight all-tournament team selection, as will Notre Dame's Skylar Diggins. Expected to win conference player of the year, Diggins was not an all-tournament selection last season though, teammate Kayla McBride is the returning all-tourney player for the Irish.
Guard play will be fun to watch, featuring not only those four guards, but also UConn's Kelly Faris, Georgetown's Sugar Rodgers, St. John's Nadirah McKenith, Louisville's Shoni Schimmel and DePaul's Anna Martin as well.
On this week's Dishin & Swishin podcast Danielle Donehew, Associate Commissioner of Women's Basketball, and an "ACC Legend" at this year's ACC tournament discusses what makes the Big East tournament special. From the great players and teams to the display and visits with the All-American Red Heads to Swin Cash signing her new book to the second "Chalk Talk" featuring tremendous guests, the tournament has a lot to offer the public. Of course we also discussed the pending cloud over the conference and its impact, plus the players and teams themselves.
ESPN women's basketball podcast host Beth Mowins leaves her "Shootaround" partner Debbie Antonelli to make a Dishin & Swishin appearance as well. Mowins will be covering some of the games live, and discusses the tournament and teams, the players that make them great, and other topics around women's basketball including the NCAA tournament, the prospects of a Baylor repeat, and the coaches of the year.
If you are in the Hartford area, be sure to check out the Big East tournament this weekend and enjoy the events! After all, it will never be like this one again.