Dishin & Swishin 3/21/13 Podcast: The roundtable returns for its annual look at the Women's NCAA Tournament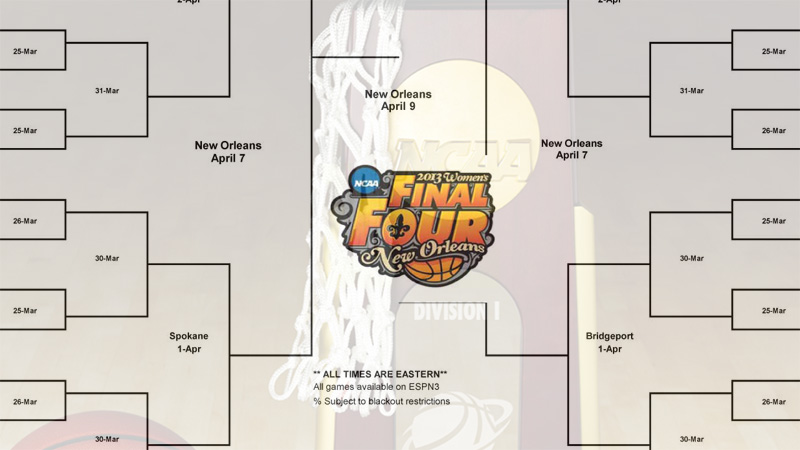 [display_podcast]
Spring is here! I know this not from looking out of my window at the snow-covered ground, but by knowing that the NCAA women's tournament kicks off this weekend.
That means, as annual as a groundhog, it is time for the Dishin & Swishin roundtable preview of the tournament. Each year we convene a panel of some of the best and the brightest from the print, television and Internet markets for an hour (or so) discussion of what makes the tournament great.
The panel this year is as strong as we have ever had:
David Siegel, your moderator, the host of the Dishin & Swishin podcast weekly on Hoopfeed.
Doug Feinberg, the Associated Press' women's basketball chief, the keeper of the weekly AP poll.
LaChina Robinson, television analyst for ESPN and various other networks, who will be covering the College Park, Maryland bracket this weekend.
Mel Greenberg, the "Guru" himself; the poll originator, the innovator, the man with the WBCA writer's award named after him.
Ros Gold-Onwude, television analyst for ESPN and the Pac-12 Network, who will be covering the Queens, New York bracket this weekend.
There is no doubt that this group can help you look smarter to your friends and colleagues with words of wisdom and insightful analysis on the tournament and more.
School is in session! Let the roundtable teach you some history, geography, (team) chemistry, and even some mathematics.
A small sampling of topics covered include:
The same top seeds as last year, good or bad, and are the teams better than last year's counterparts?
Is the field seeded fairly and correctly?
Did the BCS conferences deserve the love they received from the committee in choosing their schools over mid-major conferences
Upset specials! Bracket busters! Who are they in each region and what could happen to some big favorites
Who should you be watching for? Everyone knows Griner, Diggins, and Delle Donne, but who are some other gems?
Location, location, location! How and why are teams playing where they are?
Stanford–Cal, UConn–Notre Dame, and other rematches, should they have been set up this way?
So log in to your favorite tournament projection game site, turn up those speakers, and get ready to win your bracket with the aid of the roundtable.
Enjoy the podcast and the first weekend of games!