Kansas teams advance in first round of Big 12 tournament, send Texas and TCU packing
Day 1 attendance: 5,925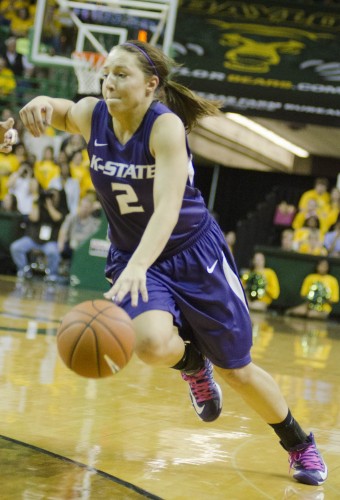 #8 Kansas State 51, #9 Texas
In the end, the matchup between No. 9 seed Texas (12-18, 5-13) and No. 8 seed Kansas State (15-16, 5-13) came down to mental composure. While Texas looked to defend the perimeter due to K-State's tendency to effectively drain three-pointer after three-pointer, the winning shot from the Wildcats came at the buzzer from senior Brittany Chambers on a back-door cut after realizing the defense was ready at the three-point line. The ball rolled around before going in and officials had to confer after regulation as both teams stood around waiting around for the verdict.
"The last play of the game, I for sure thought I missed it," said Chambers. "It would have haunted me for the rest of my life. It felt like it was on that rim for ten minutes, it was terrible."
Texas was caught off guard by Chambers' last-minute decision.
"They made two consecutive plays down the stretch that I thought just kind of caught us ball-watching, they went back door on us," said Texas head coach Karen Aston. "I think personally a lot of (our players) were expecting a 3-point attempt."
Chambers, Haley Texada and Chantay Caron combined for 49 of theWildcat's 51 points. Chambers recorded a game-high 20 points plus nine rebounds. Texada scored 19 while Caron added 10.
Freshman Imani McGee-Stafford led Texas with 15 points and 10 rebounds.
"It's so tougher to lose a game this way," said Big 12 Freshman of the Year McGee-Stafford. "There are so many things that run through your mind that you could have done personally to combat what happened."
The Wildcats advance to face top-ranked and No. 1 seed Baylor (29-1) at 1:30 p.m. Saturday in a quarterfinal game. The most recently lost to Baylor, 90-68, Monday in Waco, punctuated by a 50-point performance and a dunk from Lady Bear center Brittney Griner.
#7 Kansas 83, #10 TCU 61
TCU (9-21, 2-16) came into Friday night's game against Kansas (18-12, 8-10) with just two conference wins under its belt but the young Horned Frogs had the potential to be a spoiler but fell to the Jayhawks for the third time this season in the 83-61 loss. However, the games between the teams during the regular season were hard-fought wins for Kansas.
The Jayhawks got off to quick start to set the tone during the first round of the tournament.
"We were able to jump out and get a lead tonight," said Kansas head coach Bonnie Henrickson. "Our defense effort was much better. We're excited to play, excited about the opportunity to play Iowa State."
Angel Goodrich led her team with 16 points and five rebounds, one of five players in double figures for the Jayhawks. Chelsea Gardner pulled down 19 rebounds to go along with her 11 points.
Freshmen led TCU. Zahna Medley finished with 21 points while Veja Hamilton contributed 14.
Kansas faces No. 2 seed Iowa State (21-7) at 6 p.m. Saturday in a quarterfinal game. All the quarterfinal games and the remainder of the Championship will air on FSN.