New York Liberty hires Barbara Farris and Taj McWilliams-Franklin as assistants, Teresa Weatherspoon and Tamika Whitmore as coaching associates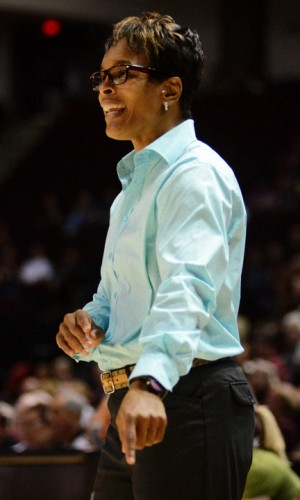 From the team:
New York Liberty head coach and general manager Bill Laimbeer announced today the team's coaching staff for the 2013 season, which will include four former Liberty players. Barbara Farris and Taj McWilliams-Franklin have been hired as assistant coaches. In addition, the Liberty will bring in Teresa Weatherspoon and Tamika Whitmore as coaching associates to consult with the team during training camp and periodically during the season.
"I wanted assistant coaches that played the game and understand what championship teams are all about," said Laimbeer. "Taj and Barb are both familiar with my coaching style and know what it takes to win a championship. I believe the players will get a great education from them as well as great camaraderie."
As coaching associates, Weatherspoon and Whitmore will be involved with team preparation during training camp, working one-on-one with Liberty players on all aspects of their game, and will consult with the team periodically during the season. It marks the first WNBA coaching positions for all four former Liberty players. McWilliams-Franklin and Weatherspoon each have experience coaching on the collegiate level.
"I reached out to Teresa and Tamika to understand the Liberty culture, it's important to respect past success," said Laimbeer. "Both are hard-nose competitors, which is what I believe the culture has been and will continue to be with this team."
Barbara Farris spent nine seasons in the WNBA, winning a championship with the Detroit Shock (now Tulsa) in 2003 under Laimbeer. She joined the squad in 2000 and went on to play with three franchises, including the Liberty (2006-07) and Phoenix Mercury (2008). In 267 career games, Farris posted averages of 4.0 points and 3.0 rebounds per game. She also appeared in 16 playoff games averaging 3.4 points and 2.3 rebounds per contest. Farris has served as head coach of the Curtis High School girl's basketball team in River Ridge, Louisiana the past two seasons.
"I am very excited about the opportunity to come back to New York and the Liberty organization," said Farris. "I appreciate the opportunity Bill Laimbeer is giving me and I am confident about the endless possibilities this Liberty team can achieve."
Taj McWilliams-Franklin joins the Liberty coaching staff after spending the 2012-13 season as an assistant coach with Rice University in Houston, Texas. A 14-year WNBA veteran, McWilliams-Franklin made six All-Star appearances and captured two WNBA Championships, winning titles with the Detroit Shock (now Tulsa) in 2008 under Laimbeer and Minnesota Lynx in 2011. She was also a two-time All-WNBA Second Team (2005-06) selection and was named Second Team All-Defensive in 2005.
McWilliams-Franklin played for seven teams during her WNBA career, including the Liberty in 2010. She posted career averages of 11.4 points, 6.8 rebounds, 2.0 assists and 1.4 blocks per game, and is one of two players in league history to compile 5,000 points, 3,000 rebounds and 400 blocked shots. For her career, McWilliams-Franklin ranks in the top-10 of several statistical categories, including first all-time in starts (436), second in rebounds (3,013), fifth in games played (440), sixth in steals (580) and seventh in blocks (443).
"I am ecstatic about this opportunity with Coach Laimbeer and the New York Liberty," said McWilliams-Franklin. "I feel that coaching is a natural extension of what I have done during my playing career and look forward to matching wits with some of basketball's greatest coaching minds during the season. I am looking forward to this challenge as everyone in and around the Liberty organization start preparations to bring the long awaited WNBA title to New York."
Teresa Weatherspoon, who has spent the previous four seasons as head coach at her alma mater Louisiana Tech University in Ruston, Louisiana, was one of the founding members of the Liberty in the league's inaugural season in 1997. A four-time All-Star, she helped guide New York to four WNBA Finals appearances (1997, 1999, 2000, 2002) and was inducted into the Liberty Ring of Honor in 2011. Weatherspoon was a four-time All-WNBA Second Team selection and two-time Defensive Player of the Year (1997, 1998) during her eight-year career, averaging 5.0 points, 3.1 rebounds and 5.3 assists per game. Named one of the Top-15 players in WNBA history, she was also the first player in the league to post 1,000 points and 1,000 assists for her career.
A 2010 inductee into the Women's Basketball Hall of Fame, Weatherspoon enjoyed an equally decorated collegiate career, leading the Lady Techsters to a National Championship in 1988. A two-time All-American, she won the Wade Trophy (National Player of the Year) and was a Gold medalist at the 1988 Olympics in Seoul, South Korea. Weatherspoon will continue to serve as head coach of the Louisiana Tech women's basketball program.
"This is a great opportunity for me to learn from someone like Bill Laimbeer, and I can't thank Louisiana Tech enough for allowing me to take this opportunity to grow as a coach," said Weatherspoon. "Words cannot express what it feels like to return to a place that is so special and dear to me."
Tamika Whitmore was an 11-year veteran of the WNBA, averaging 9.6 points and 3.9 rebounds per game. A third round draft pick of the Liberty in 1999, she played five seasons for the franchise, helping the team to four playoff appearances, including three trips to the WNBA Finals (1999, 2000, 2002). Whitmore advanced to the postseason in nine of her 11 years in the league, averaging 11.6 points and 3.8 rebounds per game. She played for four franchises over her career (New York, Los Angeles Sparks, Indiana Fever, Connecticut Sun).
"This is definitely one of those rare occasions that a coach, his beliefs, and style of play, really embodies the everyday grind of a city and its fans," said Whitmore. "It's almost as if the stars have finally aligned to bring a championship to the city of New York that has long been overdue."