Prairie View not pleased with facing Baylor again in the round of the NCAA tournament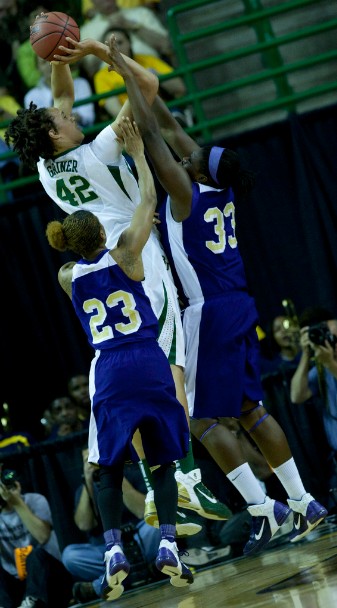 No. 1 Baylor and No. 16 Prairie View A&M last met on March 29, 2011, in Waco in first round action of the NCAA tournament, with the same seeding. Baylor routed the Panthers 66-30 led by Brittney Griner and Brooklyn Pope's 17 points each and Kimetria Hayden's 12 points.
Prairie View coach Toyelle Wilson is looking forward to a different outcome today when they face Baylor in another first round game.
"I know Baylor is going to come out with some intense defense," said Wilson. "Deny the wings because what are you going to do, back door right into Brittney Griner? They're going to be overly aggressive. I know (Kim) Mulkey is going to have them playing from the beginning like it could be their last. And you know Brittney is going to be playing at a high level because it could be her last game. She has things to prove."
Wilson expressed displeasure at the seeding and facing Baylor again in the first round.
"I don't think we deserve the number one overall seed. Last year we played UConn and we were down 13 at half time. Today UConn wins by 65. I guess they don't want us to play UConn two years in a row, that's what the NCAA doesn't want to happen. We played Baylor my first year as head coach. It's kind of the same hotel, same protocol, hopefully not the same result. It's a good experience for the girls. I'm excited. I think this group of girls is different than two years ago. But I'm going to tell you this right now, Odyssey Sims had five points two years ago, Melissa Jones, I remember, only had three points, and to think that they couldn't score when we were double and triple teaming Brittney Griner, that's not going to happen this year. They can score. It's more than Brittney Griner. Brooklyn Pope is a beast. She snags rebounds, she's athletic, she's quick. I mean Hayden, Madden, their bench could probably start at another Big 12 school. I don't (just focus on) Brittney Griner, I've scouted all of them because they all can play and they're all high, elite players."