Watch the NCAA tournament like a WNBA coach: A beginner's guide to scouting the seniors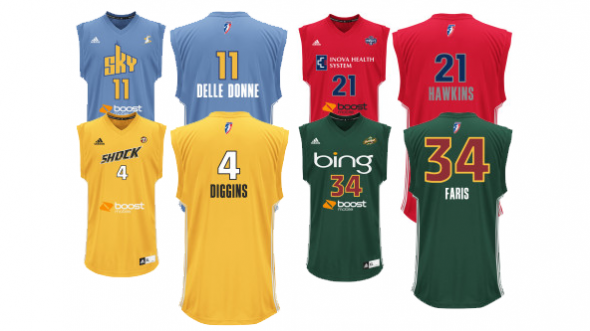 Your favorite WNBA team is close to making the climb to the next level. You know that all it takes is that draft choice to pan out, to be the difference maker. You have supreme confidence in the coaches and management of the team to make the right choice, sort of.
Inside every fan of every sport is a closet general manager. You read the statistics and box scores. You have discussions with your message board friends. But do you really know what your favorite team is seeing when they watch college players?
A panel of WNBA head coaches and assistant coaches, on the condition of anonymity, so as to not spread any deep dark secrets, discussed exactly what they are looking for when they are watching the WNBA stars of tomorrow. Suffice to say the combined resumes include championships and high draft picks. Now you can use this guide while you watch the tournament to see if you can figure out your own draft choices.
The first trait is fairly obvious:
1. Does she have the necessary basketball skills?
The more complete set of skills a player has, the higher the draft choice.
"Ball skills and shooting stroke are obviously of great importance," one coach commented, "can they get and create their own shot either off screens or off the dribble."
Another was very quick to add that "most of the skill stuff we can teach her if she'll work out."
Finally, a third coach emphasized "skill set for a particular position are key," which leads us to number two on the list
2. Where will she play?
The coaches felt it was crucial to know that a person could play a position. "Potential is a word that costs coaches jobs," one joked.
"I look at the physical attributes of a player," another coach contributed, while a third asked, "does she have the size, strength, and quickness to play a particular position in the WNBA?"

3. Can she defend, and does she want to defend?
"I always look at a college player from the defensive side of the ball," one coach explained. "People speak about is she a two or is she a three or can she play the four. I look at who can she guard in the WNBA."
"Does she have an interest in defending," one coach asked, "can she guard twos or threes or does she have to guard a post."

4. Has she shown continued growth and improvement, and game awareness?
"Has she improved each year, and how does she interact on the court with her teammates, coaches, the referees," was one comment.
"If we see she does not seem to be aware of the game situations – score, time left, shot clock, schemes and plays out of timeouts, that is a red flag," one coach said.
5. Does she have confidence, a cool demeanor, a positive attitude, and how does she interact with her teammates and coaches?
One coach strongly emphasized communication on and off the court. "How she communicates with her team, her coaches, does she communicate well on the floor, how does she interact with her teammates?"
Two other coaches said virtually the same exact thing. "Demeanor, confidence level, interactions with coaches and teammates are so important," said the first, while "attitude and intensity" were important to the second.
6. Does she have any intangibles or miscellaneous things that catch my eye?
Several other traits or characteristics were brought up by one coach or another that should be watched for as well, including efficiency of movement, laziness and does she take plays off, focus, athleticism, and teamwork.
"We have a system," explained one coach, "as does just about every other coach and team and we need to try to figure out if the player will work in our particular system."
Overall, as one coach said, "Projecting how well a college kid will do at a pro level is an inexact science, but there are key traits you can look for to help you along."
"When it comes down to it," another coach added, "we most often take the best available player regardless of position."
So now you are ready to take on the WNBA draft prospects. To help you with your scouting, here is a list (reviewed by one of our coaches) of some of the most likely WNBA prospects you will be able to see this weekend and links to their profiles.
Good luck!
Oklahoma City Regional
Spokane Regional
Norfolk Regional
Bridgeport Regional