Brittney Griner comes out, fans show support and then there's NOH8, Prop. 8 and Ken Starr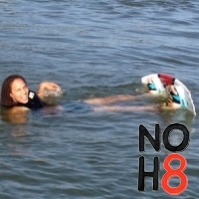 While she made no secret about being gay, especially during her senior year when she added a "NOH8" logo to her Twitter profile picture, Brittney Griner officially came out  in an interview with Sports Illustrated Wednesday and in a USA Today article on Tuesday. The top pick in this week's 2013 WNBA Draft answered questions along with the 2nd and 3rd picks, Elena Delle Donne and Skylar Diggins in a panel interview by Maggie Gray. All three expressed views usually cloaked in subterfuge among many female women's basketball coaches and some players at the college and professional level.
Her public proclamation comes at a time when her college career is over and she is no longer subject to Baylor University's religious-based yet archaic policy on sexuality.
Baylor University welcomes all students into a safe and supportive environment in which to discuss and learn about a variety of issues, including those of human sexuality. The University affirms the biblical understanding of sexuality as a gift from God. Christian churches across the ages and around the world have affirmed purity in singleness and fidelity in marriage between a man and a woman as the biblical norm. Temptations to deviate from this norm include both heterosexual sex outside of marriage and homosexual behavior. It is thus expected that Baylor students will not participate in advocacy groups which promote understandings of sexuality that are contrary to biblical teaching.
In 2005, after helping lead Baylor to its first national championship with 19 points, 6-1 star forward Emily Niemann (now Emily Nkosi) left Baylor because she was a lesbian and it was hard for her to stay at the university with its "don't ask, don't tell" atmosphere. The member of the Final Four all-tournament team first transferred to UC Santa Barbara but left there as well and settled in Western Massachusetts with her partner.
"There is a lot of fear being driven into a lot of people," she told USA Today in 2007. "Not only is it sad (because of) the people who are saying, 'You can't do this because if you do this, this booster is going to pull out on me.' It's really sad because it's something you can hold over someone. If you come out or if people know about your relationship, you're going to suffer these repercussions."
Two of the closest NCAA DI schools near Baylor with former or current ties to religious institutions, Texas Christian in Fort Worth and Southern Methodist in Dallas, are openly welcoming to lesbian, gay and transgender students, have inclusive nondiscrimination policies as well as active LGBT groups on campus. TCU even planned to build a dorm for LGBT students several years ago.
The interesting thing about Griner and her support of the NOH8 campaign is that Baylor president Kenneth "Ken" W. Starr was a legal supporter of Proposition 8, a measure passed by the majority of voters in California during the November 2008 elections to strike down the state's legalization of marriage between same-sex couples conferred by the state's Supreme Court in May of the same year. At the time, Starr, a former federal judge, was the dean of Pepperdine's law school with previous notoriety as the special prosecutor who wrote the "Starr Report" after investigations during the administration of former president Bill Clinton including inquiries into the suicide of deputy White House counsel Vince Foster, the Whitewater real estate investments of Clinton and the former president's affair with Monica Lewinsky.
Starr, a huge fan of Baylor women's basketball, frequently attends games. He avidly cheered for the team and interacted with Griner after games at home and on the road.
When lawsuits that challenged Prop. 8 reached the California Supreme Court, supporters of the ballot measure hired Starr to represent them. This made him the top legal advocate for the anti-gay legislation. Prop. 8 supporters wanted to invalidate the 18,000 same-sex marriages held in the state including those of celebrities like Ellen DeGeneres and Portia de Rossi (the suit Griner wore to the draft on Monday was created by a designer who also makes clothes for DeGeneres. It was nearly a replica of white suits worn by DeGeneres).
Starr argued before the court that "the right of the people is inalienable to change their constitution through the amendment process. The people are sovereign and they can do very unwise things, and things that tug at the equality principle."
A writer on the now-defunct website GayWired wrote:
"So, what Starr is saying is that if the people had stripped all civil rights from gays and lesbians, he would argue to uphold that."