Brittney Griner wins the Wooden Award for the second year in a row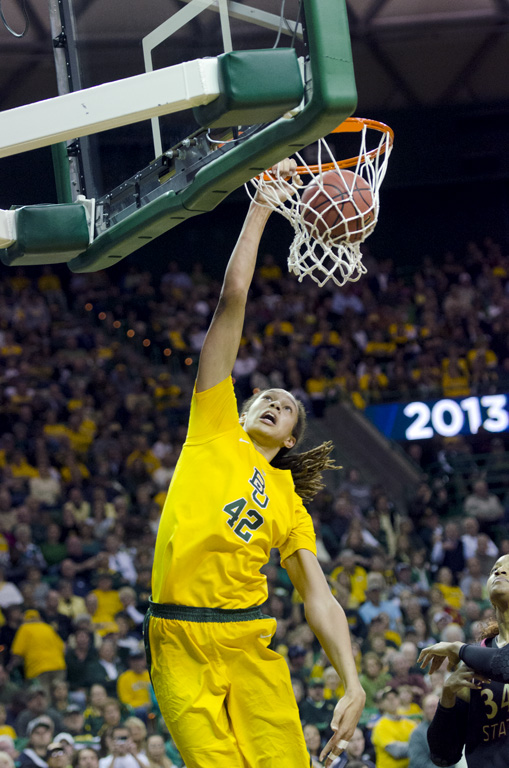 From the  Los Angeles Athletic Club:
The John R. Wooden Award winner for women, the preeminent collegiate basketball player of the year award, was announced today by The Los Angeles Athletic Club, and awarded to Baylor's Brittney Griner for the second year in a row. Selected by hundreds of women's college basketball media members from throughout the country, the winner and All American team are made up of the five student-athletes who received the most votes, with voters ranking the players from 1 to 5. The 37th Annual Wooden Award Gala presented by Wendy's, honoring the men's and women's Wooden All American Teams, is taking place this evening at the Los Angeles Athletic Club.
Griner and all of the men's and women's All Americans have proven to their universities that they are making progress toward graduation and are maintaining at least a cumulative 2.0 GPA, an important component of the Award insisted upon by Coach Wooden. In addition to the academic aspect, the Wooden Award is unique among college postseason awards because voters could consider performance during the first round of the NCAA Tournament.
Griner is a three-time Wooden All American who has been one of the dominant players in women's basketball at both ends of the floor throughout her career. As a senior, she averaged 23.8 points, No. 3 in the nation, and 4.14 blocked shots (No. 2 nationally). She finished her career the No. 2 all-time scorer in NCAA Division I. She is the first player to amass 2,000 points and 500 blocked shots, and is the NCAA all-time leading shot blocker with 748 blocks. Griner declined to attend this year's ceremony, with her agent citing an obligation to the WNBA in Hartford, Conn.
Griner is the fourth two-time Wooden Award winner, joining Seimone Augustus (LSU), Maya Moore (Connecticut), and Candace Parker (Tennessee). With 1,230 points, Griner finished ahead of Notre Dame's Skylar Diggins (1,144), Delaware's Elena Delle Donne (989), Stanford's Chiney Ogwumike (800), and Baylor teammate Odyssey Sims (380). Of the five All Americans, only Diggins advanced her team to the Final Four.