Dishin & Swishin 4/18/13 Podcast: The WNBA class of 2013, there may be three to see, but there's a lot more to adore!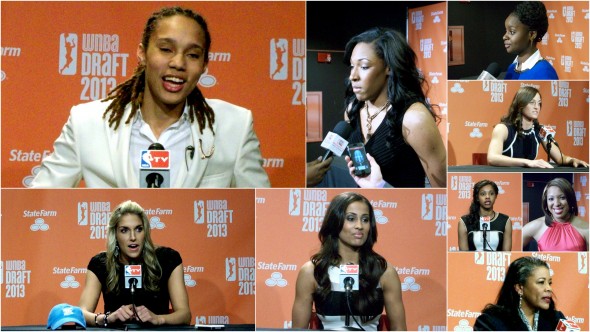 [display_podcast]
With the 2013 draft on Monday women's basketball effectively closed the book on the 2012-13 college season, and cracked the seal on a new volume, the 2013 WNBA season.
For the third consecutive year, Dishin & Swishin was at the draft, and we are happy to provide to you what has become a tradition like no other; sort of like our version of the Masters, the draft recap podcast.
Fast and furious, the podcast includes highlights and interviews featuring all of the rookies in attendance, and also some commentary from host David Siegel to help put the scene in some context for those that are not as fortunate and cannot attend.
When we say fast and furious, we are talking about statements, press conference interviews or one-on-one chats with all twelve athletes in attendance, a couple of their coaches (Niele Ivey on Skylar Diggins and Shea Ralph on Kelly Faris), and the league president Laurel Richie. All packed into just about 38 minutes!
In order today's podcast features:
Laurel Richie
Brittney Griner
Elena Delle Donne
Skylar Diggins
Niele Ivey
Tayler Hill
Kelsey Bone
Toni Young
Tianna Hawkins
Layshia Clarendon
Kelly Faris
Shea Ralph
Lindsey Moore
Sugar Rodgers
Alex Bentley
Training camps will be opening soon, and pre-season games are less than a month away! Get ready for the 2013 WNBA season, it is shaping up to be an exciting one!
Enjoy the podcast!